Get the right small business order management software to digitize and automate your processes properly. If you don't know what to get, this guide can help you narrow down your options.
As an entrepreneur for more than a decade, I've experienced firsthand the challenges of running a modern business.
Every process should be delivered as seamlessly as possible – from the moment an order is placed to delivering it to the customers. This is where I discovered the benefits of implementing reliable order management software (OMS).
I've done in-depth research to find the right one, and today, I'll share with you my absolute favorites, including their unique advantages.
What Is The Best Small Order Business Management Software?
If you're in a hurry, check out my top 3 picks at a glance: Finale Inventory, Veeqo, and NetSuite.
| | | |
| --- | --- | --- |
| 4.8 | 4.7 | 4.2 |
| Best overall. Cloud-based platform with a straight-forward user interface. Starts at $75/month. | Best value for money. All-in-one platform with eCommerce integrations. Starts at $48/month. | Most features. Robust platform with toolsets for efficient task automation and organization. |
| Try Finale Inventory | Try Veeqo | Try Oracle Netsuite |
1. Finale Inventory – Top Pick
Cloud-Based Order Management Software With Reorder Point Control System [$75 a month]
Order management software is built for various purposes. But one thing is certain, it brings all your warehouses, stores (online and offline), and websites in one centralized and secure platform.
The Finale Inventory lands on my top pick for its simplicity and flexibility.
Its functionalities are straightforward, so that you can get the hang of it in no time. They also include comprehensive online guides for new users.
Its cloud-based platform is customizable to adapt to your unique business needs quickly.
Upon registering your account, you can begin configuring your account by adding the following:
Facilities
Users
Product categories
Pricing fields
Suppliers
Product IDs
Kits and bundles
Customers
And the list goes on.
Once everything is correctly set up, you can connect all your business applications through integration. Currently, it supports eight third-party systems:
eCommerce stores
Pushbacks
QuickBooks
Square POS (iPad or Android tablet)
FTP Server
Automated email reports (PDF, Excel, .CSV, or JSON formats)
Automated email reorder notifications
Finale Inventory also provides a mobile barcode scanning app that helps you sync all your inventories within your account.
Download and install the app on any Android device, connect it with your account, then click the sync function. Properly doing so can help you complete inventory transactions quickly.
Other functions it covers are picking and receiving orders and changing stocks.
Finale Inventory has a long list of features, but one that stands out is the reorder point control system. This feature helps you determine the best time to order new stocks and the exact quantity.
How does it calculate the reorder point?
As of writing, it calculates three values:
Lead time demand – The average length of time for a supplier to receive, process, fulfill and transport your orders.
Daily sales velocity – Average number of a specific item you sell per day
Safety stock – All items you've allocated for emergency-use only
Its system will automatically fill all values you've gathered into the formula: (Lead time x Daily sales velocity) + Safety stock.
You can find all this information on the Reorder page.
Pros And Cons Of Finale Inventory
| | |
| --- | --- |
| Pros | Cons |
| Easy to use and setup (operates on the latest version of Chrome, Firefox, and Safari) | Unresponsive screen or slow data loading occurs at times |
| It is built with seamless integration to marketplaces (14), shopping carts (13), POS (4), and more. | A few inventory computations of the software require high computer specifications (Intel Core i5 processor with 16 GB RAM) and internet speed (10 Mbps) to prevent lagging or freezing. |
| Perform routine backups and store them in Amazon RDS (also provide logical backups on a nightly basis) | |
| Provide excellent support team via chat, email, and phone | |
Finale Inventory Pricing Plan
Finale Inventory order management software is offered in monthly and annual subscription plans.
There are six subscription plans you can choose from:
Starter ($75/mo.): Add one user, process 500 orders per month, integrate two third-party apps/services, and manage 100,000 products.
Bronze ($199/mo.): Add four users, process 2,000 orders per month, integrate four third-party apps/services, and more.
Silver ($349/mo.): Add seven users, process 5,000 orders per month, integrate seven third-party apps/services, and more.
Gold ($549/mo.): Add 11 users, process 10,000 orders per month, integrate 11 third-party apps/services, and more.
Platinum ($799/mo.): Add 16 users, process 20,000 orders per month, integrate unlimited third-party apps/services, and more.
Platinum+ (Custom Pricing): Get all features from the Platinum plan with tons of advanced features.
All subscription plans include a 14-day free trial to let you explore its functionalities risk-free.
For the Platinum+ plan, you can contact the sales team and schedule a demo or request pricing information.
2. Veeqo – Best Value For Money
All-In-One Order Management System With Built-In Shipping Software [$48 a month]
Veeqo holds the most value for your money as it boasts an all-in-one order management system.
Ease your mind you can unify all your orders from different sales channels like Shopify, eBay, Amazon, and more. Wait, there's more…
Your operation workflow is equally important as your orders.
That's why Veeqo also includes the following third-party services and apps:
Shipping
3PL
Point Of Sale (POS)
Accounting
Helpdesk
Marketing
Listing tool
If you need more, you can freely integrate them using Zapier.
Its platform is also cloud-based and runs well on the latest version of Google Chrome. Like Finale Inventory, you need to add various information to configure your account.
Here's a quick rundown:
Add currency
Create warehouse
Add store
Add a detailed product information
Link your listings
Enable shipping confirmation emails
Shipping integrations
Import customers' contact data
A small business often manages one sales channel.
The best thing about Veeqo, it can support your business as you grow. You can add more sales channels and warehouses to your account.
You can also assign users per warehouse to ensure everything runs seamlessly.
Manually searching for a product/order is a thing in the past. You can use any standard USB or Bluetooth barcode scanner to do the job more efficiently.
No additional app is needed to download and install.
Simply plug the scanner into your desktop, and you can use it. You can also use the scanner to verify if the packed items are correct.
Aside from your orders, Veeqo is built with excellent management systems for returns, refunds, and re-shipment of lost packages.
When it comes to order fulfillment, they provide tools to simultaneously print large volumes of shipping labels. You also have the option to create branded invoices.
Customizing invoices can be time-consuming.
If you don't have ample time to do it, you can choose from the pre-built templates available in your dashboard. You can create invoices for different brands and display the applicable tax.
The invoice builder has an MS Word-like design, so you won't get confused in editing the templates.
You can set the auto-print function on specific printers for invoices and labels.
Pros And Cons Of Veeqo
| | |
| --- | --- |
| Pros | Cons |
| The support team via phone and chat is responsive. | Initial setup takes a long time to accomplish |
| Include reporting and forecasting functions | Not all applications for integrations are easy to implement (require assistance from their support team. |
| Eight advanced order management features are provided | |
| No special hardware and internet speed requirement is set, use on any device (desktop, tablet, or smartphone) | |
Veeqo Pricing Plan
Veeqo small business order management software is available in three subscription plans:
Accelerator ($48/mo.): Streamline your inventories and orders across 10+ sales channels, organize picking, and ship using the 21+ shipping carriers available.
High growth ($60/mo.): Provide additional tools for managing purchasing, forecasting, returns management, and more.
Premium ($76/mo.): Recommended for established businesses that require digital picking, batch picking, warehouse reporting, and more advanced features.
All subscription plans include a 14-day trial version to learn more about its functionalities.
3. NetSuite Order Management – Most Features
Order Management Software For Complex Fulfillment Processes [Custom Pricing]
NetSuite is popularly known for its scalable and extensive ERP solution. But what makes it more interesting is its robust order management solutions.
Its main objective is to automate and manage your entire order lifecycle efficiently.
The company delivers it with a seamless cross-channel order orchestration. This feature contains tools to do the following tasks:
Order capture and validation
Order release
Shipment confirmation
Customer communication and settlement
You can even route orders to the closest or geographically-appropriate warehouse location to fulfill the orders.
This is intended to save transit time and costs from shipping. You can easily set this up through the dashboard's Advanced Order Management Setup page.
This feature is paired with a flexible fulfillment execution to ensure it will adapt well to all types of warehouses.
Small businesses can take advantage of its pick, pack, and ship capabilities and seamless integration with different shipping providers.
Dropshipping and endless aisle are excellent choices for expanding your business without adding more stores or warehouses.
The best thing about NetSuite order management is, it also provides effective solutions to:
Improve cash flow and eliminate bottlenecks (sales order management)
Optimize return processes using rules (returns management)
Establish currency and customer-specific pricing levels (pricing management)
Pros And Cons Of NetSuite
| | |
| --- | --- |
| Pros | Cons |
| Provide excellent automated fulfillment process to prevent delays | Charge a one-time implementation fee for the initial setup |
| Efficient management of returns to make it saleable again | Not the easiest to use and deploy (require proper training to get started) |
| Include six additional advanced features (order sourcing and allocation, exception management, and more) | |
NetSuite Pricing Plan
NetSuite offers its small business order management software with an annual license fee. The overall cost contains the following:
Core platform
Standard features
Optional modules
Number of users
You'll also get charged a one-time implementation fee for the initial setup.
Contact a sales expert and request a personalized pricing quote.
4. Skubana – Innovative ERP Software
Unified Commerce Platform With Modern Order Management System [Custom Pricing]
The first three small business order management software I've discussed shows how it can boost the operation's productivity by:
Synchronizing all inventory stocks and orders
Optimizing workflow, order, and product lifecycle
Implementing efficient order fulfillment
Skubana is one of the OMS that focuses on keeping up with customers' demands and high expectations.
Automation is its most vital feature, and it's smartly implemented through Orderbot. This order orchestration tool can execute any task related to fulfillment, inventory, and orders.
Here are a few tasks you can automate to give you an idea:
Applying pick/pick/ship instructions
Order routing
Release of orders
Rate selection based on anticipated delivery day, distance, and the item price
The Orderbot works with an if-then statement.
Another great advantage of Skubana is, it supports all product types:
Core products (single product)
Bundles/Kits
Product variations
You can create the type of products you want manually or import a spreadsheet.
No matter what option you take, a complete online guide is available in their help center.
Implementing better customer experiences is the main key to reducing conflicts, backorders, and returns. The good news is, you can quickly implement it using Skubana's customer module.
This module provides a simplified customer relationship management system that allows you to do the following:
Add customers (link them to a company and/or sales channel if necessary)
Add emails, shipping addresses, and telephone numbers
Merge two customer records into one
Monitor customers' activities
All features and tools included are neatly organized into the provided dashboard.
Pros And Cons Of Skubana
| | |
| --- | --- |
| Pros | Cons |
| Seamlessly synchronizes data from CRM, sales channels, warehouses, 3PLs, and POS systems to Skubana's order management software. | A few of the processes in the configuration settings are complicated (require constant assistance from the support team) |
| Free to customize the integrations and features to suit your unique needs | Keep on getting stuck at an error page when pulling up data |
| Feature a user-friendly and intuitive interface | |
| Provide 20 fulfillment methods | |
Skubana Pricing Plan
Get a demo now to learn more about how Skubana's small business order management software can boost your business efficiency.
5. Ordoro – All-In-One eCommerce Logistics Platform
Comprehensive Order Management Software [Free | $499 a month]
Ordoro is an all-in-one eCommerce logistics platform by inception. It acts as your control center for inventory, shipping, and other processes in your operation.
As standard, it comes with tons of functions to streamline every aspect of your process and workflow.
You can add, sync, and track inventory products using a barcode scanner. If your products don't have a UPC barcode yet, you can create your own.
When it comes to integrating your existing third-party or custom systems, you can connect them into your account using its open API.
It isn't as easy to implement compared to direct integration, but the outcome is the same.
When it comes to adding your sales channel, the initial setup process is much easier.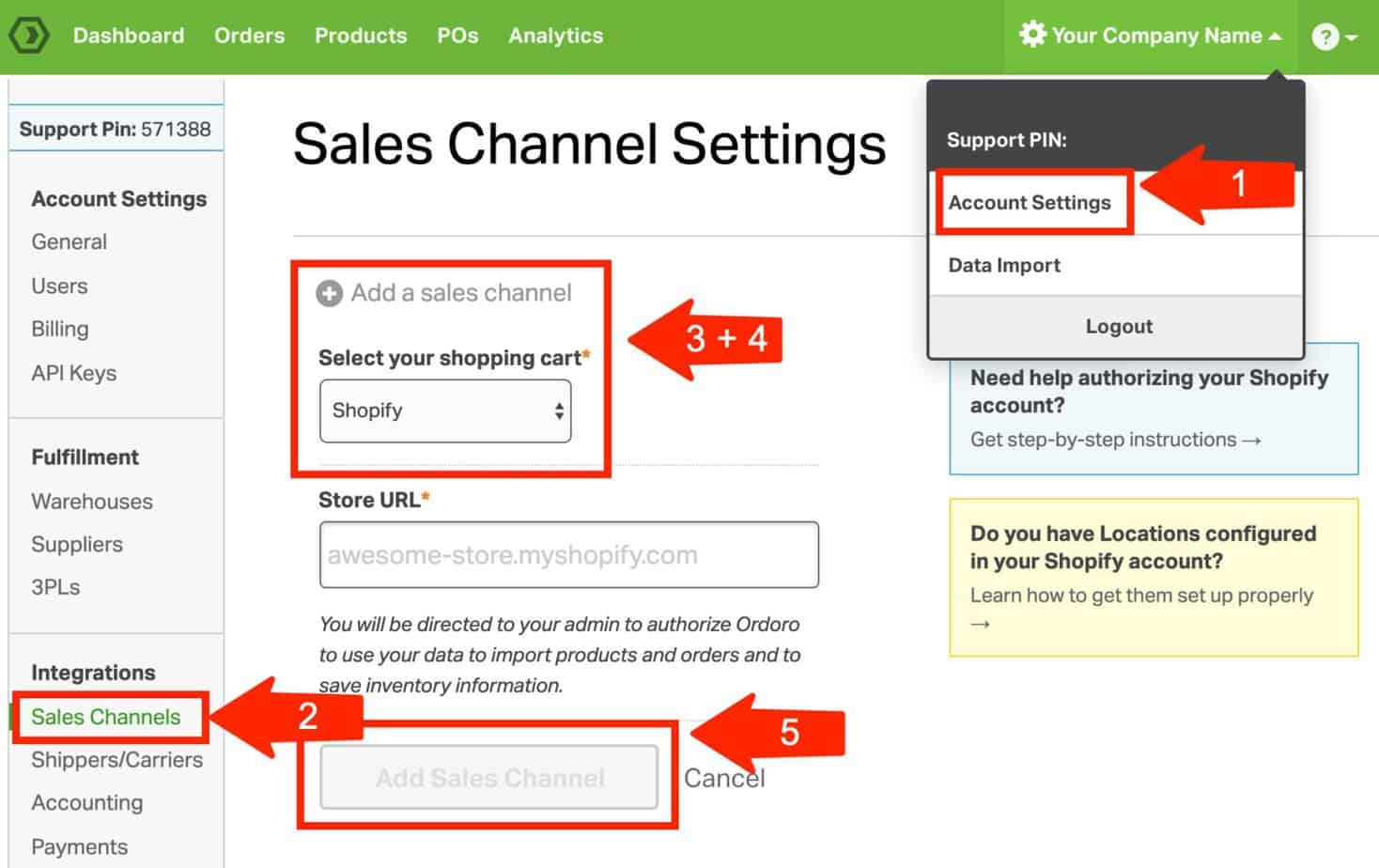 Once you set it up correctly, its system will automatically import all your active products and paid/unfulfilled orders.
Another method you can use to import orders and products from your sales channel is through Intasync. The best part of this feature, it can also automatically cancel orders once they get canceled in the customer's shopping cart.
As of now, you can use Intasync on Shopify and BigCommerce.
Once everything is in your account, you can start performing the following tasks:
Organizing each using custom tags
Add more product info
Arrange local pickup
Combine multiple orders into one shipment
Access historical orders
Multi-carrier shipping is also supported.
You can integrate major shipping carriers like USPS, UPS, FedEx, DHL, and Canada Post.
Pros And Cons Of Ordoro
| | |
| --- | --- |
| Pros | Cons |
| Provide free 30-day onboarding and training to quickly learn its functionalities (all paid plans include free setup) | It would be nice to update the software or release new features more often. |
| Fantastic customer support via phone, chat, and email (even accepts feedback for software improvement | Lags or slow processing when integrating compatible third-party apps |
| Quick transfer of inventory data from one warehouse to another (under Product Details page or Other Actions in the Products tab) | |
| Include kitting feature | |
Ordoro Pricing Plan
Many believe that free small business order management software isn't the best investment for the long run. Ordoro guarantees to provide tons of invaluable tools for its free-forever plan.
Here are a few of the features of the free plan:
No Seller Fulfilled Prime (SFP) fee included
Process 1,000 orders per month
Add unlimited users
Get discounted USPS rates
Multi-carrier shipping
Batch label printing
Automation rules
Barcode scanning
If you want more, here are the monthly subscription plans you can choose from:
Pro ($499/mo.): Provide free setup and onboarding, dropshipping, kitting, returns management, and more.
Enterprise ($999/mo.): Recommended for businesses needing custom solutions.
Schedule a demo now to learn more about the product.
6. Brightpearl – Retail Operating System (ROS)
Multi-channel Order Management Software With Built-For-Retail Features [Custom Pricing]
Some order management systems are created as a standalone product, and some are part of an inventory or ERP software.
Brightpearl takes another approach, and that's by combining it with a Retail Operating System (ROS). Together, they help retail and wholesale brands to handle complex processes and deliver more orders with ease.
Its label may sound to require a high-spec computer device to operate, but it is not.
It only requires a stable internet connection and the latest version of Google Chrome or Firefox. You can also use any current Windows and Mac operating systems.
They use plug-and-play integrations to connect all your sales channels, 3PL, accounting tools, POS, and more.
For the POS, the company offers a dedicated app for ease of use and portability.
You can get it from the App Store and install it on your iPad. The iPad is the only device supported by the app as of writing.
Correctly setup the app, and you can perform the following task:
Sync unlimited number of products
Use it with multiple stores
Apply discounts to a sale
Process products in different currencies
Print or email receipts to customers
When it comes to your products, orders, and contacts, you can bring them all by importing MS Excel or OpenOffice files.
Automation plays a big part in the efficiency of this small business order management software. It's well-implemented in streamlining the workflows of the following:
Inventory allocation
Order routing
Order fulfillment
Shipping
And more
You can do so by writing your own set of rules.
Some OMS require the users to do coding to write rules. The company eliminates this process when developing Brightpearl.
Wholesale customers have different needs.
You can meet all their needs by creating custom terms for each customer. You can set specific price lists, discounts, and payment terms here.
You can also create invoices, quotes, and other supporting statements directly from the orders to match the terms.
To get real-time insights into your business's financial performance, you can take advantage of its fully integrated accounting system.
Pros And Cons Of Brightpearl
| | |
| --- | --- |
| Pros | Cons |
| Provide five simple steps to get started | POS is only available in the English language (but support all currencies) |
| Automation feature covers polls, event-driven, and scheduling | The interface and initial setup are overwhelming for new users. |
| Developer's API offer incredible functions like warehouse SEARCH and product PUT | |
| Provide pre-built templates for efficient creation of invoice, order, and quote | |
Brightpearl Pricing Plan
Request a demo to see Brightpearl's small business order management software in action.
7. SellerActive – Multichannel eCommerce Management Platform
Centralized Order Management Software [$79 a month]
Online selling is becoming more and more challenging nowadays. Customers expect to deliver their orders fast after hitting the buy button.
SellerActive can simplify the process – from fulfilling the orders to choosing the shipping provider.
They use automation to simultaneously list products and orders to different marketplaces like WooCommerce, Amazon, and more. Others use API or plug-and-play integration to connect your sales channels; SellerActive offers direct integration.
Once you properly connect your sales channels, its system will automatically sync the order quantities.
You can also verify the Fulfillment Center/Location assigned per order on the Order Manager page.
Businesses with a physical store also accept orders over the phone or in person. If so, you can create orders manually through the Order Manager page.
Click the Create Order button and fill in all the details needed.
You can also use automation to send orders. It works by using cross-channel fulfillment to send the orders from any sales channel to FBA.
Do you have warehouses?
If so, you can use third-party logistics companies to send all your orders. For optimal savings, its system will automatically set the route of your orders to the most geographically-appropriate location.
Shipping costs can be expensive most of the time.
Don't worry because SellerActive boasts integrated partners to give you the best deals. Some of the partners it provides are USPS, FedEx, and DHL.
Analytics, reporting, and more eCommerce features are the other functions you can expect to use when you purchase SellerActive small business order management software.
Pros And Cons Of SellerActive
| | |
| --- | --- |
| Pros | Cons |
| Provide free setup and general onboarding | Expect a steep learning curve for new users. |
| Satisfactory quality of support via email, phone, and chat | May experience occasional screen freezing, slow loading speed, and lagging |
| Seamless multichannel inventory syncing and integration | Improve the FAQs and online documentation (cover more topics) |
SellerActive Pricing Plan
SellerActive's small business order management software is offered in one monthly/annual subscription plan, and it starts at $79 a month.
It comes with a free initial setup and general onboarding. You can also take advantage of its 30-day trial version to explore its functionalities.
8. Zoho Inventory – Efficient Ordering & Tracking
Simple Online Order Management Software [Free | $59 a month]
Running a business is a challenge, and the pressure can even get higher as the orders increase. Order management software can help you simplify the delicate process and save you from costly setbacks.
Zoho Inventory is the go-to OMS if you prefer simple, effective, and free software.
Its simplicity is applied to its dashboard interface. This is intended to ensure all features are accessible with a few clicks.
The functionalities you can expect to use are listed as follows:
Sync all orders from sales channels through integration (paid and not)
Picking and sorting of products to match orders
Create packaging and shipping labels
Receive real-time shipping rates from 30 different shipping services
Setup payment account to accept online payments securely
Track shipments
And more.
What makes Zoho Inventory OMS stand out?
The answer is simple, it solves many operations' complexities. Let's take managing of product returns.
Once you receive the product back, you can quickly attach product tags to determine the returned item's condition.
From here, you can instantly identify which products are sellable, require repairs, or should be discarded entirely.
It also provides you with tools to create a returns policy.
Other complexities it can solve focus on inventory control, order fulfillment, and shipments.
Pros And Cons Of Zoho Inventory
| | |
| --- | --- |
| Pros | Cons |
| The user interface has a low learning curve. | The search function for products isn't intuitive. |
| Excellent reporting tools to track sales order trends and identify profitable products | No offered automatic data backup (export all organizational data and get CSV-formatted files) |
| Access anywhere using the latest version of web browsers (Google Chrome, Firefox, Safari, and Edge) | |
| Non-profits get a 15% discount (contact support to know more) | |
Zoho Inventory Pricing Plan
Zoho Inventory is renowned for its free software solution. Therefore, you can enjoy using its small business order management software in their free plan.
The free plan gives you a capacity of:
50 orders/mo.
50 shipping labels/mo.
50 Aftership tracking/mo.
One warehouse
Two users
If you want a higher capacity and more advanced features, you can choose any of its subscription plans:
Standard: $59/mo./organization
Professional: $99/mo./organization
Premium: $159/mo./organization
Elite: $239/mo./organization
All subscription plans include a 14-day free trial, so you can explore its function before purchasing.
Conclusion
No matter the nature or size of the business, order management is an integral part of its success.
Veeqo is the best small business order management software if I have to pick one. It's accessible, easy to use, and affordable.
You can efficiently streamline the entire order process from start to finish.
All functions are only a few clicks away to save you more time. If you're unsure what features to get for your business, you can reach out to one of their experts for free.
Simply sign up, and you can schedule a call right away.