In today's world, a single call can make or break a customer relationship. In fact, 68% of customers said they would be willing to pay extra for a better customer experience. To meet rising CX expectations, different kinds of software are being used by call centers. One such option is speech analytics software that analyzes all calls in real-time to measure the quality of agent performance and identifies opportunities for improvement.
A speech analytics software allows businesses to assess how employees are using their voice for work and how it's impacting productivity. The data collected can also highlight potential mishaps before they happen and correct them before productivity drops.
Speech analytics software also helps identify disruptive agents, advice on suitable microphones to use, highlights areas where speech recognition could be improved and even identifies speakers with accents that need more training. 
So if you're looking for speech analytics software for your contact center, this guide will help. I've researched and explored a variety of options in order to identify the best alternatives for your company. After reading this article, you'll know exactly which speech analytics software is best suited to your needs. So read on.
What Is The Best Speech Analytics Software?
Here's a quick rundown of the best 3 speech analytics software I've hand-picked: Verint, CallMiner, and Observe.AI. 
| | | |
| --- | --- | --- |
| 4.8 | 4.7 | 4.2 |
| Overall winner. Great set of features, easy-to-use, and high compatibility.  | Most advanced features. State-of-the-art automation with strong scalability. | Feature-rich. Accurate transcriptions by machine learning automation. |
| Try Verint | Try CallMiner | Try Observe.AI |
1. Verint – Top Pick
Second To None Speech Analytics Software With Useful Features [Custom Quote]
Making it to the top of my list for 2022's leading speech analytics software is Verint. It is used by many companies including DHL and Holland America Line among others. With such a large customer base, you know that Verint does something right when it comes to speech analytics software for businesses.
Verint is a speech analytics solution that allows businesses to analyze recorded customer interactions and uncover actionable insights. The software provides advanced transcription capabilities and helps improve the quality of customer service.
Verint focuses on providing qualitative customer insights into the key factors that affect customer experience and retention, making it easier for you to make changes in real time. It also enables companies to derive actionable insights from all of their customer interactions and achieve increased revenue, cost savings, and customer satisfaction. 
Verint speech analytics software gives you a 360-degree view by connecting to multiple sources of communication, including VoIP, social media, chatbots, and more. Businesses can use the platform to train agents for improved performance.
Verint has many features which help improve your business's overall success rate. Some of the key features include:
Reporting on caller sentiment (positive or negative)
With Verint Speech Analytics' Voice of the Customer (VoC) feature, organizations can gain deep insight into what customers want at each touchpoint – online and offline – so they can deliver better experiences across multiple channels
Identifying marketing campaigns
Training agents on how to respond better
Verint's speech analytics software offers advanced capabilities to analyze and transcribe customer interactions, uncover insights, and improve contact center operations, tracking agent performance over time so you know which ones are doing well/poorly at their job duties
Pros and Cons Of Verint
| | |
| --- | --- |
| Pros | Cons |
| Can be installed on any telephony platform including Cisco, Avaya, Microsoft Lync, etc. | Since NLP technology is programmed for English-speaking populations, it may not work as well with non-English voices |
| Offers advanced features like natural language processing (NLP) capabilities and predictive analysis tools | |
| Sentiment scores identification throughout the conversation—before and after a call | |
| Great variety of tools make automation and managing call centers easier | |
Verint Pricing Plan
Verint is priced on a per-agent basis. The amount you pay depends on the number of agents you have and calls made. You can get a custom quote by contacting them.
2. CallMiner – Best-In-Class Technology
Seamless Speech Analytics Tool With Most Advanced Technology [Custom Quote]
CallMiner is a speech analytics solution that provides you with the ability to leverage your contact center data to improve the business. It helps you analyze, understand and optimize your customer interactions by analyzing all of the conversations that take place in your contact center.
CallMiner is used by companies in many industries, including healthcare, insurance, banking, and retail. This makes sense because these industries all rely heavily on good customer service for their success—and you know what they say about happy customers: they'll tell two friends about your business.
The software delivers powerful reports on top KPIs such as caller sentiment analysis, quality assurance analysis, operational efficiency analysis, and more. Additionally, CallMiner is cloud-based so there's no need for costly hardware or software updates every few years; just pay as you go.
The key features of CallMiner are:
An intuitive interface that makes it easy for anyone who works in customer service environments—whether they're from marketing or accounting—to access critical customer data without having any previous training in speech analytics software.
Generation of detailed insights from speech data. This enables them to increase agent productivity, reduce costs, identify sales opportunities and make better business decisions.
Filtering unwanted calls to customers who have opted out of receiving more calls.
Recording each interaction for later playback when needed.
Allows you to use multi-channel data in real time so that your teams can work smarter. You can create personalized coaching sessions based on the unique needs of each team member or agent.
Pros and Cons Of CallMiner
| | |
| --- | --- |
| Pros | Cons |
| Good customer support | Doesn't offer any agent engagement management functionality |
| Easy to use and scalable | |
| Easily add your clients' details, track calls, and see reports in real-time. | |
| Offers on-demand demo | |
CallMiner Pricing Plan
CallMiner offers customized packages for each enterprise. You can contact their customer support, which will provide you with prices tailored to your needs.
3. Observe.AI – Machine Learning At Its Best
Speech Analytics Tool With Most Accurate Transcriptions [Custom Quote]
Observe.AI is an AI-powered speech analytics tool that provides real-time data to improve customer experience. With Observe.AI, you can perform quality assurance analysis by receiving feedback from your customers and employees in real time and knowing how they are feeling about your products or services.
Observe.AI uses natural language processing (NLP) technology to interpret what customers are saying, so it's possible to filter constructive criticism about your business without having to worry about nuance or context in their responses. This will help companies understand exactly what issues need to be addressed before the next time they give feedback on their experience.
What's more, Observe.AI's method to improve CX is unique in that it doesn't require 100% of calls to be transcribed (as do many other speech analytics solutions) for agent performance reviews. Instead, this speech analytics tool automatically focuses on the most important interactions by leveraging machine learning to detect and prioritize high-risk or high-value calls.
The key features of Observe.AI are:
Uses machine learning to analyze the speech of customer calls, so it can tell you which words or phrases were most important during the call. It then gives you an easy-to-read report with this information, plus recommendations for how to improve your calls going forward.
You can use Customer Journey Maps to see where in the call process customers have problems or questions so that you know where to focus future training efforts on improving customer service skills and enhancing customer experience.
Built on a deep learning architecture that continuously improves with each new transcription it processes.
You can analyze trends and create reports directly from the Observe.AI interface without having to export data like you would in other tools, which saves time when analyzing results.
Pros and Cons Of Observe.AI
| | |
| --- | --- |
| Pros | Cons |
| Based on machine learning making it more accurate | Setup can be somewhat time-consuming |
| Provides call monitoring functionality with screen recording | |
| Observe.AI is easy to use and understand | |
| Offers integrations with many other business applications | |
Observe.AI Pricing Plan
Observe.AI pricing is based on the number of agents using the software, as well as how many calls and conversations are transcribed each month. You can get special prices by visiting their website.
4. Natterbox – Rich Feature Set
Speech Analytics Software With A Long List Of Top-Drawer Features [Custom Quote]
Natterbox is a cloud-based speech analytics solution that provides easy-to-use tools for business intelligence teams to analyze customer interactions by extracting key phrases from customer and agent call recordings. 
The Natterbox solution applies artificial intelligence (AI) to the process of speech analytics with the help of the Google Cloud Speech-to-Text platform. Teams can easily review customer interactions using Natterbox, which allows users to navigate through a customer interaction based on keywords extracted from the call.
In addition to being able to navigate calls automatically, users can also manually review calls with tools such as annotating conversations with notes/actions and creating tags to assign to keywords/phrases that they want to apply across multiple customer calls. 
The tagging tools also allow teams to create classifications and themes based on their keyword tagging selections. The speech analytics platform provides reports for key performance metrics and trends across all of your customer interactions, so you can quickly identify hot and cold spots in your processes.
Natterbox offers a rich feature set that includes:
Uses algorithms that consider context and sentiment during customer calls to identify the most important parts of the interaction. It can help you find out how your customers feel about your business, what they want to talk about, and whether agents are doing a good job at meeting those needs.
Natterbox's text analytics uses artificial intelligence (AI) to convert spoken words into text, which is then used for speech analytics.
Allows users to see all scripts and actions that were triggered in each call log. This can be especially helpful if you have scripts set up as part of your Natterbox account. It allows team members to quickly review what was said on each call so they can determine if any follow-up is needed or if there are any concerns worth addressing right away.
The software also provides insights into agent performance and transcription accuracy, so you can ensure that it's working at its best.
You can use Natterbox's call filtering feature to narrow down your search and identify calls that need to be prioritized.
Pros and Cons Of Natterbox
| | |
| --- | --- |
| Pros | Cons |
| User-friendly interface | Limited integration with other software |
| Offers intuitive reporting options | |
| Extensive online training resources and webinars offered | |
Natterbox Pricing Plan
It's important to note that Natterbox is available as a SaaS solution so there are no upfront costs or capital expenditures required to get started with them. Since they offer customized plans for your business based on usage, it's best to contact their support team.
5. Voicebase – Effective Speech Analytics Solution
A Powerful Speech Analytics Platform With Unparalleled Data Security [Custom Quote]
Voicebase is a cloud-based speech analytics solution that provides a 360-degree view of your customer interactions, enabling you to make better decisions and drive growth. It has the ability to monitor customer satisfaction on an individual level so that you can tailor your communications based on each person's needs or preferences.
Voicebase offers real-time insights on business needs and opportunities by combining automated speech analysis with natural language processing (NLP) technology with sentiment analysis, emotion detection, intent detection, semantic understanding, and more.
The Voicebase dashboard is designed to help you understand how your customers are interacting with your company. The platform will show you which channels are getting the most traffic, their preferred device for communication, and even what language they speak best. This information can help you design better programs for each individual customer group and make sure that everyone who interacts with your business feels welcome at all times.
The key features of Voicebase include:
Detailed reports on caller behavior, call duration, and even sentiment analysis based on the emotional tone in your customers' voices.
Voice analytics function allows you to measure several indicators of customer experience, including call length and accuracy.
Allows agents to quickly review transcripts as they are being created. This means that if there is any confusion during the customer conversation, agents can quickly check back on a transcript for clarification before moving forward with the conversation.
The new generation of Voicebase automatically identifies specific words or phrases within a conversation without requiring manual tagging or training — so you can spend less time tagging transcripts and more time analyzing results. This raw-to-structured data conversion can help improve your business processes or train your agents better.
The ability to monitor call center agent performance in real-time makes agents feel supported throughout their shifts and management has access to the data they need—all without disrupting the customer experience.
Pros and Cons Of Voicebase
| | |
| --- | --- |
| Pros | Cons |
| Ability to set up automated triggers and alerts based on caller behavior | It isn't as cost-effective as some other solutions |
| Enterprise-grade data security | It can be a little hard to understand |
| Offers comprehensive demo | |
Voicebase Pricing Plan
Voicebase pricing is based on the number of users, the number of calls, and the number of data points you want to analyze. You'll need to contact Voicebase's sales team for more information on pricing plans.
6. Tethr – Easiest To Use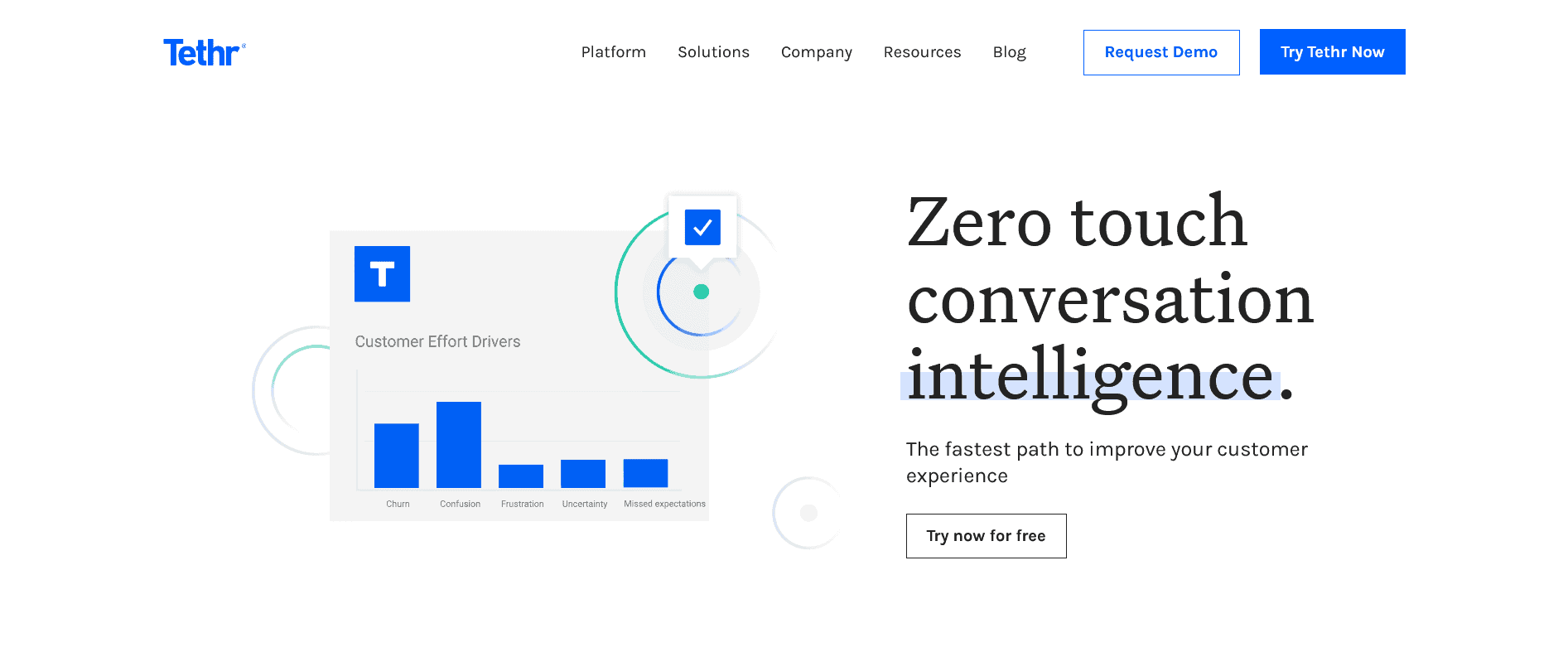 Intuitive Speech Analytics Tool With Comprehensive Machine Learning [Custom Quote]
Tethr provides speech analytics software to help businesses understand their customers, improve CRM and optimize their contact center operations. Tethr's technology focuses on the Voice of the Customer (VoC) component and helps you in quality monitoring of customer interactions, identify areas for improvement and better manage your resources.
Tethr uses artificial intelligence (AI) to analyze every interaction at scale, identifying both exact words and phrases as well as tone and emotion. This data is packaged into reports that can then be used for the optimization of agent performance, training, and workflows. This processing and packaging occur in real time.
AI drives Tethr's voice analytics offerings, with machine learning algorithms improving over time as additional data is analyzed. Since AI algorithms improve when more data is evaluated, it results in more precise analysis and reporting.
The solution provides a user-friendly interface, which allows users with no previous experience in voice analytics technology to easily start working with the platform right away.
This speech analytics software leads with features like:
Automated alerts and notifications so that you don't have to constantly check the data yourself. It will alert you when something is amiss so that it doesn't slip under your radar.
Analyzes data from any source including survey data. The result is actionable intelligence about what's happening in real-time across all channels so you can address customer churns before it impacts your business negatively.
With the syntax analysis feature, you can track customer sentiments to a tee.
The program makes it simple for managers or employees who don't speak the same language (or even those who do) to be trained using videos and visual clues rather than relying on difficult-to-understand written instructions.
The company also has an analytics dashboard that allows you to compare your metrics with competitors in the same industry or vertical.
Pros and Cons Of Tethr
| | |
| --- | --- |
| Pros | Cons |
| Easy to configure and use | May not be compatible with some OS |
| Comprehensive reporting | |
| Offers Free Trial | |
Tethr Pricing Plan
Like its competitors, Tethr hasn't provided information regarding its pricing plans. They also offer on-demand custom quotes which can be obtained via their support team.
7. Chorus By ZoomInfo – Best Value For Money
Nifty Speech Analytics Software With Best Syntax Analysis Feature [Custom Quote]
Chorus is a cloud-based speech analytics tool for B2B sales and customer success teams that analyze voice interactions between their customers and call center agents. The software has been designed from scratch using artificial intelligence technologies such as natural language processing (NLP) algorithms.
This technological advancement provides businesses with real-time insights into what customers are saying during calls so they can make better decisions about how to interact with them in future customer conversations or interactions via other channels like chat messaging apps.
Chorus allows you to analyze every aspect of agents' speech patterns so you can understand how they are doing, who needs to be trained, or how they should be coached in order to deliver the best results for your business.
The key features of Chorus are:
Real-time transcription for recorded calls. It has a simple interface that allows you to upload your audio file and start transcribing it.
Automatic tagging for sentiment feature helps users determine whether there are positive, negative, or neutral emotions in the conversation. You can also find out who said what during the call so that you know exactly who needs attention most urgently when reviewing calls later on.
The platform's search functionality lets users find keywords mentioned during call recordings and use this to uncover certain business trends or patterns.
Collected customer data can be easily shared with other departments within the organization for improved collaboration between teams. This may include sharing calls that are of interest to other team members or customer success managers who could benefit from knowing about specific customer interactions.
The Chorus Summary Dashboard is a real-time, web-based visualization that provides a high-level overview of the health of your communications. It's available in both dashboard and web app formats, so you can choose the one that works best for you.
Pros and Cons Of Chorus
| | |
| --- | --- |
| Pros | Cons |
| Easy set-up process | Limited data viewing option |
| Great customer support | |
| Automatic transcription | |
| Voice activity detection | |
Chorus Pricing Plan
Chorus offers discounts based on the volumes being handled at a particular call center.  Contact the Chorus sales team which will provide you with customized quotes.
8. Knowlarity – Low Cost And Accurate
Cost-Effective Solution For Your Speech Analytics Needs [USD/Sec]
Knowlarity speech analytics can help contact center leaders take their customer experience management (CEM) and customer relationship management (CRM) initiatives to the next level by using speech analytics. It's used by over 6000 contact centers in over 65 countries including companies like Hyundai and Unilever. 
Knowlarity's business intelligence helps you better understand customer needs and preferences, allowing you to tailor your service offerings in ways that enhance customer engagement. Its ease of integration with other systems allows agents to adopt a more proactive approach to call handling, helping them anticipate what customers need while they're on the line.
This improves agent performance, which in turn improves customer satisfaction and makes for happier customers who are more likely to return. While these benefits are important enough on their own merit, Knowlarity has another trick up its sleeve – it can help reduce costs by improving efficiency and effectiveness across departments across the board.
It is easy to use, which means there's no need for any training or special knowledge of the product. It also comes with a demo so that you can see how it works before buying it.
Knowlarity has an AI-based transcription module that can transcribe multiple speakers.
With its auto-mining ability, the software can identify keywords and topics in calls, as well as detect changes in customer sentiment. With Knowlarity's speech recognition technology, you can analyze all types of voice interactions, including phone calls and voicemails.
Knowlarity supports transcription in multiple languages.
With the option to search for a specific word or phrase in a recorded call, you can be sure that no vital details are missed or overlooked.
Scheduled actions should be automated and can be bookmarked or flagged to the respective team members.
By adding industry-specific terminology to Knowlarity, it can be tailored to meet the demands of a particular sector.
Pros and Cons Of Knowlarity
| | |
| --- | --- |
| Pros | Cons |
| Easy to integrate with other systems | Testing and implementation can be tricky |
| Pricing is quite reasonable | |
| Offers free trial | |
Knowlarity Pricing Plan
Knowlarity offers different cost-effective packages. For Non-premium Voice API (logging enabled), the prices range from $0.0030 to $0.0036 for a 15-second call. For Non-Premium Voice API, it costs between $0.0045 to $0.0054 per 15 seconds call.
For their Premium package of Voice API (logging enabled), you may have to pay $0.0045 to $0.0054 for every 15 seconds call, depending on the call volumes. Premium Voice API is slightly on the higher side and ranges between $0.0068 to $0.0081.
Conclusion
Aas a call center owner, you must always be aware of what is going on in your business. To do that well, you'll want to use every tool available to you. Your agent's performance management systems can help with one piece of the puzzle—but they won't tell you how your customers are feeling. This is where speech analytics software comes in.
Verint makes it to the top of my list of top speech analytics software because its undemanding and interactable interface results in saving man-hours and boosting productivity.
A highly customizable tool with robust search features and efficient results makes CallMiner stand second in the row to Verint. The mastery to transcribe conversation minimizes the workload other than easy logging and navigation, hence making Observe.AI our third runner-up.