Working as an online marketer for over 10 years allows me to understand the importance of social media marketing. So, rest assured that after reading this article, you'll get the information you need to achieve business success.
I'll give you my personal experience to explain the best features, pros and cons, pricing plans, and many more about Sprout Social and Hootsuite.
1. Sprout Social vs. Hootsuite At A Glance
I'll start with first impressions. I've created a short comparison table to lay out the different aspects of Sprout Social that make it stand out against Hootsuite and the other way around.
| | |
| --- | --- |
| 4.6 | 4.8 |
| Best for Accessibility. Intuitive user interface with powerful reporting features and toolsets. Starts at $99/month. | Best Overall. Larger user base and longer platform support. Offers a free plan. Starts at $19/month. |
| Try Sprout Social | Try Hootsuite |
2. Who Is Sprout Social Best For?
Sprout Social is the go-to social media tool for medium and large-sized agencies. It's perfect for managing multiple social channels at the same time.
It's also super convenient because there's only one hub for you to do all of your tasks.
Since its subscription plans charge per user, it becomes suitable for a project manager and team leader who works within an organization. It also allows you to add more members as you grow.
3. Who Is Hootsuite Best For?
Hootsuite is a superb all-in-one social media software. That's why it's a fantastic choice for bloggers, marketers, solopreneurs, and entrepreneurs with small to mid-sized businesses.
That's not all…
If you're a rising YouTube influencer, listen up.
Hootsuite is directly integrated with YouTube. This means that you can use it to boost your views.
It also has the Channelview Insight app, which comes free with the Enterprise plan. It lets you track your subscriber growth, engagement levels, and more.
4. A Close Look At The Features Of Sprout Social and Hootsuite
Did you know that 3.96 billion people are using social media nowadays? Let's figure out which of the two, Sprout Social vs. Hootsuite, can give your campaigns a competitive advantage.
| | | |
| --- | --- | --- |
| Features | | |
| Post Builder | | |
| ViralPost® Technology | | |
| Display Feed | | |
| Built-In Bot Builder | | |
| Social Listening Platform | | |
| Smart Inbox | | |
| Team Collaboration Tools | | |
| YouTube Integration | | |
| Get Started | Try Sprout Social | Try Hootsuite |
5. Key Features Of Sprout Social
Digital marketers know social media tools are handy. They make tedious and difficult tasks so much easier.
Let's find out if Sprout Social features fit the bill.
#1 Social Media Dashboard
Isn't it wonderful when you can do all your tasks in one place?
This is exactly what Sprout Social provides upon setting up your account. It will introduce you to your dashboard where you can access all the features included in your subscription plan.
You can also see here everything that's happening in your social channels, tasks, and groups.
The dashboard is one feature of Sprout Social that receives the most positive reviews. Its clean and simple design makes it super easy to use and navigate.
Your dashboard is divided into three primary sections:
Navigation menu (left sidebar)
Main pane (center)
Secondary menu (right sidebar)
What can you expect to see in these sections?
The navigation menu contains the important functions of Sprout Social – publishing, engagement, analytics, and more. If you want to see the latest activities made in your account, you can select the Dashboard menu.
This is also one of the areas where you can access all the assistance available for you and other features you can explore.
The next area is called the main pane, the canvas at the center of your dashboard. It has a simple function and that is to display all the content of the function you selected.
Sprout Social is all about convenience. This is the reason they provided you with a secondary menu with a one-click function.
#2 Smart Inbox
Everyone loves interactions.
This is why social channels created different message types to ensure you can convey your message to the right audience.
Since there are billions of messages made in social channels, Sprout Social makes it easy for you to manage them all by organizing them in one secure place called the Smart Inbox.
The Smart Inbox platform is divided into three sections:
Navigation menu: This is the section where you can access the different inbox views (all messages, private messages, completed messages, saved messages, and saved views).
Top bar: This section helps you visualize your message activities using charts (updated in real-time) and custom date range selections. Now includes the updated filter menu.
Message streams: All messages are displayed here in a single feed.
As of writing, the message types that Sprout Social supports are Instagram Business Profiles, Facebook Pages, Twitter profiles, and LinkedIn Company Pages.
Wait, there's more…
You can also use the Smart Inbox to assign, coordinate, and prioritize certain actions per incoming message to your team members. Simply click the create a new task (pin icon) to do this.
You have no idea how to create a task?
No problem, here are some handy tips you can follow:
Make the task's goal clear by assigning its corresponding task type (general, sales lead, or support issue)
Tick the Mark High Priority box as needed
Specify the member's name you want to assign it to
Lastly, use the leave an internal comment text box to write task-related instructions
#3 Sprout Queue & ViralPost®
Another core function of Sprout Social is publishing.
Inside this section, you can effortlessly manage all your posts that are in draft, scheduled, queue, and for approval. You can also access all the tools you need to help you save time and maximize your impact.
Two of the killer publishing tools available in your dashboard are Sprout Queue and ViralPost®.
What do these features do?
Sprout Queue provides the simplest way to manage and automatically publish multiple posts (from different social profiles) throughout the day. This is perfect to use for posts that aren't time-sensitive such as product tips, blog posts, inspirational quotes, and more.
You can simultaneously queue up to 50 posts per social profile.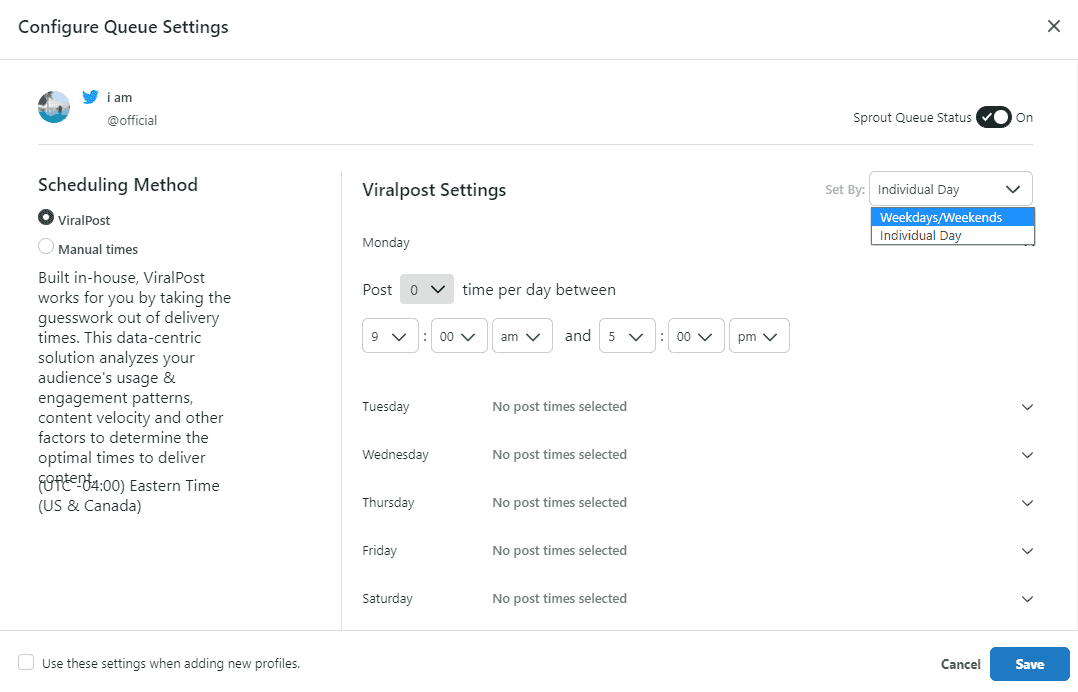 The ViralPost®, on the other hand, is a unique algorithm that analyzes the best day and time to publish your content. Once it calculates the optimal send times for each social profile, it will efficiently fill in your calendar.
You can use this feature to release content up to 10 times per social profile and day.
Isn't it convenient that a large number of tasks are done with only minimal time and effort used?
What more if you combine the power of both features?
It's true, Sprout Social made it possible to easily integrate ViralPost® with Sprout Queue. Together, they created an amazing automated scheduling engine.
#4 Social Listening Query Builder
Monitoring conversations is not enough to get comprehensive insights into the latest trends in social channels (keywords, hashtags, competitors, and more).
This is why Sprout Social completed its platform with a listening section, available in Professional and Advanced plans. Here, you can perform the following functions:
Create, edit, delete, and archive topics
View active topics
Access Twitter search
Social listening has two primary tools but is the most in-demand in the query builder.
The social listening query builder lets you create a topic from scratch or using pre-designed templates.
Assuming you want to use the easiest way to create a task, here are the five popular Listening use cases you can implement in your account.
Of course, all businesses are different.
This is why it's important to make the necessary changes to the templates to ensure they will fit your marketing goals. Keywords are the primary aspect you need to change.
But wait…
Before you start adding keywords, you need to understand the type of data you are allowed to listen to per social networking platform:
Twitter, Reddit, & Tumbler: No limitations. You can listen to its entire network.
Facebook: Only applicable to selected pages.
Instagram: Hashtags must always be included in your query.
YouTube: Can only listen to YouTube videos' descriptions.
#5 Analytics & Reporting
Collecting detailed data is important to your business's success. This can help you make an informed decision or strategy to better improve your content performance, ROI, customer care response time, and more.
Normally data collection can take days to pull up.
But not with Sprout Social. It speeds up the data collection process and automatically generates reports.
Simply add the social channels you need to manage and after 24 hours (more or less), its system will provide you with complete, detailed, and relevant insights.
Here are the standard reporting features you can get from all subscription plans:
If these reporting features aren't enough, you can always add more. Sprout Social also offers advanced reporting based on the time zone you've selected or the age/gender of your target audience.
6. Key Features Of Hootsuite
Is Hootsuite the right social media management tool to address your business needs? Find out for yourself by understanding its basic and strongest features.
#1 Dashboard Interface
Let's start with Hootsuite's dashboard.
Compared to other social media management platforms, its dashboard doesn't have a sophisticated appearance. But one thing you can be sure of, it is made for function.
You can access your dashboard after signing up and connecting all your social profiles.
Its interface is divided into three sections:
Navigation menu (left sidebar): It contains Hootsuite's primary features – content builder, streams, publisher, assignments, and analytics.
Supporting menu: This is a collapsible section that holds all the available tools you can use under a specific feature.
Main pane: Simply display all the content each function contains
You can also access the Hootsuite app directory here, an ideal place to go if you're planning to expand your account functionalities.
#2 Content Builder
You don't need technical skills or experience to create content at Hootsuite. It has an in-built content builder that allows you to create your post quickly and easily.
There are different designs made for the content builder and all of these are based on the social channels you intend to post your content.
The standard content builder is the most flexible of all. Facebook, Twitter, or LinkedIn – You can create any content here no matter where you post it.
Apart from text, you can also add the following elements to make your content engaging:
Emoji
GIFs
Hashtags
Images
Links
Mentions
Tags
Videos
If you are a freemium user, you can also utilize Pinterest's content builder. The primary differences it has with the standard builder are that you also need to add the board and Pin links you want your content to be posted.
The good news is that more advanced content builders will be provided as you upgrade your subscription plan.
#3 Boards & Streams
Manage and monitor all your social channels' activities through Hootsuite's stream sections. This section features a multi-columned feed that is composed of streams and boards.
The streams simply hold the data of a specific social activity (keyword, topic, hashtag, mentions, etc.). It is automatically generated when you connect the social channels you're managing.
While the boards are used to organize your streams. This is great to use for separating the insights of your personal and team activities or creating purpose-specific campaigns.
Creating a new board is simple. All you need to do is click the +new board link then type your preferred name in the text box.
#4 Hootsuite Inbox
Hootsuite wouldn't be completed without a reliable engagement tool. One of its killer tools is the inbox.
Inside this platform, you can engage with your audience across social channels. Whether it is in a thread or private/public messages, ease your mind so that you can respond to any conversation quickly.
If you consider availing of the Business or Enterprise subscription plan, here's the good news.
You can also use tags to categorize replies and comments.
Good news everyone, Hootsuite inbox is also designed to easily collaborate with your team members.
If you have customer inquiries or issues, you can directly assign them to your subject matter experts. Once you successfully assigned it, your assigned member will receive an email notification.
A friendly reminder.
Hootsuite inbox has a storage limit (vary on the subscription plans). Once you've reached your account limit, the oldest conversations you have are automatically removed from your inbox.
Other limitations you need to remember are the following:
Conversations only stay in your inbox for six weeks
LinkedIn conversations are instantly removed after two weeks of inactivity
Facebook private messages can last up to six weeks, and older than that are automatically removed. However, you can still view them in streams.
Twitter messages also can be stored and encrypted for six weeks
#5 Collaboration Features
Whether you have a small or larger team, both can benefit from Hootsuite collaboration features.
Aside from the inbox, you can also manage tasks in the Assignment section. You can simply organize it using the preset filter.
The colors of the banner represent the current status of the assigned task. Here is the meaning of each color:
Orange: Assigned and awaiting action
Blue: Replied to, but not yet resolved
Green: Resolved
Do you have unresolved tasks?
If the answer is yes, it's wise to reassign the task either to yourself or another member of the team to resolve it quickly. You can do it individually and in bulk.
One effective way to save time is to create all your content in advance and use AutoSchedule to instantly publish it at its optimal send times. You can access this on the content builder.
If you're an Enterprise user, you are also eligible to use three automated action types.
Inbox assignments: Assign a specific incoming conversation thread in your inbox to your members.
Assignments: Create automated message assignments for Twitter profiles (@mentions and direct messages), Facebook Pages (visitor posts and page post comments and replies), and other tasks handled in the Assignment Manager.
Tags: Use tags to categorize posts, comments, replies, and more.
7. Sprout Social vs. Hootsuite – Pros And Cons
After breaking down Sprout Social and Hootsuite's popular features, let's now identify their respective strong and weak points.
Sprout Social:
| | |
| --- | --- |
| Pros | Cons |
| More collaboration tools are offered for teams | No free subscription plan is available |
| Excellent Social CRM tools | Lacks YouTube integration |
| Provide a report builder to create custom reports | Its subscription plans are not ideal for startups and small businesses |
| Allows post approvals | |
| Customer support is helpful and responsive | |
Now, let's review Hootsuite's pros and cons.
Hootsuite:
| | |
| --- | --- |
| Pros | Cons |
| Include a free subscription plan | Lacks advanced automation functions |
| Over 150 compatible apps available for integration | Ability to capture actionable insights is only available at the highest subscription plans |
| Easy to set up and configure | Only offer basic CRM functions |
| Offers free online courses to help you get started | No phone support is included and its social media support isn't always responsive |
| Include a planner view section to track what post/campaign is going live and when | |
8. Where Do I Get The Most For My Money?
So, between Sprout Social vs. Hootsuite, which social media management tool is budget-friendly? Let's find out by breaking down their individual subscription plans' costs per month.
Sprout Social Pricing Plans
Sprout Social designed its pricing plans per user. It offers three paid subscription plans with a 30-day free trial.
Standard ($99/mo.): Let the work begin with the Standard plan. It includes 5 social profiles, an all-in-one social box, social content calendar, tasking and social CRM tools, and more.
Professional ($149/mo.): Power up your growing business with the Professional plan. Get 10 social profiles, all Standard features, tools for creating response rate and time analysis reports, helpdesk integration, and more.
Advanced ($249/mo.): Take advantage of Sprout Social's advanced features which include message spike alerts, chatbots with automation tools, access to the digital asset and content library, and more.
Wait, there's more…
Sprout Social also offers additional features to help you scale your business. Let's take a glimpse of them:
Social media listening tools
Premium analytics
Advocacy add-ons
Explore them now by requesting a personalized demo.
Hootsuite Pricing Plans
Hootsuite offers one free subscription plan and four paid plans with a 30-day free trial.
Free ($0/mo.): This is a one-user account that can manage 2 social accounts and schedule 5 messages.
Professional ($19/mo.): Get the Free features with a few upgrades: manage 10 social accounts, schedule unlimited posts (simultaneously and in advance), access your messages in one inbox, and more.
Team ($99/mo.): This subscription plan lets 3 users manage 20 social accounts. Aside from the Professional features, you can also manage team access and roles with permissions, and assign a post to members.
Business ($599/mo.): If your team manages up to 35 social accounts, the Business plan is recommended to get. Here, you can get 5+ user access, 24/7 priority support, the ability to review messages before publishing them, extend functionality with premium apps, and so on.
Enterprise (Custom Pricing): This is the ideal subscription plan for businesses that want exclusive tools and custom solutions tailored to their size and needs. Request a demo now and see its amazing impact.
9. Conclusion – Which Is Better: Sprout Social or Hootsuite?
As I break down Sprout Social vs. Hootsuite's capabilities, I found Hootsuite to be the better social media tool… and this is not solely because of its affordability.
It may have fewer analytics and reporting tools and doesn't provide a clean, modern interface like Sprout Social. However, when it comes to social engagement and publishing, Hootsuite is proven to provide the same convenience and effectiveness.
On top of that, it excels in supporting more social media platforms (also supports YouTube and WordPress) and app integrations (150+ offered).
Check it for yourself by getting the Hootsuite now. Avail of their free plan yourself.
10. Sprout Social vs. Hootsuite – FAQ
Here, I'll answer four more questions that people commonly asked about Sprout Social and Hootsuite:
Is there a free version of Sprout Social?
No, Sprout Social doesn't offer a free plan. However, you can still try it for free with its 30-day trial.
Is Hootsuite trustworthy?
Yes, you can trust Hootsuite when it comes to securing your data and logins. It comes with tons of security features such as firewalls, Tier-4 datacenters (physical servers), multi-factor authentication, industry-standard data encryption (TLS 1.2 and TLS 1.2), disaster recovery, network protection, and more.
What platforms does Sprout Social use?
As of writing, Sprout Social can integrate into 11 social network platforms (Facebook, Instagram, Twitter, LinkedIn, Pinterest, etc.) and multiple business platforms (HubSpot, Salesforce, Slack, and more).
Is Hootsuite approved by Instagram?
Yes, Hootsuite is one of the approved Instagram partners that permits you to create, schedule, and post content of all kinds (stories, videos, or images). You can also easily track all posted content's performance while engaging with your audience.