In this post, I'm going to do a thorough Thinkific vs. Teachable comparison.
Having used both Thinkific and Teachable to launch my online courses in recent years, my goal is to help you choose the right online course platform.
This post is not a summary of what's already out there, it's based on my experiences with these platforms.
So if you're ready to launch your online course and do it right the first time, should you choose Thinkific or Teachable? That's exactly what you're going to find out.
Let's get started.
Thinkific Vs. Teachable At A Glance
Let's quickly glance through the features of both Thinkific and Teachable and see where they stack up and which one is better.
| | |
| --- | --- |
| 4.9 | 4.5 |
| Best Overall. Easy to start with online course creation with pre-built themes and comes with a drag-and-drop builder. Starts at $49/month. | Best for accessibility. Teachable is quite a simpler platform. However, it is a lot cheaper and affordable. Starts at $39/month. |
| Try Thinkific | Try Teachable |
Who Is Thinkific Best For? Who Is Teachable Best For?
Thinkific is best suited for authors, coaches, speakers, online entrepreneurs, and other subject matter experts who want to create, price, and publish their online courses to the world.
Mid-size businesses looking to expand their reach and scale their companies with valuable education can also benefit from Thinkific.
Teachable has a broader audience. The platform is designed for individuals (mostly beginners) who want to teach what they know online and make extra money.
These individuals may not have an existing business — but as long as they're passionate about their expertise, Teachable is fine.
A Close Look At The Features Of Thinkific and Teachable
How does the Thinkific online course platform compare with Teachable? Let's take a closer look at the core features.
| | | |
| --- | --- | --- |
| Features | | |
| Visual Drag-and-Drop Course Builder | | |
| Student enrollments | | |
| Quizzes & Surveys | | |
| Private & Hidden Courses | | |
| Slideshows/Presentations | | |
| Ecommerce Tools | | |
| Email Integrations | | |
| Instant Payouts | | |
| Course certificates | | |
| WordPress plugin | | |
| Get Started | Try Thinkific | Try Teachable |
Key Features Of Thinkific
Thinkific is built from the ground up with some of the best features for creating and launching a profitable online course. Here, we'll pay attention to the key functionalities that you'll need:
#1 Easy Drag and Drop Course Builder
One of the defining key features of Thinkific is the visual drag and drop course builder. It's so easy to use, even if you're new to website builders.
This visual builder makes it easy to build your course from the ground up. If you choose to use one of the premade themes, it gets even better. You simply click a text area, change text and color, and save.
With the drag-and-drop builder, it's fun to upload videos, build quizzes, and organize all your learning resources in one place. 
You can even set pricing, schedule lessons, and automate every aspect of your online course curriculum. No coding is required!
You can also customize how your course looks, feels, and runs. If you don't want all your students to access your courses, you can set up private and hidden courses. 
Other things you can do with the course builder include:
Assign multiple instructors
Drip schedule content
Create prerequisite lessons
Cohorts
Manage evergreen and expiring content
Create membership sites 
#2 Build a Complete Website
When you're ready to sell your online courses, you need a professional website. Thinkific makes it easy to build and design a full-blown website to effectively market your courses.
The drag-and-drop website builder makes it extremely easy. Once you log in to your Thinkific account, click the "DESIGN YOUR SITE" tab on the left panel to begin:
You can also choose a stunning theme from the library that best suits your course topic, brand, or culture. Or customize the theme as you see fit to look exactly the way you want.
Your website will be equipped with a pre-built instructor, key learnings, course review sections, curriculum, and more. Add, delete, or rearrange sections of your course pages and curriculum to suit modern learning patterns.
A stunning website isn't enough. You need to also use your own custom domain. Thinkific gives you full access to HTML and CSS. If you're a beginner, Thinkific was built for you; however, website developers can do a lot at the backend as well.
#3 Market and Sell Your Online Courses
Thinkific has a ton of features for marketing and selling your online courses. 
From flexible pricing options that will fit the size and style of your business to membership subscriptions, you can package your courses however you want and give students more options to pay.
Remember that delivering the best experiences is the most important aspect of your online course business. Put the customers first, and you'll build a thriving business.
Additional sales tools include coupons and promotional features. You can also add Upsells right on the 'thank you page,' custom first-month payments, free trials, and a ton of other features to help drive and maximize sales. You can accept all credit cards in over 100 currencies.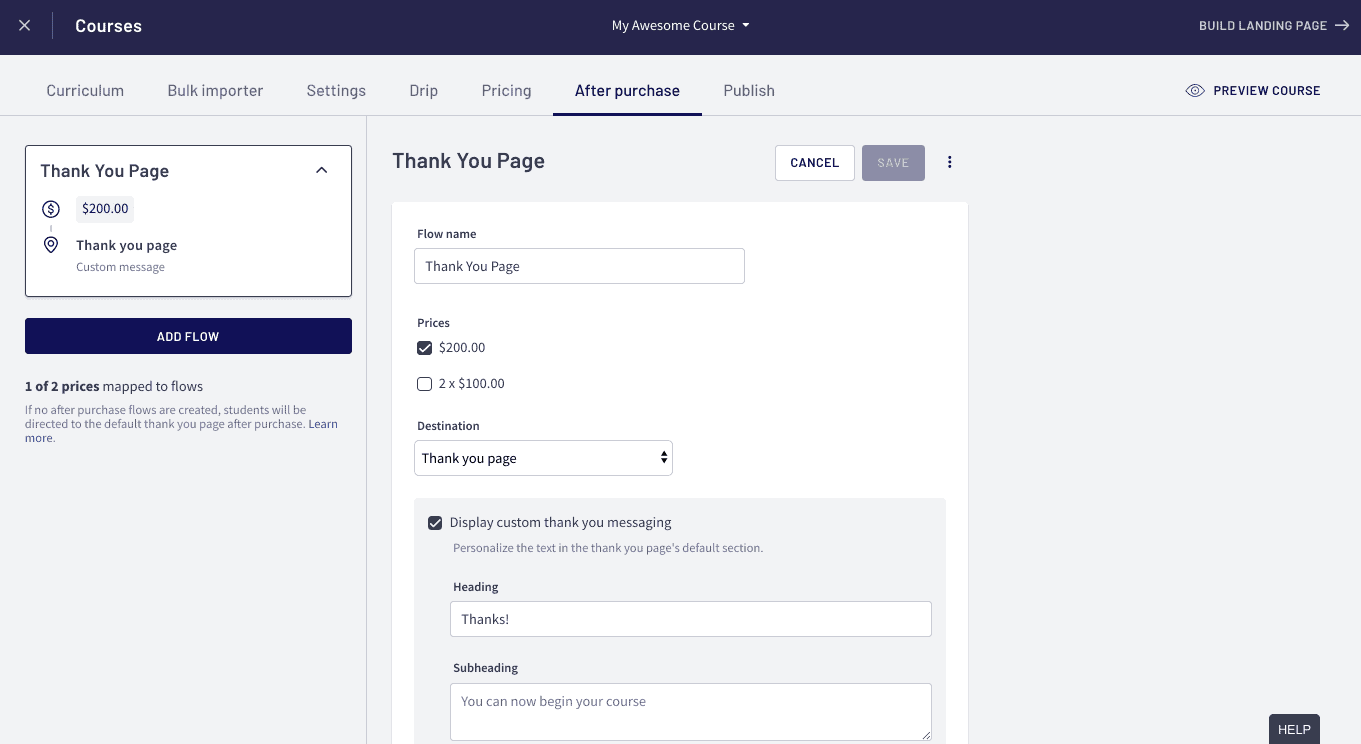 More so, there's no need to get worried about payment as you'll get paid instantly when you sell through Thinkific.
Additional ways Thinkific helps you market and sell your online courses:
Host an affiliate program and reward affiliates for promoting your courses
Incentivize your partners with direct tracking and personalized commission rates
Easily integrate your email marketing provider to send promotional emails to students
And so on.
#4 Student Support and Experience
Creating the best experiences for students is the #1 component of a successful and thriving course business. 
Thinkific allows course creators to teach with confidence using features built to help students have a great experience and succeed, such as goal setting, dedicated tracking, customized learning environments, and course landing pages.
Course creators can even make the learning experience more rewarding and enjoyable by offering unlimited replays of course materials, language controls, and leveraging clear progress indicators.
Another important aspect of driving student support and celebrating their wins is by offering completion certificates and customized completion pages.
There's more:
Easily track progress and keep students inspired all day long.
Encourage students with automated check-ins.
Streamline communications using automated progress and reminder emails that you can personalize to appeal to your students as well as your brand.
#5 Online Course Security Tools
Thinkific stands tall above its competitors by offering iron-clad security tools and features. This ensures that your content and course data are kept safe.
Here are some of the security tools from Thinkific:
Secure cloud hosting & daily backups: This is reliable, secure, and safe cloud hosting, with SSL certificates built-in to keep your data in good shape.
99.9% uptime & 24/7 monitoring: Your site/course pages will always be available, working optimally whenever your students access them. No outages.
Instant access to updates: You don't have to worry about missing a version. You get automatic updates with instant access to all of the latest features.
Key Features Of Teachable
I love the tools and features that Teachable offers course creators.
If you're looking to create your online course and start your entrepreneurial journey, here are the key features that bring Teachable to the spotlight:
#1 Create and Customize Your Online School
Teachable is truly the industry leader when it comes to creating and launching an online course. Its drag-and-drop course builder is intuitive to use.
Once you log in to Teachable, name your school to get started. You can always change it later.
If you don't want to create a new course from scratch, you can customize a pre-designed theme. You can also use your own custom domain.
With the Power editor (for developers), it's pretty easy to create engaging multimedia lectures, coaching sessions, and videos. If you want your online course to be intuitive and user-friendly, Teachable is right for the taking. 
You can host videos and integrate with email marketing providers such as Constant Contact, ActiveCampaign, MailChimp, and ConvertKit.
This helps you to kickstart your marketing emails and drip (schedule) course content to your students via email.
#2 Online School Learning Experience Features
Teachable is powerful. It allows course creators to create unlimited courses, enroll an unlimited number of students on all plans, and give students access to unmatched experiences.
Teachable gives you access to unlimited video bandwidth, unlimited courses, and coaching services.
Notifications: This is an important feature in Teachable. In the Notifications settings section, course creators can control enrollment and set common notifications.
Whatever your choice, you may adjust your setting to get notified when a new student joins your school, enrolls for your course, leaves a comment, or when someone engages with your comments on the thread.
#3 Talk to Your Students Live
With Teachable, course creators are in good hands. They can talk to their students live: Run one-on-one sessions using the easy-to-build milestone, call hosting, as well as the task features.
Schedule and host: If you're a consultant or coach, Teachables makes it easy to seamlessly lead clients from booking to intake to scheduling and learning when you integrate with Calendly.
Create success stories: Course creators can tap into the rich deposits of success stories and testimonials. To encourage students to participate, creators can design fun quizzes and award course completion certificates to graduating students. They can also ensure transformation with course compliance controls.
#4 Teachable Online Course Security
Just like Thinkific, Teachable takes your business seriously. You don't want to turn your passion into an online course, only to have it hijacked or hacked by some folks. 
Teachable has a full crop of experienced fraud teams on staff to engage and ward off bad guys who may be a threat to your online course content and student data.
As a course creator, you own your content and student data. It doesn't belong to Teachable. That's why you get seamless hosting capabilities, with 24/7 monitoring for outages, so that you don't get knocked off.
This reliable hosting comes with instant upgrades — no need to wait around for the latest features. It uses a 2048-bit SSL certificate to keep your students' information secure — especially during login and checkout.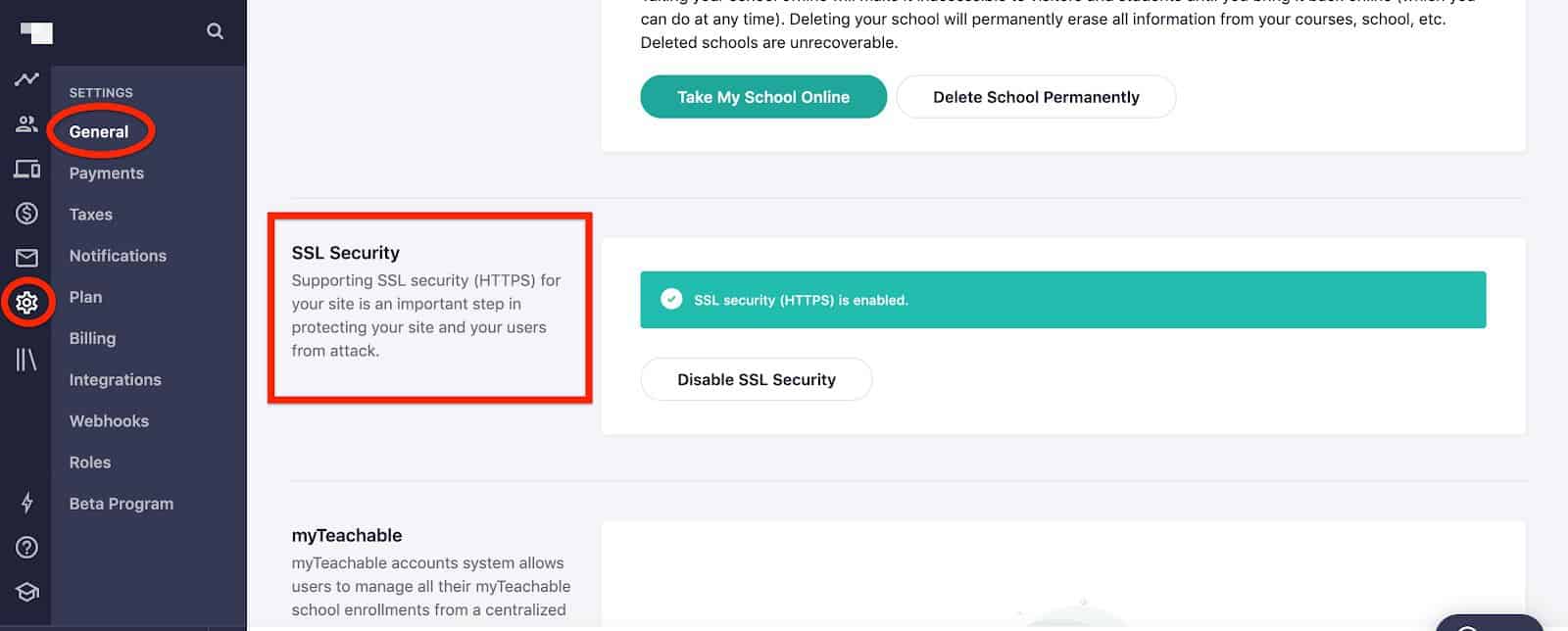 Teachable also partners with payment providers that are PCI level-1 compliant. This gives you confidence that your students' data is 100% safe and secure.
#5 Teachable Course Marketing Tools
Teachables offers a suite of marketing tools to help drive new students to your online courses and maximize the lifetime value of your existing students. Coupons and free trials are highly effective.
Effective marketing is arguably the most essential aspect of a successful course launch. When you have an inclusive marketing strategy, you'll notice an increase in the number of students going through your course.
You may also enroll students manually, assuming there's a technical glitch on your school's page.
If you were using online learning platforms like Udemy and Coursera, then you already have access to potential students. It's good news until you realize how much you're expected to price your courses (about $11.99 – $299).
While Thinkific and Teachable allow course creators to charge a premium for their courses, you need to market yourself.
This is where Teachable makes it pretty rewarding with a range of marketing tools:
Use the landing page builder features to drive sales.
Integrate with leading marketing tools such as Mixpanel, Infusionsoft, MailChimp, and more. This way, you can take your marketing efforts and drive them via email marketing, CRM, and more.
Easily host affiliate programs with built-in features and expand your reach through other people's efforts.
Create coupon codes to encourage new students to join your course at a fraction of the cost.
Quickly accept payments in 130+ international currencies. You can accept payments in multiple currencies for your online course(s). 
Add conversion pixels to your website to track & measure the effectiveness of your marketing campaigns.
Thinkific Vs. Teachable – Pros And Cons
Thinkific is arguably one of the best online course platforms you can lay your hands on. But do you think it's perfect? Let's dive into the pros and cons:
| | |
| --- | --- |
| Pros | Cons |
| It's easy to create stunning content pages with a drag-and-drop visual builder | The Thinkific Basic plan is a bit expensive (starting at $49/month) compared to Teachable Basic (at $39/month) |
| Explore the Thinkific platform and its rich features with the free plan (no credit card required) | The free plan has basic and limited features (not suitable for serious course creators) |
| Create unlimited courses | Course creators can't conduct workshops |
| Easily embed course sales widget directly to your blog to increase sales | The affiliate interface can be improved |
| Turn your blog posts into course content with the WordPress plugin | The premade themes can be more responsive |
| Zero transaction fees for all plans | |
Teachable is the industry leader when it comes to creating online courses, with well over 100,000-course creators. So, is it the BEST platform for your online courses and coaching lessons? Let's consider the pros and cons:
| | |
| --- | --- |
| Pros | Cons |
| Easily create online courses with a drag-and-drop course builder (no experience needed) | The Basic plan comes with transaction fees |
| No transaction fees on free courses | There are no features or tools for conducting live workshops |
| Course completion certificates for graduating students | Basic integrations with third-party tools |
| Rich and flexible Upsell features to maximize course sales | All courses look identical, except for the logo and color scheme |
| Easy to use "Drip course content" feature that engages your students | |
| Teachable is ideal for beginners who don't want to mess with technology | |
Where Do I Get The Most For My Money?
Pricing is another aspect of any online course platform you need to consider.
To help you choose between Thinkific and Teachable, here's a breakdown of the pricing and plans (with screenshots).
Thinkific Pricing Plans
Thinkific offers 4 pricing structures (free plan inclusive). Let's take a look:
Free ($0.00/month): The free plan gives users the chance to test-drive all of the amazing core features inside Thinkific at no cost. Create 3 courses, accept unlimited students, create quizzes & surveys, host content, and get paid for course sales instantly.
Basic ($49/month): This Basic plan is ideal for starters. It offers basic features and tools to create, price, and launch your first course. Create unlimited courses and accommodate an unlimited number of students, offer coupons, get affiliate reporting, use a custom domain, integrate email tools, enroll students manually, etc.
Pro ($99/month): If you're a course creator who's ready to scale and build a successful online course business, the Pro plan is best suited for you.
It comes with all of the Basic features plus advanced customization, priority support, Assignments, Communities, Live lessons with Zoom, Memberships & bundles, 2 Site admin accounts, and more.
Premier ($499/month): When you're ready to build an education empire or launch multiple courses that will power your online business, the "Premier" plan is highly recommended.
In addition to all of the features in the Pro plan, you also get 5 Site admin accounts, 15 Group Analysts, 50 Course admins/authors, Single sign-on (SSO), an Onboarding package, and an Unlimited Growth Package.
Note: This pricing breakdown is for monthly plans. You can save 20% if you pay annually. This means you're paying $39/month (pay yearly) on the Thinkific Basic, and so on.
Teachable Pricing Plans
Teachable has a simpler pricing structure. There are 3 distinct pricing plans that you can choose from when you're looking to create, price, and sell your online course.
Basic ($0.00/month): The Basic plan is best suited for individuals and small businesses that want to create their first online courses. It offers product support, course creator training, custom domain support, drip course content, a members-only community, unlimited students, and 5% transaction fees.
Pro ($199/month): This is the most popular plan that Teachable offers. It has everything included in the Basic plan, plus zero transaction fees, 5 admin-level users, priority product support, graded quizzes, advanced reports, course compliance, etc.
Business ($299/month): For more advanced course creators who want to experience all that Teachable has to offer. In addition to all the features in Pro, this plan comes with zero transaction fees, a coaching product, Unlimited students, instant payouts, manual student imports, 20 admin-level users, custom user roles, advanced theme customization, Group coaching calls, and more.
Note: If you choose to pay annually, you'll save $120/yearly on the Basic plan, and even more on the Pro and Business plans.
Conclusion – Which Is Better: Thinkific Or Teachable?
There you have it, the side-by-side comparison between Thinkific and Teachable.
Both online course platforms offer rich and flexible tools and features for creating your online courses, pricing them, making money, and building an online educational business.
Based on my experience using both platforms, Thinkific offers more advanced features that can help you get started quickly and scale your online course businesses.
Whether you're an individual or a business that needs precise features that you can rely on, Thinkific is highly recommended.
Teachable, on the other hand, is more popular than Thinkific, with more than 100,000-course creators already and tools to get your first online course created and launched.
Thinkific Vs. Teachable – FAQ
Given the popularity of both Thinkific and Teachable, a lot of aspiring course creators are asking a ton of questions. Here are 4 of the most frequently asked questions (FAQs):
Is Thinkific better than Teachable?
Yes, Thinkific offers both basic and advanced tools to help you create, price, launch, and market your online course. Teachable also has amazing features, mostly for beginners.
Can I use Teachable for free?
Yes, Teachable has a free plan that you can get started with. But you'll have to pay a high transaction fee: $1 + 10% commission on any course sale.
Is Thinkific free?
Thinkific offers a free plan with zero transaction fees. However, you can only create 3 courses. The Basic plan costs $39/month if you pay annually or $49/month (paid monthly). This offers you Unlimited Courses & Students, Email integrations, Custom domain, Coupons, Affiliate reporting, and so on.
Can I make money on Thinkific and Teachable?
Yes, you can make money on both Thinkific and Teachable in 2 ways:
As a course creator: Create an online course on either of these platforms, price it, and make money from student enrollments.
Make money as an affiliate: Simply promote Thinkific/Teachable to earn a 30% recurring commission on all monthly or yearly subscriptions (you can be paid up to $1,700/referral/year. It comes with a 90-day cookie period.