If you've come across countless false business opportunities on the web, you are not alone.
This is why I will ease your frustrations in this article by giving you the top ten online businesses that are truly profitable.
Whether you are a complete beginner or an experienced entrepreneur, you will find one that perfectly suits you.
Let's get straight into the Top 10 Online Businesses you can get into for 2022.
1. Blogging
Blogging started as diary-type entries published on the web.
Nowadays, it has evolved into online articles that may include images, videos, hyperlinks, etc.
Here's the thing:
Having a blog will not make you any money all by itself.
You need a strategy in order to monetize your website.
Here are seven ways that you can achieve this, according to Smart Blogger's CEO John Morrow.
Affiliate Marketing
Advertising
Books and Ebooks
Speaking Gigs
Online Courses and Workshops
Consulting/Coaching
Selling Freelance Services
Cost to Start: Free-$39
No matter what other articles tell you, you can actually start blogging for free.
Medium is a good place to begin, as well as WordPress.com, Blogger, and many more.
You can even use your mobile device to write blog posts.
But if you want to make good money out of it, then you need to start investing.
You need web hosting and a registered domain name.
Web hosting ($5-$29/month): One of the cheapest web hosting plans out there (ex: Namecheap), costs $5 per month.
However, low cost does not equate to good performance. 
As your blog grows, you'll want to improve your site speed.
Using cloud-based web hosting (ex: WPEngine) is a good option. Prices start at $29/month.
Domain name (Average price of $10/year): In addition to hosting, you also need to register a domain name.
Most domain registration platforms have an average price of $10 paid yearly.
How Much Can You Make?: $0-$10,000/month
According to a 2012 ProBlogger survey:
28% of bloggers obtained less than $10/month,
25% make about $10-$99/month,
17% receive $100-$499/month,
10% don't make any money at all,
9% get around $1000-$9999/month,
4% make more than $10,000/month
You're probably wondering:
Why do most bloggers not earn more?
The reason for this is that blogs need traffic, and growing it takes time. 
It is expected that it will take three to six years for a full-time blogger to earn a good living.
If you want to make it as a blogger, you need to be determined and persistent.
Example of a Successful Blogging Business: MakingSenseOfCents.com
Michelle Gardner started her blog so that she could improve her finances and educate her readers at the same time. 
In seven months, she was able to pay off her student loans which amounted to $38,000.
In December 2017 alone, her blog earned about $126,260 from affiliate marketing, advertising, and selling products and services.
Now she travels the world in her sailboat with her husband, and her blog currently has more than 20 awards.
2. Lead Generation Business
Knowing what "leads" are in the first place is essential to understanding the second item on this list of top ten online businesses.
Simply put, a lead is a prospect or a potential customer. 
As you may already realize, attracting leads is extremely important.
You may wonder, "Why don't entrepreneurs conduct their own lead generation strategy?"
This is because the majority of buyers in the digital age are self-informed.
Before making a purchase, they spend a lot of time researching a product or service.
And if they feel like a business is being too pushy with their marketing campaign, they may feel put off.
This is where lead generation businesses come in.
They generate leads, nurture them, and once they're warmed up, hand them over to partner companies.
Cost to Start: $39-$250
To begin a lead generation business, you need to create a website.
The costs are a little bit higher than building a blog site.
Lead generation websites are places where users fill out inquiry forms, find information, get details on certain products and services, etc.
You are going to need a reliable web hosting service.
Moreover, you have to also carefully consider web design.
There are free themes like the Kadence theme and Generate Press that you can use.
Elementor, a popular page-building tool, also has a free version.
You should also consider pro themes like Divi, which costs $89/year or $250 for lifetime access.
How Much Can You Make?: $5-$500 per lead
The pay for a lead can range from $5 up to $500.
The price usually depends upon the difficulty of acquiring the lead.
Example of a Successful Lead Generation Business: Lyfe Marketing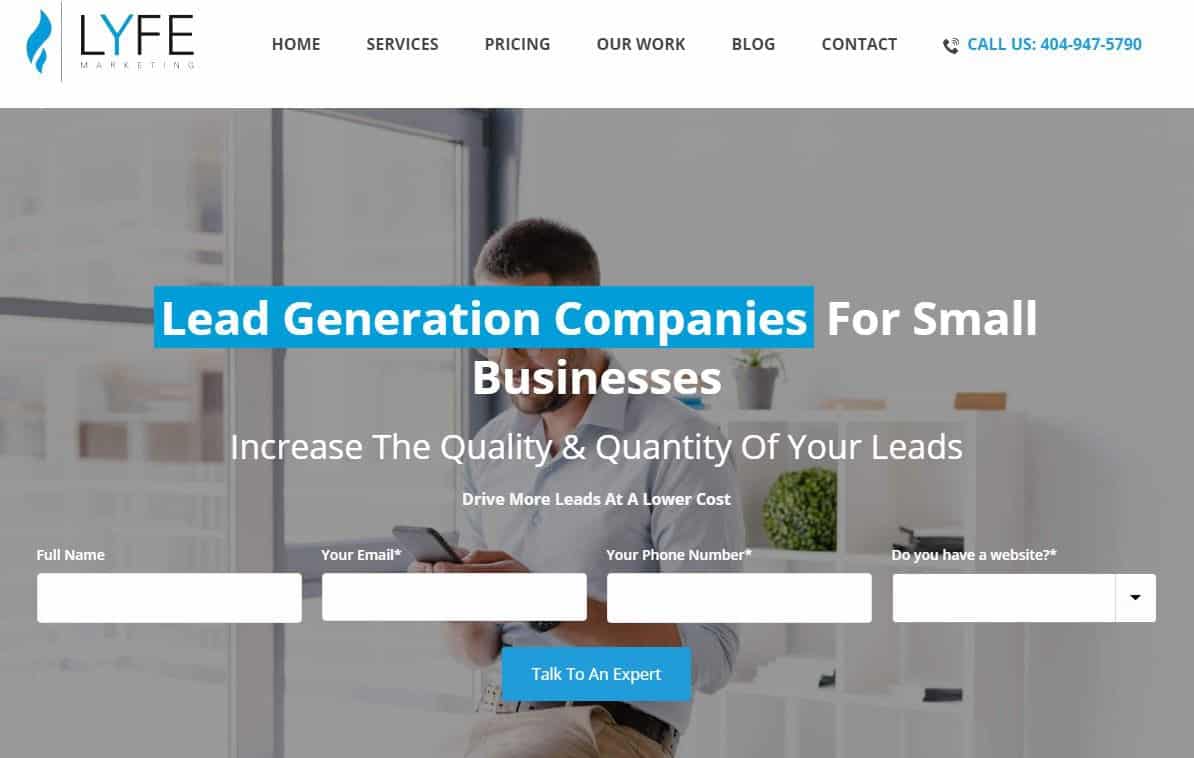 Lyfe Marketing was founded by Sean Standberry and Keran Smith in 2011.
The company helps small businesses in the health and wellness, real estate, eCommerce, political, law, sports, religious, nonprofit, and restaurant industries.
It has an estimated annual revenue of $3.2 million.
3. Online Arbitrage
Online arbitrage is the process of buying products from one marketplace on the internet and then reselling them on another.
Most of the time, resellers look for deals, discounts, and coupons to gain more profit.
Some of the most common places to resell products are Amazon, eBay, and Walmart.
Cost to Start: Starts at $140
You are going to need some capital to start your online arbitrage business
Considering that you need to pay for shipping fees, returned, or damaged items, you should start at $100.
Another thing that you need is an active seller account.
On Amazon, a seller account costs about $39.99 per month.
How Much Can You Make?:
You should make sure that you have a 30%-100% return on your purchases.
Moreover, set the minimum price for your products at $10 to ensure that you gain profit.
Example of a Successful Online Arbitrage Business: Success Creations
Brandon and Izzak from Success Creations earned £42,000 for a month from Amazon sales alone.
They were able to automate the process of online arbitrage with the aid of virtual assistants.
4. Niche eCommerce Retailer
Niche eCommerce retail is similar to online arbitrage since both involve reselling.
The only difference is that the latter focuses on specific areas in the market.
Although this may mean a much smaller customer base, this also allows retailers to stand out and charge at a much higher price.
Niche eCommerce retailers can hop on the latest trends and untapped spaces in the marketplace.
Some examples are vegan cosmetics, eco-friendly products, CBD for pets…
…and many more!
There are two main ways that you can gain profit in the eCommerce space.
FBA (Fulfilment by Amazon): This process involves buying products online, having them sent to your home or warehouse, and then shipping them to Amazon. When a customer makes a purchase, they fulfill the order.
Dropshipping: In dropshipping, you don't need to stock your goods. 
There are two methods of dropshipping. The first one is to have an online store (ex: Shopify) and sell other people's products. 
The other option is to use print-on-demand platforms like Redbubble to sell custom designs.
In both of these cases, you never have to deal with inventory since the supplier ships directly to the customer.
Cost to Start: $9-$2,000+
The cost depends on the platform you choose.
We already covered the cost through Amazon.
If you choose to dropship via Shopify, these are their available plans.
Shopify Lite: ($9/month) – This allows you to use Shopify as a backend system and sell goods on an existing website or Facebook.
Basic Shopify: ($29/month) – Here, you have an online store on Shopify itself, and there are no limits to the products you sell.
Shopify: ($79/month)This plan has a lower credit card rate and provides more features like professional reports and analytics.
Advanced Shopify ($299/month) It provides the best shipping conditions, lowest credit card rate, advanced report builder, and is the only option for real-time carrier shipping.
Shopify Plus ($2,000+) This plan is for businesses that are looking for a scalable eCommerce platform. It includes a dedicated support team that will help you launch and is available 24/7.
As for Redbubble, you don't need to pay for anything.
However, you will get paid on an artist's margin.
How Much Can You Make?: Average of $39,000/month
Your income highly depends on your marketing efforts and the profitability of your chosen niche.
Statistics from 2015 show that the average monthly revenue for new eCommerce sites is under $39,000 for their first month.
Example of a Successful Niche eCommerce Retailer Business: Babiators
Founders Molly and Ted Fienning were motivated to launch Babiators upon noticing that children helplessly squinted in the sun.
It is now one of the leading brands providing protective yet stylish aviator sunglasses for kids and babies.
It also has an estimated annual revenue of $5,000,000.
5. Business Consulting
If you have a strong background in business, you can leverage your skills to work as a consultant.
Out of the top ten online businesses featured here, this one is for the seasoned pros.
Here are some of the most common types of consultants out there.
Management Consultants
SEO Consultants
Social Media Consultants
Small Business Consultants
Legal Consultant
Finance Consultant
HR Consultants
Accounting Consultants
IT Consultants
Cost to Start: $15-$965
You can also get certifications and licenses to build your credibility as a consultant.
The price for these can range from $225 to $965.
If you are looking to market yourself even further, you can launch a consultant website.
How Much Can You Make?: Average Yearly Income of $85,260
The median annual salary for independent consultants is $85,260. 
Example of a Successful Consulting Business: PrōKo Consulting
Liz Steblay started her career as a self-employed consultant who worked for businesses in the IT, procurement, HR, account, finance, sales operations, and marketing departments.
A few years into working independently, she was able to reach $1,000,000 in revenue.
In 2009, she started ProKo Consulting, which has an estimated annual revenue of $5 million.
6. Build (or Buy) and Sell Websites
Flipping websites has been a common practice since their creation in the 1980s.
If you want to venture into number six in the top ten online businesses, you need prior experience in improving sites or be able to outsource this type of work.
You can buy a website from broker sites, marketplaces (ex: Flippa), forums, or directly from the owner.
Cost to Start: $1-$100
You buy a website on Flippa for as low as $1. 
These sites are probably new or have existing issues.
Ideally, you want to begin with a site that is already making $5-$15 per month.
These sites cost around $100.
How Much Can You Make?:
You can sell a flipped site for 12x-14x the value of its monthly revenue.
Example of a Successful Buy & Sell Website Business: sendyourenemiesglitter.com
Sendyourenemiesglitter.com was a viral online business that took off in 2015.
The founder, Matthew Carpenter, was so overwhelmed with the massive orders he received that he sold his website. 
The bid ended at $85,000.
7. Create a Membership Site
Membership sites are extremely lucrative.
It is a great source of recurring income for businesses.
At the same time, it also presents a more affordable payment plan for its users.
It is crucial, however, that you consider what skills and knowledge you have to offer.
Your subscription should serve as a solution to a problem that a lot of people have.
You must also continually generate fresh content to keep your users interested.
Cost to Start: Free-$214
You can launch a membership site for free with platforms like Wild Apricot.
Note that, this would normally come with a lot of limitations on storage, file size, ads, members, etc.
So if you do not want these restrictions, you need web hosting, a domain name, and a membership site plugin.
Here are three popular membership site addons you can try.
WooCommerce Memberships: $199.00/year
Memberpress: Starts at $149/year
Paid Memberships Pro: Starts at $29 per year
How Much Can You Make?: Starting at $27/user
A sweet spot to start is at $27 per user. You can always raise your prices later on.
Example of a Successful Membership Site: FabFitFun
FabFitFun members receive one box per season that contains 8-10 premium products valued at $200.
They pay $49.99/season or $179.99/year.
This company has an estimated annual revenue of $300 million.
Most Passive Online Businesses:
8. Advertising
Advertising is the most passive way to earn income in this list of top ten online businesses.
The downside, however, is that you need massive traffic and large amounts of content to generate good income.
What does this mean for you?
If you have a beginner website, this may not be worth your time.
But if you already have decent traffic coming into your site, this is a great choice for you.
Companies pay for online advertisements in many ways.
Google Adsense
Banner Ads
Paid Reviews
Sponsored Post
Cost to Start: $20-$265
You need a website that can handle a huge amount of blog posts and ads posted.
Aside from a custom domain name, you need cloud-based web hosting, which is the fastest in the industry.
WPEngine: $25/month (single site)
Kinsta: Starts at $30/month (single site)
Cloudways: Starts at $10/mo (1 GB RAM, 25GB storage)
How Much Can You Make?: $0.20/click – $250/post
For Google Adsense, you get paid on a commission basis of $0.20 to $15 per click.
Banner ads are monetized either per click, $0.03-$0.50/click, or through the number of site visitors at $5 – $15 per thousand views.
As for sponsored posts and paid reviews, the standard fee is $250. 
Example of a Successful Advertising Business: The Guardian
The Guardian is one of the most popular online newspapers in the UK.
About 40% of its revenue comes from advertisements.
In 2018 alone, the online publication made over $292 million in ad revenue.
9. Sell Information Products
Selling information products is a great way to earn passive income.
Your products can range from books (via print-on-demand service), eBooks, digital magazines, stock photos, video tutorials, e-courses, webinars, etc.
It has a few setbacks, like needing enormous effort to create top-notch digital products and low selling prices.
But, it possesses great potential and has notable upsides.
Easy-to-launch
Low-cost production
International Customer Base
Cost to Start: $15-$4,000
If you plan to sell eBooks, the most popular platform is Amazon.
Most authors self-publish on the site for a total price of $2,000-$4,000. 
This already includes cover design, marketing services, formatting, and editing.
Of course, you can save more if you do some of these by yourself or with the help of people you know.
You can also create an eCommerce website and sell your eBook from there.
E-course creation via Udemy is free, but having a website to promote your instructor services can also be handy.
How Much Can You Make?:
As for eBooks sold via Amazon, you get paid 70% of the retail price if your book is sold between $2.99-$9.99,
And if your eBook costs $0.01- $2.98 or higher than $9.99, your royalty fee will be 35%.
Also, Udemy instructors gain 50% of the revenue per sold course.
Example of a Successful Information Product Business: L.J. Ross
Former lawyer LJ Ross began writing when she was on maternity leave.
She self-published her novel Holy Islands, earning approximately $1.20 per book.
Over one million copies have been sold since her launch.
She now enjoys freedom being an independent author.
10. Affiliate Marketing
Affiliate marketing is one of the biggest sources of income in this collection of top ten online businesses.
Social media influencers, bloggers, and site owners can all benefit from it.
They can promote goods and services from companies by posting links to their websites or social media accounts.
Cost to Start: Starts at $15
Amazon Affiliate accounts are free-of-cost.
However, you are required to have a custom website.
How Much Can You Make?: $0-$100,000
Traffic is a key factor for generating huge income in affiliate marketing.
That is why it is normal for new affiliates to earn nothing.
On the other hand:
Middle-class affiliates make $1,000-$10,000 per month and top influencers earn more than $100,000 from affiliate programs.
Example of a Successful Affiliate Marketing Business: johnchow.com
John Chow is among the richest affiliate marketers in the world.
He started his blog in 2015 aiming to earn $3,000 per month by working for only two hours a day.
Through affiliate marketing, as well as other sources of income, he was able to earn $83,320.59 for a single month on his blog.
Conclusion
So, these are the top ten online businesses that are profitable and passive. What online business are you looking to try? Let us know in the comments below!