Efficient project management is a crucial factor in a business's success, and in this comparison, I'll be pitting against each other, two of the leading names in project management solutions, Trello vs. Asana.
If you're having trouble choosing between Trello and Asana, I will guide you throughout this article to help you make the best decision in picking the right project management tool for you.
I'll share the key features, pros and cons, pricing, and more, which will be essential factors in making an informed decision.
1. Trello vs. Asana At A Glance
Trello and Asana are two of the notable names in project management solutions. Let's take a quick look at how they fare against each other.
| | |
| --- | --- |
| 4.8 | 4.4 |
| Best Overall. Easy-to-use kanban board with intuitive features and straightforward interface. Starts at $10/month/user. | Feature-Rich. Extensive knowledge bases, multiple views, and team management features. Starts at $10.99/month/user. |
| Try Trello | Try Asana |
2. Who Is Trello Best For?
Trello is best for people looking for a kanban-based project management tool and organizations with a linear flow of tasks.
Individuals, such as freelancers and content creators, might find Trello handy in tracking their daily tasks. Small teams and businesses with a straightforward task process will also find Trello appealing as Trello is clear to understand and work with.
3. Who Is Asana Best For?
Asana is perfect for those who want to have a choice in choosing their management style. Asana gives you an option of task lists, kanban boards, Gantt charts, and workload management.
Medium to large-sized teams, businesses, and freelancers doing many small tasks or employing contractors will find Asana to be their cup of tea. Asana offers lots of useful features to keep tasks organized and make managing projects flow smoothly.
4. A Close Look At The Features Of Trello and Asana
Let's take a closer look and compare the features of Trello and Asana. What features make one shine over the other?
| | | |
| --- | --- | --- |
| Features | | |
| Multiple assignees | | |
| Task dependencies | | |
| Built-in Gantt Chart | | |
| Subtasks | | |
| Recurring tasks | | |
| Custom fields | | |
| Phone Support | | |
| Time tracking | | |
| Shared Team Calendar | | |
| File Sharing | | |
| Get Started | Try Trello | Try Asana |
5. Key Features Of Trello
#1 Trello Boards
Trello's most prominent feature is its board, specifically the Kanban board. Trello's kanban board outperforms other project management software because Trello has better reactivity, colorful labels, and better usability.
Setting up a Trello board is quick and easy. You can view board data from many different angles like using a Timeline view for project planning, time management with Calendar, connecting work across boards with the table view, seeing board stats with Dashboard, and more.
Let's take a look at the Trello board's four key components:
Boards – Board represents a project or a place to keep track of information and progress. The boards are where you organize your tasks and work with colleagues, family, or friends.
Lists – The lists are where you keep your cards organized. With lists, you can create a workflow where you move cards across lists from start to finish.
Cards – Cards are a board's basic unit, and you use cards to represent tasks and ideas. You can customize your cards to contain a wide variety of helpful information by clicking on them.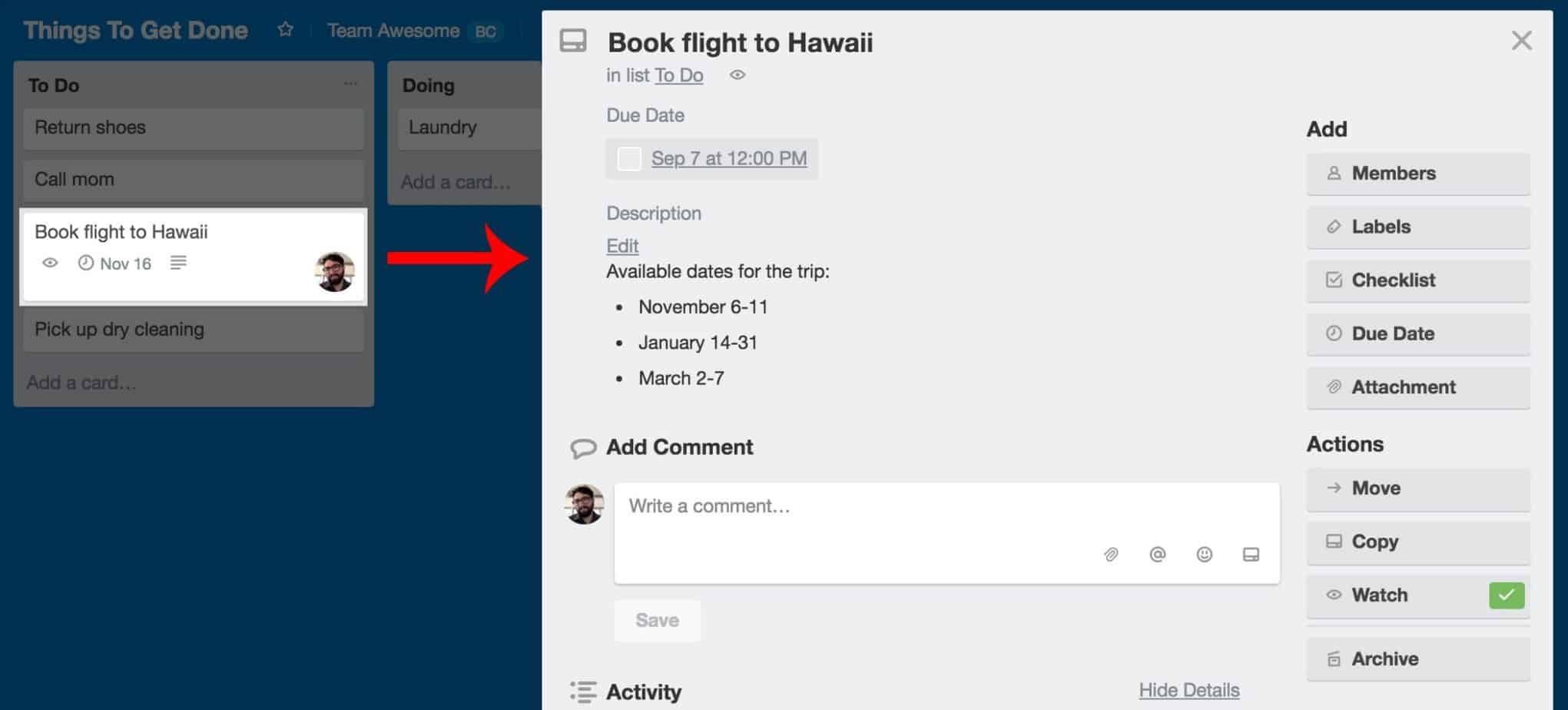 You can drag and drop cards across lists to show progress. Also, Trello does not limit the number of cards you can add to a board.
Menu – You can find the menu on the right side of your Trello board. The menu is where you manage members, control settings, filter cards, and enable Power-Ups, and you can also see all of your board's activity in the menu's activity feed.
#2 Trello Cards
The Trello cards are your key to more organized work that lets you manage, track, and share with teammates every part of your tasks.
With Trello cards, you and your team can manage deadlines, provide and track feedback, assign tasks and hand off work, and connect work across apps.
Clicking a card brings you to the "card back."
Let's take a closer look at the card back's three main sections:
Card Descriptions – You can add information about your cards, links to websites, step-by-step instructions, and more in the description field.
Comments and Activity – You can add comments to cards to communicate and collaborate with team members, such as giving feedback or updates. You can see a timeline of all the comments and actions in a card in the activity feed.
Add – The add section lets you add members, checklists, due dates, and attachments to your card.
#3 Trello's Butler
Trello's built-in automation, Butler, gives insights and brings automation to your Trello boards.
Butler uses natural language commands to automate tasks like common actions such as moving lists, creating custom buttons to build processes quickly, highlighting upcoming deadlines to the team, scheduling teammate assignments, and more.
#4 Usage Flexibility
Trello is very configurable, so you can design and set up a system or methodology that works for you. You can use Trello for more than just project management.
Here are some of the ways you can use Trello:
For Tracking – The most popular way to use Trello is for tracking tasks in projects or processes. Since projects usually have a start and end date, Trello's features such as drag and drop, adding due dates, adding members, and checklists come in handy.
Planning an event, building a new feature, day-to-day business operations, or managing an editorial calendar is made easy with Trello.
For Storing – Another great use of Trello boards is to store resources and build living documents visually. You can use Trello boards for storing employee manuals, team resources, and even recipes.
Trello's useful features for storing would be attaching files, markdown formatting, labels, and search.
For Sharing – One other great use of Trello would be creating a centralized location for people to share their tasks and progress to keep colleagues and clients informed. You can create a company overview board or department-level board that showcases the big picture of what's happening to the team and your clients.
Trello's useful features for sharing would be card and board attachments, comments, and the card aging power-up.
For Discussing – You can also use Trello to organize meetings like 1-to-1 meetings, team meetings, retrospectives, or town hall. You can use Trello boards to create a list of items to discuss in the meeting.
Trello's valuable features for discussion are the Whereby power-up, copy board, related cards and boards, and the Voting power-up.
Mix N' Match – With Trello's great flexibility, you can mix and match and combine all of these different use cases anyway you like on a single Trello board. You can share a board where marketing department members give a high-level view of the projects in progress and at the same time include discussion lists for weekly meetings.
These use cases just show how completely customizable Trello is. You can build a board to match your needs.
#5 Trello Power-Ups
Trello lets you connect the apps you and your team are already using to your Trello workflow. You can also add Power-Ups to help refine a specific need.
You can add power-ups for analytics and reporting like Jira Align and Planyway. Trello also has power-ups for marketing and social media, such as MailChimp—an email marketing tool, Survey Monkey for surveys, Twitter for social media, and more.
6. Key Features Of Asana
#1 Asana Tasks
Asana's main feature is to help managers assign tasks and employees track work to do. 
You can view your task in a list format or a kanban board, depending on your preference. Each task can have sub-tasks, due dates, attachments, assigned team members, and other custom fields.
The comment threads enable the persons involved in specific tasks to communicate and collaborate over Asana.
When you mark a task as 'complete,' Asana archives the tasks and the comments discussion under that task. With this, you have a searchable work history for all your projects, useful in auditing.
#2 Asana Mobile App
With Asana's mobile app, you can track and manage your projects and tasks on the go. Asana makes working together and monitoring tasks more accessible for the team.
With the app, you can organize tasks and projects, manage to-do lists, get updates from coworkers, and more. You can also add tasks for to-dos, reminders, ideas, and requests.
You can also view your tasks in a list or board layout, and you can add due dates, assignees, followers, details, and files. You will receive notifications about your projects, tasks, and conversations.
#3 Timeline and Portfolios
Asana's Timeline will help you create a plan indicating how long your project will run and help you track as things change.
The Timeline view is a Gantt chart shared with all team members on a project and updated in real-time. You can move items around, set due dates, and view sub-tasks easily. 
Asana's portfolio view lets you see who is responsible for each project. You can monitor progress and task updates and set priority levels for tasks and projects.
#4 Asana Workload Management
Asana's workload management feature lets you see the task distribution across team members. Asana scores workload by task count, hours spent, points, or another custom value to see which employees have too much work and which ones have too little.
The workload management tool helps you redistribute work with a drag-and-drop interface. There is also an expandable timeline that enables you to plan to work out into the future to take care of workload issues before they start to affect deadlines.
#5 App Integrations in Asana
Asana has integrations with many productivity tools for reporting time tracking, development, communication, file sharing, and more to help you with your day-to-day operations.
You can connect with tools that your team already uses or choose from the hundreds of apps that Asana has integrations with.

Microsoft Teams, Zoom, Mailchimp, Slack, Adobe Creative Cloud, Gmail, Dropbox, and Office 365 are some of the tools that have integrations with Asana.
7. Trello vs. Asana – Pros And Cons
Let's take a look at some of Trello's Pros and Cons.
Trello:
| | |
| --- | --- |
| Pros | Cons |
| Excellent free plan | Lack of financial management features |
| Unbeatable easy-to-use user experience | Phone support is not available for free users |
| Easy onboarding procedure | Export not available on the free plan |
| Available on Android and iOS devices | Having many cards can be pretty challenging to manage |
| Integration with Google Drive | |
| There is no limit on people invited to a board. | |
| Desktop app | |
Here, you'll see Asana's Pros and Cons.
Asana:
| | |
| --- | --- |
| Pros | Cons |
| Free to use for teams with up to 15 people | No budgeting features |
| Available on iOS and Android devices. | No invoicing features |
| Multiple task management options | Tasks assigned to one member of a team only |
| Workload monitoring features | No personal view |
| Email integration | No desktop app |
8. Where Do I Get The Most For My Money?
So, between Trello and Asana, which one offers the most value for your money? Which one should you invest in?
Let's take a look at the price breakdowns of Trello and Asana.
Trello Pricing Plan
Trello currently offers three plans:
Free ($0/month) – Trello offers an entirely free plan equipped with decent and useful features. The free plan includes unlimited cards, unlimited members, up to 10 boards, 1 Power-Up per board, Unlimited storage (10MB/file), 50 automated command runs per month, unlimited activity log, assignee and due dates, and 2-factor authentication.
Business Class ($10/month per user if billed annually or $12.50/month if billed monthly) – This plan is excellent for teams up to 100. This plan includes all features in the free plan plus the following features: unlimited boards, unlimited power-ups, dashboard view, timeline view, team table view, calendar view, advanced checklists, a map view, 1000 automated command runs per team, storage (250MB/file), admin and security features, priority support, Google Apps sign-on, and more.
Enterprise – This plan is great for large companies and organizations with 100+ members. To get pricing for this plan, you have to contact their sales team. 
This plan includes all the Business Class plan features plus the following features: organization-wide permissions, organization visible boards, public board management, multi-board guests, attachment permissions, Power-Up administration, and unlimited automated command runs.
Asana Pricing Plan
Asana has four pricing plans.
Basic ($0/month) – Asana's free plan includes the following features: unlimited tasks, projects, messages, activity log, and file storage (100MB per file), collaboration with up to 15 teammates, list view projects, board view projects, calendar view, assignee and due dates, project overview and brief, and 100+ free integrations.
Premium ($10.99/month per user if billed annually or $13.49/month if billed monthly)  – This plan includes all of the features of the basic plan but with the addition of the following features: timeline, dashboards, advanced search and reporting, custom fields, unlimited free guests, forms, rules, milestones, admin, console, and private teams and projects.
Business ($24.99/month per user if billed annually or $30.49/month if billed monthly) – Includes everything in premium plus the following features: portfolios, goals, workload, custom rules builder, forms branching and customization, approvals, proofing, lock custom fields, and advanced integrations with Salesforce, Adobe Creative Cloud, and more.
Enterprise – To get pricing for this plan, you must contact Asana's sales team. This plan includes everything in the business plan and the following features: SAML, user provisioning and de-provisioning(SCIM), data export and deletion, block native integrations, attachment controls, custom branding, and priority support.
9. Conclusion – Which Is Better: Trello Or Asana?
As this article comes to an end, it's time for the final verdict. Between Trello and Asana, which should you pick?
Go for Trello if you prefer an intuitive and easy-to-use interface with Kanban-style project management and visual planning. Onboarding new team members are quick and seamless, and you get a lot of handy features even with Trello's free plan.
Choose Asana if you want a versatile project management tool since Asana lets you choose how to manage it. Also, if you're handling big projects or several projects, Asana would be the wise choice since Asana's tools and features work best for larger projects and managing multiple projects. 
10. Trello vs. Asana – FAQ
Here, I will be answering four of the most frequently asked questions (FAQS) about Trello and Asana.
Is Trello free forever?
Yes, Trello's free plan is free forever. However, if you want more advanced tools and features, you can avail one of Trello's paid plans.
Is Trello good for personal use?
Trello is great for personal use. Its intuitive and straightforward interface lets you easily track and manage your tasks.
Is Asana good for personal use?
Although you can use Asana for personal use, Asana is best for medium and large teams and businesses since they can utilize the most out of Asana's powerful features.
How long can you use Asana for free?
Asana's basic plan is free for a lifetime. If you need to access more of Asana's advanced features, you can purchase one of Asana's paid plans.