Do you need a centralized management system for your company but worry that it costs a bit over the odds?
Then, you've come to the right place, I've rounded up 7+ of the best VDI software you can choose from to manage your company system wherever you and your workers are.
I've been working with remote workers myself and having a good VDI software that works with a PC, a laptop, and even a smartphone that doesn't bore a hole in the pocket helps me manage everything easier and more efficiently.
Work gets done anywhere and anytime.
What Is The Best VDI Software?
If you're too busy to take a look at the entire article, have a quick glance at my top 3 picks: Oracle VM VirtualBox, Kasm Workspace, and Microsoft Azure.
| | | |
| --- | --- | --- |
| 4.8 | 4.5 | 4.2 |
| Best overall. Powerful VDI software for businesses and professionals. Available for free. | Best value for money. Intuitive platform with virtualization features. Starts at $5/month. | Most secure. Cloud-based platform with intelligent security features. Free version available. |
| Try Oracle VirtualBox | Try Kasm | Try Microsoft Azure |
But if you want a more in-depth explanation to make an informed decision about which software is best for you, here you go:
1. Oracle VM VirtualBox – Top Pick
Best VDI Software For Large Scale Companies [Free]
Oracle VM VirtualBox is an open-source hosted hypervisor that can run on multiple operating systems simultaneously.
With it, you can manage or create virtual machines running on Mac OS, Linux, Windows, Oracle Solaris plus a number of guest operating systems.
When running multiple guest OSes in one host, each guest can be started, stopped, or paused individually.
Each virtual machine can present as many as 32 virtual CPUs.
It features a snapshot function where the current state of the system can be captured and saved to make reverting back later easier when testing needs to be run.
Oracle VM VirtualBox has a seamless mode which means visual apps can be run together with normal desktop applications.
This VDI software doesn't take security lightly. It features Remote Desk Protocol authentication plus an SDK so you can create more authentication requirements as necessary.
Migrating VMs can be done seamlessly through secure SSL links. It also allows for live migrations of running machines if it has virtual disks on the local storage unit.
As for performance, Oracle VM VirtualBox only takes 35 seconds to boot an emulated system like Windows 10.
Pros And Cons Of Oracle VM Virtual Box
| | |
| --- | --- |
| Pros | Cons |
| Easy to set up | Lacks in reporting |
| Has a snapshot function to easily revert to a preferred previous state | Network settings are hard to find |
| Can easily deploy various operating system types | Dated user interface |
| Can run multiple virtual machines on a desktop or laptop | Has some confusing add-on extensions |
| Allows a lot of control for the virtual machine configuration | |
Oracle VM Virtual Box Pricing Plan
Oracle VM VirtualBox is completely free. It's just a matter of downloading the right platform you are working on.
You have to download both the Base Package and the Extension Pack so you can fully use the VDI.
2. Kasm Workspaces – Best For Government Organizations
High Performance & Scalable VDI Software [Free| $5/month]
Kasm Workspaces is another open-source VDI available for Mac OS, Windows, Linux, and Chromebook users.
With it, you can host your virtual machines in your private cloud, on-premise, or hosted by Kasm Workspaces themselves as a SaaS.
Instead of full-stack virtual machines, the workspaces are delivered using Docker containers. This method reduces platform resource requirements so you can boot up the system in just a few seconds instead of waiting for minutes.
By using Containerized Desktop Infrastructure, work environments are easy to set up, maintain, and scale.
The high performance and efficiency of Kasm Workspaces are coupled with a robust security function. It handles:
Web filtering
Security groups
Two-factor authentication
Data loss prevention (DLP)
Single sign-on authentication
Kasm is customizable and scalable. Its robust developer API lets users customize DevOps pipelines and images.
It also features backup and recovery functions, so important configurations are safely stored and easy to revert to.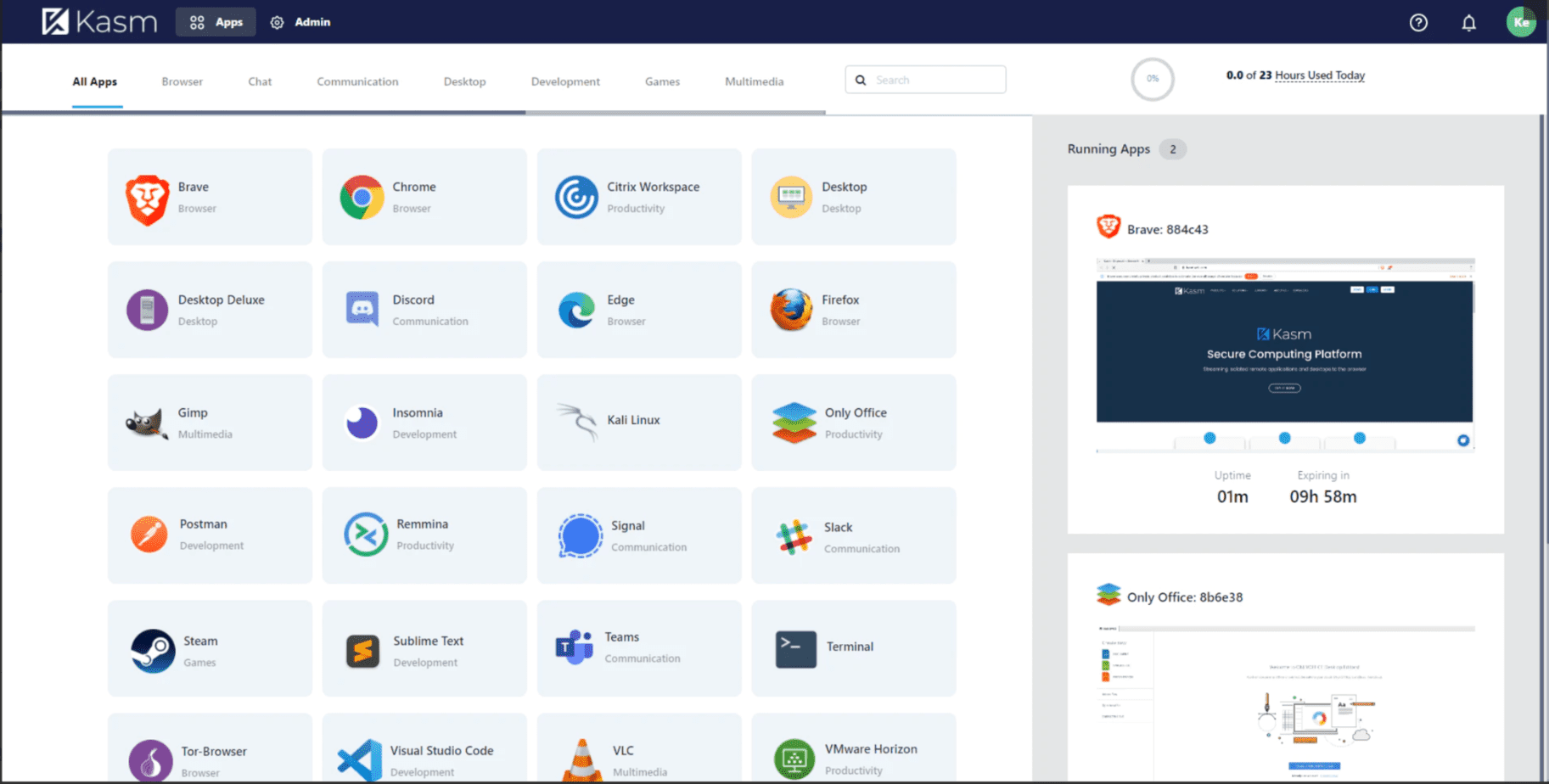 Lastly, as a remote workspace, Kasm makes it easy for remote team members to collaborate as it supports various work-related apps.
Pros And Cons Of Kasm Workspaces
| | |
| --- | --- |
| Pros | Cons |
| DevOps approach to VDI is beneficial for IT experts | File upload using the control panel instead of simple drag and drop |
| Great security features | No mobile app |
| Has collaboration with work-related apps | Additional browser login when opened in desktop |
| Easy to learn and deploy | |
| Can isolate extensions for testing | |
Kasm Workspaces Pricing Plan
While Kasm has a free version that allows you to use all its VDI features, it only allows for 5 simultaneous sessions.
To take advantage of all the features with the limits, the paid version starts at $5.
Community (Free): The Community plan includes all features of the Enterprise plan but for just 5 sessions. It excluded custom branding, web categorization, and dynamic scaling.
Professional ($5/user/mo): The Professional plan features browser isolation, desktop as a service, application streaming, web traffic filtering, customizable images, and applications.
Enterprise ($10user/mo): The Enterprise plan includes all the features available on the Professional plan plus private cloud auto-scaling, developer API, custom branding, session staging, and more.
Before committing to a paid plan, first, take advantage of the Community plan to see if you need all the features or if the Professional plan features will suffice.
Get started with Kasm Workspace by visiting their site.
3. Microsoft Azure – Most Flexible
Best VDI Software For Engineers & Educators [Free | Contact Sales For Personalized Package]
Microsoft Azure is by far the easiest VDI to set up and get running. Other than the user-friendly admin tools, it also provides on-point tutorials and system support to make operating it as seamless as possible.
Even though it's developed by Microsoft, it's amazingly Linux-friendly. It doesn't just extend to the virtual infrastructure of the guest OS but to the Linux-based Docker too.
It lives up to its description of being flexible because despite being built on a Windows Hyper-V framework, it can run on Linux distributions like SUSE, Ubuntu, and CentOS.
Not just that, it has a wide selection of ready-to-run languages and server applications. With it, you can set up Java, .NET, Python, PHP, and more.
If you use the Windows OS, you can take advantage of Azure Resource Management to set up server applications.
This includes 9 virtual machines, 2 SQL servers, a primary and backup Active Directory Domain Controllers, and a group load balancer.
Lastly, it's built with an intelligent security function that keeps your data and applications secure and complaints with capabilities that allow for easy detection of threats and their respective remedial actions.
Pros And Cons Of Microsoft Azure
| | |
| --- | --- |
| Pros | Cons |
| Allows publishing of as many host pools as needed to accommodate different workloads | Takes time to log in by requiring double sign-on |
| Provides own image to use for production workloads | Limited customization |
| Has a multi-session capability | Needs more integrations with single sign-on |
| Easy to set up and run | |
| Great security features | |
Microsoft Azure Pricing Plan
Microsoft allows for a 12-month free trial so you can use and test out the system significantly.
After the period is over though, you have to pay for a subscription. However, there is no set package table you can look into to choose which package has the features you need. You have to contact the sales team for a personalized package.
If you're not ready to commit to a sales call, Microsoft Azure provides a virtual calculator that gives you an estimated price depending on which functionalities you need.
In general though, Microsoft Azure tends to be on the pricier side once the trial is over. If you want to settle for a free VDI, it's better to consider Oracle VM VirtualBox unless Microsoft Azure has the specific features you need that aren't available in the other.
Get started with your 12-month free trial by visiting their site.
4. Amazon Workspaces – Easiest To Set Up
Most Beginner-Friendly VDI Software [Free | Contact Sales For Personalized Packages]
Amazon Workspaces is VDI with a broad set of cloud-based products that will be helpful for various workloads, whether it's data processing and warehousing, game development, or the creation of web and mobile applications.
However, while it caters to a variety of workloads, it is best for light computing abilities such as document creation, email processing, and web research.
It supports the following OSes:
iOS
Linux
macOS
Android
Chromebook
Microsoft Windows
Amazon Fire Tablets
When it comes to setting up, Amazon Workspaces is the easiest. After logging in to the AWS Management Console, find the item for Amazon Workspaces where you are provided with a Getting Started page.
You can choose a quick setup where you create one or a couple of workspaces at once. It includes a directory server in the launch process.
Or you can opt for an advanced setup where you define workspaces and associate each one with an existing cloud directory server.
Unlike the first few VDIs on the list, the setup for this one can take up to 20 minutes.
Lastly, its security features are on top of the crop. It can satisfy the requirements of global banks, the military, and other highly sensitive organizations. It has 230 security features that support 90 security standards, so your data and transactions are in the safest place they can be.
Pros And Cons Of Amazon Workspaces
| | |
| --- | --- |
| Pros | Cons |
| Easy to configure for any project need | Restarting workspaces takes a lot of time |
| Great user interface | Disconnects with slow internet |
| Fast deployment of new features | Poor copy and paste feature |
| Clean and quick access to VDI images | |
| Integrates with other productivity products | |
Amazon Workspaces Pricing Plan
For Amazon Workspaces free tier, you can take advantage of more than 100 products for as long as 12 months.
These features include databases, computing functions, building and deployment of web apps, storage, and migration services.
If you decide to continue using this VDI after the free period, you can contact the sales support team to provide you with a personalized package.
Like Microsoft Azure, Amazon Workspaces provides a pricing calculator so you can get estimated price packages prior to contacting the sales team.
Interested? Try Amazon Workspaces.
5. Ace Cloud Hosting – Best For Accounting & Financial Industries
Best VDI Software For QuickBooks Users [Free | $5/user]
Ace Cloud Hosting is a flexible VDI that can handle complex workflows. It's a VDI solution that just doesn't cater to remote access but also to real-time collaboration, business continuity, and top-level security.
With its cloud VDI, you can take advantage of quick deployment of the virtual desktop even on a low spec device.
You also get round-the-clock technical support and bank-level security features so you can be confident your files are 100% safe. With it are multi-factor authentication and data encryption.
It also ensures 99.99% uptime, so your data and applications are available anytime you need to access them.
Ace Cloud Hosting also employs an automated backup that's retained for 30 days to ensure any data will not be lost.
Lastly, it has a superior graphics display so you can work uninterrupted even when using graphic-intensive applications.
Pros And Cons Of Ace Cloud Hosting
| | |
| --- | --- |
| Pros | Cons |
| Competent tech support that's ready to help 24/7 | Some glitches with the new macOS updates |
| Fast resolution to issues | Some technical glitch on the shift key that locks the virtual desktop |
| Secure and fast logins | |
| Easy access to applications | |
| Easy to use | |
Ace Cloud Hosting Pricing Plan
Ace Cloud Hosting has great features you can use for free, but only for 10 days. After that, you either have to purchase the Business plan or the customized plan.
Business Plan ($25/user): With the Business plan, you can share resources between 5 users; you get 4 GB RAM, 50 GB storage, and virtual desktops compatible with Windows OS, macOS, Android, and Chromebook.
Customized Plan (Tailor-made quotations): There is no set price for the customized plan. It all depends on the number and size of the features you want to be included. The RAM, storage, and functionalities can be adjusted depending on your needs.
While Ace Cloud Hosting offers great functionalities, it can become expensive as the need for more users grows. If you're on a tight budget, try out Oracle VM VirtualBox.
Otherwise, visit Ace Cloud Hosting to get started with your plan.
6. Red Hat Virtualization – Best For Resource Intensive Workloads
VDI Software With The Most Features [Free | Contact Sales For Personalized Package]
Red Hat Virtualization supports workloads requiring critical and resource-intensive applications common in industries like healthcare and banking.
While it is built on Linux to modernize, manage, and automate workloads, it is highly integrated with a lot of platforms to increase IT productivity.
It also allows for an improved workload performance with CorpFlex.
For its creation and migration functions, it uses a single virtualization platform. You can also use it to start, pause, stop, and template virtual machines on other hardware and software.
It's also easy to set up with its intuitive tools that even make automating migration from another vendor easier.
Lastly, with the community of experts they have, you get access to knowledge resources, support tools, and security updates.
Pros And Cons Of Red Hat Virtualization
| | |
| --- | --- |
| Pros | Cons |
| Easy to use and manage | Needs improvement for deploying micro and cloud services |
| Completely manages through a WebUI | Regression can occur when updating firmware |
| Easy to debug and understand the client system | Desktop occasionally freezes |
| Centrally-managed and improved security features | Limited supported storage backends |
| Allows for online snapshot capability | |
Red Hat Virtualization Pricing Plan
Red Hat Virtualization allows you to evaluate their system freely for 60 days. This limited-time subscription gets you to access the customer portal and its basic features.
Once the trial period is over and you choose to use this VDI, you can contact the support team to give you a tailor-fit quotation for the features you need.
They'll ask you to fill out a form so they can have an initial idea of the package inclusions that are best for you. Get started with your own plan by visiting their site.
7. Iperius Backup – Best Integrity For Backups
Most Versatile Backup For A VDI Software [Free | $9.73/month]
As the name suggests, Iperius Backup's main offering is its versatile backup capacity.
However, they also provide solutions for remote desktop needs for unlimited destination computers.
Its functions range from technical support to file transfer to operator management down to access permission and statistics.
Iperius Backup also has integrated multi-user chat and management of groups.
While it mainly works on Windows PCs, it's also compatible with Android and iOS devices, so even on your tablets and smartphones, you can check up on work on the go.
Lastly, for its security features, it has encryption and secure HTTPS protocol to keep sensitive data safe.
Pros And Cons Of Iperius Backup
| | |
| --- | --- |
| Pros | Cons |
| Versatile backup solution for all types of workloads | Vague documentation |
| Easy to use interface | Software is not translated into English |
| Easy to configure | Unzipping the backup needs a free 3rd-party software |
| Periodically backs up data | |
| 0 byte lost in backup and restoration | |
Iperius Backup Pricing Plan
Iperius Backup's free plan is available for Windows users. With it, you can use most of the basic features available for the remote workspace solution.
If you need more functionality, you have three pricing plans to choose from. Note that the pricing is done in Euro currency, I'll be providing a conversion based on the date of writing.
Small (€8.39 or $9.73/mo): The Small plan includes 2 concurrent connections, an unlimited number of devices the license can be installed to, a web administration area, operator accounts, multiple passwords, and access accounts.
Medium (€19.99 or $23.19/mo): The Medium plan includes 5 concurrent connections plus every feature in the Small plan.
Pro (€19.99 or $58/mo): The Pro plan includes 15 concurrent connections plus every feature in the Medium plan and a corporate rebranding function.
You may struggle with this software since there is no solid English translation; it's best for those in Europe since they can take advantage of the features more when they can understand what it is for.
If you want to try out Iperius Backup, visit their site to get more info.
8. VMware Horizon – Best In End-To-End Security
Most Agile Backup For A VDI Software [Free | $35/month]
VMware Horizon is a VDI software that makes efficient delivery of virtual desktops possible.
It is deeply integrated into the VMware technology ecosystem so you can take advantage of an agile cloud-ready foundation and in-class management.
By managing everything from the cloud, you can deploy, monitor, and manage desktop and apps across hybrid multi-cloud deployments.
It also builds resiliency by adopting scalable cloud-based platforms across private and public clouds.
As for security, it integrates with Carbon Black to boost security by using a zero-trust model.
Pros And Cons Of VMware Horizon
| | |
| --- | --- |
| Pros | Cons |
| Offers fast deployment | Has a steep learning curve |
| Simplifies the management process | Can be very expensive |
| Reduces latency to data center applications | Setting it up on the company system can be a bit challenging |
| Allows safety access to company desktop with no worries | |
| Allows for quick connections | |
VMware Horizon Pricing Plan
VMware Horizon can be downloaded freely by Windows and Linux users. However, the capacity can be limited, especially if you're using it for a large-scale company having resource-intensive applications.
In cases like this, you can opt for a paid subscription.
Standard ($35/mo): The Standard plan allows you to have 1 vCPU, 2 GB vRAM, and 30 GB storage.
Advanced ($50/mo): The Advanced plan includes 2 vCPU, 4 GB vRAM, and 60 GB storage.
Enterprise ($100/mo): The Enterprise plan has the following features: 4 vCPU, 8 GB vRAM, and 120 GB storage.
Enterprise Plus ($200/mo): With the Enterprise Plus plan, you'll get 8 vCPU, 16 GB vRAM, and 240 GB storage.
Hosted Apps ($200/mo): The Hosted Apps plan lets you have 8 vCPU, 16 GB vRAM, and 240 GB storage.
The paid plans tend to be pricey for VMware Horizon; if you want to stick to a free plan as long as you like, go for Oracle VM VirtualBox. Otherwise, visit VMware Horizon's site for more info.
Conclusion
I hope you found the best VDI software for your workload needs.
Out of all the amazing tools on this list, I highly recommend Oracle VM VirtualBox. Although it doesn't give you the most advanced features found in paid tools, it does not limit you with its functionalities.
It's also incredibly easy to set up and can be used even by large-scale companies.