Video content is an integral part of any online digital content strategy no matter the size and scope of your business. The digital age shows that the best way to spread information to a large number of people easily comes from successful video content management. 
All your videos can become a great tool to expand your reach with both your customers and your employees with clever usage of video files.
Being a business owner myself, I know just how important it is to have a reliable video CMS service for my company. Despite the widespread availability of free cloud storage sites, there are plenty of digital video distribution and management systems out there that can streamline the entire process to work without needing much attention or having a ton of limitations.
These are some 7+ of the best video content management system out on the market that is perfect for all types of entrepreneurs.
What Is The Best Video Content Management System Available?
Here are my top 3 recommendations for the best video content management systems available: Microsoft Stream, Panopto, and IBM Cloud Video.
| | | |
| --- | --- | --- |
| 4.8 | 4.5 | 4.2 |
| High usability. Easily streamline your CMS with the widely available Microsoft 365 programs. Starts at $10/month. | Best for customizability. Flexibility in options allows the software to work for a wide range of businesses. | Best for corporations. Supports systems to help integrate large-scale video campaigns. Starts at $99/month. |
| Try Microsoft Stream | Try Panopto | Try IBM Cloud Video |
1. Microsoft Stream – Top Pick
Let's start things off with a company that everyone knows, Microsoft. This software allows streamlined connections with all your other Microsoft 365 programs and integrates them alongside your video library.
Use Microsoft Stream to help spread training videos while maintaining all the tools that come with your Microsoft 365 subscription in one go. A maximum number of a whopping 10,000 viewers can all stream video assets made by your business to help spread information without the need to clutter your software options. 
The video streaming service comes with various benefits, including but not limited to:
Secure video sharing with access to SharePoint and OneDrive cloud software
Access to Microsoft Azure for secure storage data
Easy to select which members of your team can provide online hosting services using MS Teams
Auto-transcription to improve clarity and to help navigate video information
Drag-and-drop files from other Microsoft Apps into Stream for easy integration
These features make it the best video CMS on the list. One of the best aspects that makes this service my top choice comes with its one-stop purchase price that comes with your choice of Microsoft 365 subscription plan. 
Pros And Cons Of Microsoft Stream
| | |
| --- | --- |
| Pros | Cons |
| Comprehensive free option will allow users to give it a try before settling | Limited data hosting options to Microsoft products (Azure) |
| Connect easily with your employees with MS Teams integration | Lack of interactive elements for easier video communication |
| Automatic transcribe English-spoken video messages | |
Microsft Stream Pricing Plan
Microsoft 365 Apps for Enterprise ($12/mo): Includes the enterprise edition of Microsoft Office apps with included cloud-based file storage courtesy of Microsoft Azure. Business email is not provided with this bundle.
Office 365 E1 ($10/mo): This option caters to Microsoft's business options such as personalized business email, file storage, web meetings, and IM usage. Do note that Office apps are not part of this offer.
Office 365 E3 ($23/mo): Everything included from previous offers, with additional security and compliance features.
Office 365 E5 ($38/mo): Highest offer with every benefit and feature included including advanced security protection, access to analytics data, and voice capabilities for video CMS.
2. Panopto – Most Flexible Educational Tool
Panopto stands as one of the most popular video content management platforms that deal with content management. This company's video CMS, in particular, is its main flagship service. As such, it contains some of the most flexible features on the list. 
From experience, Panopto's most critical key features come from its design focus on internal educational video hosting. The software has enough video review tools to make video platform content creation simple enough that even someone who is not proficient with making videos can still take full advantage of its many features.
Business Features: The system's business lineup contains features such as knowledge sharing, employee training and onboarding, remote work support, corporate communications for decluttered inboxes, and customer lifecycle. Great for industries such as healthcare, technology, insurance, finance, manufacturing, and energy.
Educational Features: Universities use Panopto's excellent educational video CMS tools to help progress their teaching. Features include virtual classrooms, dedicated accessibility features for videos, lecture capture, student recordings via cloud storage, and interactive active learning.
Pros And Cons Of Panopto
| | |
| --- | --- |
| Pros | Cons |
| Simple UI that makes managing and sharing videos easy to use | Lack of custom calendar setting for off-hand video live streaming |
| Automatic transcoding feature to adjust video quality depending on the streaming device used | Limited digital assets can make the video editor feel lacking |
| Simplified video marketing tools for easier editing | |
Panopto Pricing Plan
Free Trial ($0): Panopto offers a free trial upon request for their enterprise option. Receive full access to all their features during this limited trial run.
Custom Pricing ($$$): Panopto offers a single customized price depending on your needs and can vary from one company to the next.
This system emphasizes engaging the audience to watch videos to improve digital education. The video platform also contains seamless screen recording, which is a boon for companies that can benefit from a virtual classroom or lecture capture in an internal software.
3. IBM Cloud Video – Best For Corporations
Corporations must understand that you can monetize videos, provided that your video clips can grab the attention of many people. Search engines, such as Google Analytics, can also help with providing comprehensive network health monitoring with your video tags.
IBM Cloud Video is an enterprise video content management that focuses on spreading your video clips to the public via video campaigns or events. The video content management system focuses on live streaming and video hosting to get your message across. 
Another great feature of the IBM Cloud Video CMS is its unique Watson-enabled machine learning to deliver automated closed captions instead of you needing to embed videos manually.
You can easily manage your clips using their integrated cloud-based video platform that matches its rival content management systems.
All the features of this video content management software are built specifically for targeting both internal and external audiences. Its approach to streaming software rivals its competitors on global scaling and powerful video monetization service.
Pros And Cons Of IBM Cloud Video
| | |
| --- | --- |
| Pros | Cons |
| Extensive one-on-one support for all of your multimedia content | Strict global approach prevents internal segregation for private videos and other content |
| Record videos and upload them from one online video monetization system | Lack of interactive features limits communication with your audience |
| Create unlimited video playlists that will suit your corporation's campaign needs | Customization can only be achieved using IBM Watson Media software |
IBM Pricing Plan
Free (30-day trial): Access to their full professional video features for a limited time (30 days). Phone and chat support are also included in case there are video hosting problems.
Silver ($99/mo): Allowable up to 100 viewer hours on 5 different channels (each with its own channel customization and password protection feature) with a 1 TB video storage limitation. Controllable video embedding. AI video search and on-demand captioning for your videos. Live polling option for video overlays.
Gold ($499/mo): Receive the same features as the previous options but with upgraded viewer hours up to 2,000 spread on 10 channels and 2 TB of video storage. Gain access to the system's extensive list of APIs and SDKs.
Platinum ($999/mo): Highest option on offer, with an upgraded 5,000 viewer hour on 20 different channels and a 5 TB video storage limit. 
Custom ($$$/mo): Choose various options from custom channel management, custom allowable viewer hours, and video storage space. HD transcoding can also go above the 720p limit all the way to 4k. Third-party integrations for APIs, SDKs, and SSOs can also be implemented for an additional price. 
4. Brightcove – Security Specialists
Corporate video assets contain some of the most valued secrets in a business. Although you can easily beam flawless video quality online to any cloud-based program, permission and security flaws can be highly detrimental to any company.
Brightcove takes pride in its ability to provide sufficient video solutions while keeping the security levels top-notch at all times. Private video sharing with an emphasis on keeping audio-visual data intact under specific detailed embed code is part of its main appeal.
This company's approach to generating quality leads comes from its focus on the video pipeline stream.
Pros And Cons Of Brightcove
| | |
| --- | --- |
| Pros | Cons |
| Focuses highly on external audiences, which generate considerable leads for businesses | Lack of AI support capabilities limits the use of instant transcribing |
| Aggressive monetization of your business using a revenue system | No integrations with popular team sharing software such as MS Teams and Zoom |
| Top-notch embedding for any video business | Simplified metadata support limits video search potential |
Brightcove Pricing Plan
One thing to note about Brightcove is that it takes clients and subsequent pricing to match the needs of your business. The custom pricing allows the company to tailor-fit its video content managing service to exactly what you need.
Specialized Custom Pricing ($$$): This particular video CMS tailors its price depending on your company's needs and specifications. Pricing can vary per user.
5. Kaltura – Open Source Software
Kaltura provides a video CMS that prioritizes entrepreneurs that focus highly on-demand video streaming using its open-source APIs. 
This open-source video management and cloud service allow users to experience a unique video experience using the developer tools laid out by Kaltura. Video conferencing and creating in-depth video streaming can be done using its "meetings" feature. 
The open-source programming also allows curious entrepreneurs to start making unique interactive elements on all the videos that you made to help develop a more personal branding.
Kaltura also separates its features into different payment schemes to help you choose which aspects you need to create videos. Fortunately, most of the available options contain a limited free trial period to help better understand each feature.
Virtual Classrooms
Video Portal
Media Services
Webinars
Meetings
Video Management Console
Video Messaging
Meetings
Playback
Pros And Cons Of Kaltura
| | |
| --- | --- |
| Pros | Cons |
| Open-source APIs allow developers to create unique elements and assets | Requires a deep understanding of coding to properly utilize the open-source concept |
| Excellent set of "meetings" tools with varying options to suit your target needs | Individualized purchases can become overwhelming once more features are needed |
| | Prices can be quite steep when compared to other video CMS programs on the market |
Pricing Plans of Kaltura
Free Trial Services ($0): Kaltura offers a 14-day limited trial for most of its services from virtual classrooms, media services, video portals, webinars, video messaging, and video management consoles, to its meetings feature.
Enterprise ($$$): Quote-based custom pricing can vary depending on the chosen programs and features in your specific plan. The Enterprise video platforms options also allow access to premium features such as town halls for broadcasting to unlimited audiences and virtual events solutions.
6. Wistia – Exclusive Video Hosting and Streaming Platform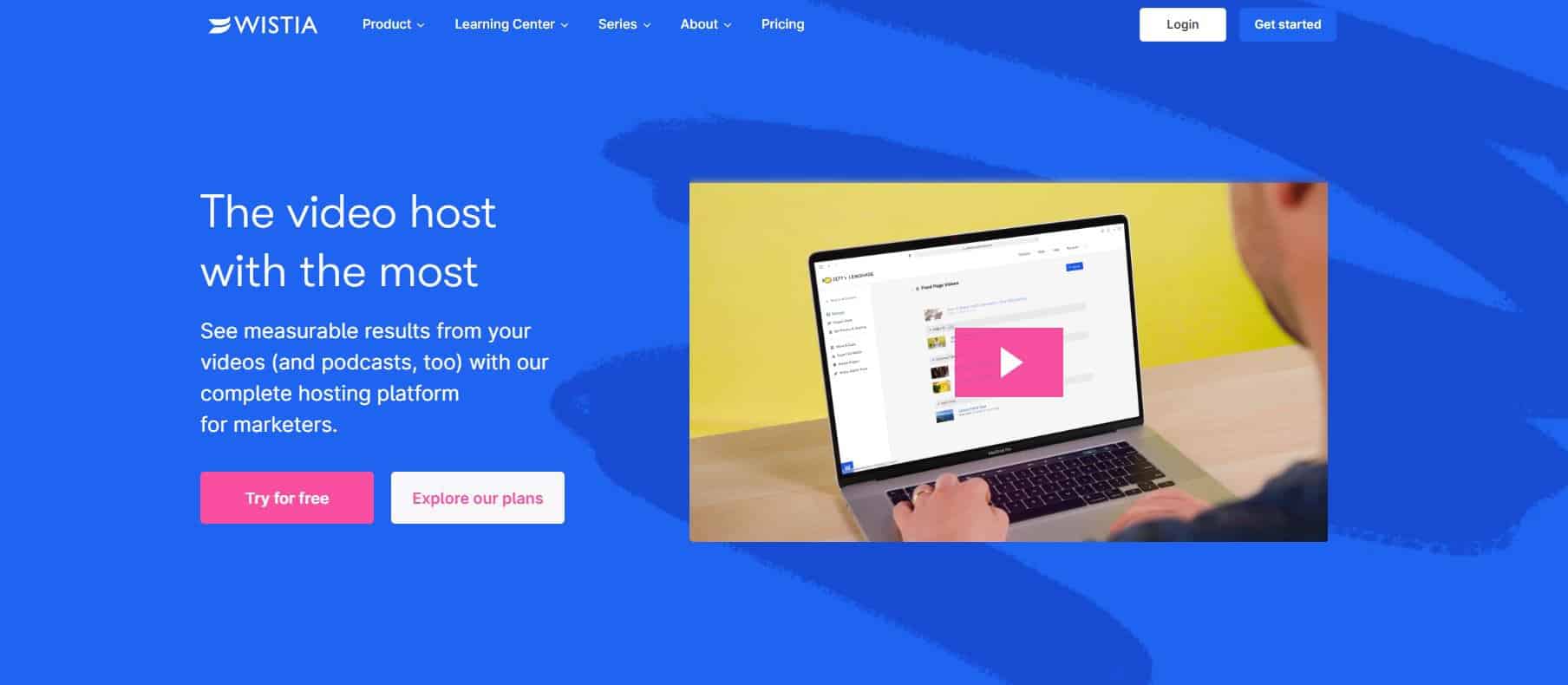 Engaging your audience through video marketing can help generate revenue by getting your brand across. Wistia is a simple yet intuitive video streaming platform focusing on creating interaction between content creator and their audience.
This platform runs completely free of advertisements and focuses more on utilizing more professional tools such as tracking analytics using CRM tools. Email marketing through following your brand allows you to quickly send updates to your target demographics easier than ever.
Video management is also improved with an emphasis on keeping content creators safe with password protection and domain restriction. This restriction also extends to allowing a limited number of people access controls.
Pros And Cons Of Wistia
| | |
| --- | --- |
| Pros | Cons |
| Complete ad-free experience | Lack of smart search of AI video search functionality |
| Easily integrates with any 3rd party marketing tools and software | System exclusively tackles external video marketing only |
| Price plan that works for all facets of businesses | |
Pricing Plans of Wistia
Free ($0/mo): Perfect for businesses that want a free start to video content management. Access to all standard features on video and podcast management. 3 free spaces for videos or podcast episodes to have full embedding anywhere online. 1 public Wistia channel for link sharing. 250 channel subscriber limitation. Unremovable Wistia branding on the video player. Usage of A/B testing feature.
Pro ($99/mo): Focuses on business marketing with videos and podcasts. Increased free spaces for videos or podcast episodes to have embedding features to 10. Still limited to 250 channel subscribers but comes with automated email notifications. Option to add as many videos or audio files as you want for an additional 25 cents per month. 
Advanced ($$$): This custom price option caters to businesses looking for a brand and drives growth. Further increased free spaces for videos and podcast episodes to have embedding features anywhere online to 100. Removes 250 channel subscriber limit. 1 allowable premium integration with your choice of HubSpot, Pardot, or Marketo. Google and Facebook integrations to maximize reach. Priority customer support. 
7. Vidizmo – Microsoft Partner Alternative
A video CMScan varies in usefulness depending on the entrepreneur that needs them. Vidizmo functions as an end-to-end management alternative catering to those that use both live and on-demand videos. 
Similar to the famous website YouTube, Vidizmo creates a simple web portal that houses all your videos via cloud software from Microsoft Azure.
The advanced AI features allow users to take advantage of settings such as a comprehensive redaction tool and adjustable scalability depending on your choice of permissions, privacy, and security.
Pros And Cons Of Vidizmo
| | |
| --- | --- |
| Pros | Cons |
| Cloud storage provided by both Microsoft Azure and AWS | Lack of video creation tools |
| Choose to set your published videos to only function for a set time or view limit using temporary authentication | No monetization programs with the video CMS platform |
| Supports a wide range of video formats (255+ formats) | |
Pricing Plans of Vidizmo
Robust tools offered by Vidizmo's EnterpriseTube can be bought in numerous on your company's SaaS needs. There is also a separate payment scheme for their digital evidence management feature.
EnterpriseTube 50 ($85/yr): Designed for internal viewing for 5 content creators. Allows for 50 authenticated viewers at one point. Full unlimited access for anonymous viewers. Comes with 1 admin and 1 portal. 40 GB storage space with a cap of 100 GB bandwidth. Standard customer support feature.
EnterpriseTube 100 ($140/yr): Same features as the previous offers with an increased authenticated viewer count up to 100. Higher storage space to 100 GB and 250 GB bandwidth. Great for both internal and external use with 10 content creators allowable.
EnterpriseTube 250 ($350/yr): Contains all the previous features. 25 content creators allowable with 250 authenticated viewer options. Further increased storage space to 250 GB and 500 GB bandwidth.
EnterpriseTube ($$$): Custom scalability options for a variable price scheme. Options to choose the number of content creator users, storage space, and viewing hours per year. 
8. Vimeo – Great YouTube Alternative
Vimeo takes its video hosting approach similarly to companies such as YouTube. This alternative takes an enterprise-level approach without being bombarded by advertisements.
The video CMS focuses on marketing and entertainment monetization. Your videos retain 100% ownership even while receiving monetization through partnerships with the website. 
Vimeo contains staple features such as:
Create videos using tools and templates
Manage your ad-free videos
Host virtual events and online video
The system allows users to use a freemium model to help generate revenue without expending on a license subscription. Vimeo Basic offers enough that you can start generating revenue despite the more limited feature set. 
Pricing Plans Of Vimeo
Free Trial ($0): 30-day free trial period option is available for all users. Features include up to 7 TB of video storage space with unlimited customizability using Vimeo's own player. Also, gain access to Vimeo's analytics, marketing, and workflow tools.
Plus ($7/yr): 5 GB upload limit per week to a total of 250 GB for an entire year. Access to Vimeo's video creation suite and customization templates. Unlimited screen and webcam recording. Usage of domain-level privacy tools includes link-only access and password protection. Automatic upload of Zoom recordings. Customer support email response in under 4 hours during US business hours. 
Pro ($20/mo): 20 GB weekly upload limit for a total of 1 TB per year. Includes all the features from Plus with additions such as review and approval features, private team projects, and customizable showcase sites with unlimited reviewers. Earn money by selling videos directly to your audience. Also, gain access to an unlimited supply of stock photos, videos, and licensed music. Third-party player support included. Allows the use of custom sites with a personal domain and functionality with TV apps. 2-hour business email response time for customer support. 
Business (50/mo): No weekly upload limits with a 5 TB cap total storage. Includes every feature from Pro in addition to custom branding on video creation, lead generation tools, Google Analytics, and Showcase SEO for maximum growth. 1-hour staff email response for customer support. 
Premium ($75/mo): 7 TB total cap storage space. Access to unlimited live events and meetings. Create webinar registrations of up to 500 registrants per event. Ability to chat with a live audience and create engaging Q&A polls and graphics. 1080p live streaming and up to 7 guest speakers active at one time. Receive live customer support while streaming.
Conclusion
There is an abundance of video content management systems out there that caters to different targets and needs of each business.
Each of these systems takes the concept of utilizing videos to its maximum potential, depending on the situation. Panopto allows for a high level of customization for full creativity and control of how and when created videos are used. Others, such as IBM Cloud video work great for businesses that want widespread video distribution at a reliable pace. 
However, some overlapping features such as easy adaptability and formatting to mobile devices and link sharing to various social media websites can be a great boon regardless of your choice of CMS.
If your approach focuses primarily on external audiences, then take the time to Panopto, Vimeo, or Wistia, all focusing on content delivery and video analytics to better sustain brand growth.
On the other hand, training videos or live video communication via internal meetings such as those delivered through Microsoft Stream, IBM Cloud Video, or Kaltura can function easier with the right enterprise video content system used.
First, figure out what you want out of the videos that you created, then choose between the options presented to ensure that you have the best video CMS for your business.
Visit us at Novum to learn more about the best software options for your business, and some expert advice on how to use them to their full potential.