Here's my SUPER in-depth comparison of WebinarJam vs. Zoom.
I don't want to miss either of these platforms anymore, as they help me to run my own online business smoothly and successfully.
So if you want to make an informed decision about whether WebinarJam or Zoom is the right tool for you and your projects, this comparison is for you:
Let's dive right in.
Webinarjam Vs. Zoom At A Glance
Now let's quickly cover the most important facts at a glance.
| | |
| --- | --- |
| 4.8 | 4.7 |
| Best Overall. Great for professional business meetings with recorded webinars and real-time interactions. Starts at $499/year. | Best for accessibility. Highly intuitive software for online conferences with various uses from business to lecture meetings. Starts at $149/year. |
| Try Webinarjam | Try Zoom |
Who Is WebinarJam Best For? Who Is Zoom Best For?
WebinarJam is ideal for small, medium, and enterprise businesses that want to host webinars, make presentations, and engage their audience that wants to sell their products and services.
The features of WebinarJam are designed to suit digital marketing professionals and marketing agencies. WebinarJam has the capacity to admit up to 5,000 attendees.
Zoom is best suited for executives, founders, and industry leaders who want to host executive briefing centers, customer and prospects events, webinars, and training events. A zoom meeting can admit up to 1,000 participants.
A Close Look At The Features Of WebinarJam and Zoom
Let's compare WebinarJam vs. Zoom side by side. Here, we'll highlight the key features of both platforms and see where they stack up.
| | | |
| --- | --- | --- |
| Features | | |
| Automated recordings | | |
| One-Click Registration | | |
| Paid webinars/meetings | | |
| Live Chat | | |
| Flexible scheduling | | |
| Attendee spotlight | | |
| Page Builder | | |
| Mobile friendly | | |
| Touch-Up Appearance | | |
| Get Started | Try Webinarjam | Try Zoom |
12 Key Features Of WebinarJam
Let's quickly go through the 12 key features of WebinarJam:
#1 Easy Presentations
Presentations are the hallmark of a good webinar and online meeting software. WebinarJam delivers professional and easy presentations with custom transitions.
Although slide presentations are common and expected, they can feel cold and impersonal.
WebinarJam lets you use hand-writing notes on top of the slides, which helps you to highlight important points, draw a mind map, or write descriptive annotations to better convey your message. Funny enough, you can easily draw a fancy mustache on your co-presenters video.
#2 Video Injections
Videos make presentations engaging and fun to watch.
The Video Injections feature that WebinarJam makes video injections simple. Just plug a relevant video, and your presentation runs on autopilot.
You may want to pre-record a portion (or the entirety) of your presentation at some point.
For instance, if you host the same webinar presentation daily to different audiences, you'll eventually burn out.
Hence, it makes sense to simply pre-record that portion of the event, upload the video to the live room for the attendees to watch, then set the video to play out for attendees, then you can refer back live for the final Q&A and closing moments.
I love the video injections feature a lot. It adds fun to a live presentation seamlessly. There's never a feeling of disconnect. When you sign up with WebinarJam, remember to use video injections.
#3 One Click Registration
You want to make it easy for people to register for your webinar and online meetings. WebinarJam offers one-click registration.
Once you set up your registration page and add a call-to-action (CTA) button, interested users will be excited to register.
When you're inviting people to register, just send a "Click to Register" to your email subscribers. Anyone who opens and clicks the links via email will automatically be registered right away.
This is the best way to boost "Click Through Rate" to your webinar registration page without driving extra traffic or putting in additional efforts. 
Since users don't have to fill out forms, which can be time-consuming, it means you'll be getting more sign-ups.
#4 Always-On Room and Password-Protected Rooms
WebinarJam has one of the coolest features that lets you brand and customize a room for your business.
An always-on room is necessary if your company conducts recurring live sessions. It's an opportunity to build relationships and trust with people. 
The URL to this "Always-On" room is your company name, and the link never changes. This makes it easy to remember and reference in the future.
You have nothing to configure once you activate the "Always-On" feature. It's open 24/7, and you can log into your branded room anytime. Click the "Go Live" button, and you're live.
In addition, WebinarJam also allows you to have Password-Protected Rooms. This room isn't an open room to every attendee.
It can be a dedicated room where you teach and inspire a specific group of people or clients, maybe high-ticket clients.
Perhaps the topics discussed in the room are of sensitive nature. Before someone can access this password-protected room, they need your permission.
#5 Mobile Responsive Webinars
With WebinarJam, your webinars are mobile responsive. This means that they'll display properly on all devices in HD glory. You don't have to worry about pixelated images or choppy frame rates.
Once registered users have access to a stable Internet connection, WebinarJam takes care of the mobile-friendly rendering for them.
No matter where you're broadcasting from, webcam, your screen share, a PowerPoint presentation, or any medium, WebinarJam delivers it in optimal high definition.
The software also supports desktops, laptops, tablets, or any mobile device. So you can host your live sessions or rebroadcast from your mobile devices, and attendees can enjoy it on their smartphones, tablets, or desktop.
#6 Page Builder and Webinar Funnel Pages
WebinarJam comes with handy features to help you create and customize landing pages to build a high-converting webinar funnel. You can choose from several pre-designed templates.
Although some of the templates look old-fashioned, overall, it's a good place to start.
Here's what a typical registration page template looks like:

With the Page Builder, you can select any component on the template and edit it, add your texts, upload images, and even embed your video.
The only downside is that you can't edit the layout and design of the template. So you can't rearrange the order of elements in any way.
If you need more flexibility with your landing page designs, you can use GroovePages or GetResponse, which can be integrated with WebinarJam.
#7 Rich Data Analytics
WebinarJam offers rich data analytics. This in-built data analytics toolkit delivers relevant and advanced reports.
WebinarJam also allows you to analyze a wide array of metrics — such as registrations, users in the room, total visitors, number of clicks, replays watched, and so on.
More so, WebinarJam makes it easy for you to leverage actionable insights from the data-driven output. This allows you to target leads who are interested in your offer and weed out those who are still by the fence. 
#8 Automated Integrations
As a webinar software and platform, WebinarJam has been in the trenches way before the likes of EasyWebinar and GrooveFunnels.
So you can expect a lot of integrations with third-party apps.
And WebinarJam doesn't fall short here. It integrates with a wide range of tools, including shopping carts, CRMs, email marketing software, landing page builders, and of course, Zapier if you ever need to integrate with more tools.
#9 Attendee Spotlight
Do you wish to bring one or some attendees onto your virtual stage?
It's possible with WebinarJam. Your presentation will become much more interactive if you let attendees get into the conversation. 
Let their voices be heard.
The "Attendee Spotlight" makes it easy for your invitee to speak, ask questions, contribute, broadcast their webcam, and even screen share.
When their session is over, all you need is one click to 'smoothly' send them back into "attendee-only mode."
#10 Flexible Sharing Options
With WebinarJam, you can share and display a lot more than your presentation. You can use any of these options to make your presentations interactive:
Screen share
Picture-in-picture
Face-to-face
Polls and surveys
Inclusion of annotations
Video injections
Slide shows
Also, the enhanced control is an amazing tool for a marketer or business that wants to use it to increase sales and revenue, where real-time data is required.
#11 Automated Recordings
WebinarJam has this essential feature that allows you to automatically record your live broadcast in a video file.
The "Replica Replay" feature is handy as it mimics every discussion, annotations, screen shares, and all that happens in the Live Room.
Nothing is left out. Even chat comments will room once they're posted. This makes your replay events just as interesting and vibrant as your live sessions.
There's more. You can also schedule the Replay Rooms as you wish. For example, you might schedule an encore replay event to be played out 13 hours and 24 hours after the live session.
#12 Live Chat
Using the Live Chat feature in WebinarJam, you can run Q&As in real-time. Live interactions with webinar attendees make the entire session engaging and rewarding for everyone. 
Aside from the live chat feature, there are other options, including private comments, highlighted comments, sticky announcements, etc. Everything you need to hook your attendee is just a click away.
Note: WebinarJam is compatible with all browsers and devices. From Windows to Mac to Linux, and numerous browsers like Internet Explorer, Chrome, Firefox, Opera, you name it.
9 Key Features Of Zoom
What makes Zoom a go-to online presentation and video conferencing software? Let's examine the 9 key features:
#1 Video Conferencing Across Any Device
Zoom offers unparalleled usability. You can start, join, and collaborate across any device. Zoom Meetings also syncs with your calendar system to deliver smooth and enterprise-grade video conferencing — both on desktop and mobile.
In addition, Zoom has one of the best-secured networks out there. 
This robust security system offers disruption-free meetings. Thus, it allows attendees to join a meeting from any device, knowing they're safe and secured.
#2 Waiting Room
The "Waiting Room" is one of the finest features in Zoom. With this feature, you're sure of the people attending your meetings.
You're deliberately admitting your participants — to ensure top-notch security. 
You can set up your Waiting Room to admin one participant or everyone at the same time. With a click, you can send a message to those waiting in the room.
#3 Multi-Share
Zoom streamlines real-time collaboration for teams and businesses.
With Zoom, many participants and co-presenters can share their screens at the same time. Take it a step further with two monitors.
Once you have enabled the dual monitor option in your Zoom settings, you can now view the two most recently shared screens side by side.
#4 Team Collaborations
Zoom offers a lot of ways for teams to collaborate. High Definition video and audio can be used in your meetings. This supports up to 1,000 video participants and allows 49 videos on screen.
The built-in collaboration tools allow multiple participants to share their screens at the same time. For example, The Garam Group uses the Zoom team collaboration feature to host the Garam Staff meeting. They all share screens and files together.
They can co-annotate to make the meeting interactive. Filters, reactions, hand raising, polls, music, and video sharing make every meeting worthwhile.
#5 Calendar Integrations
You can quickly schedule your Zoom meetings via the free Zoom Scheduler Extension or Plug-In for Outlook. This syncs smoothly with your existing calendaring system. 
Simply schedule your meeting, then click "Make it a Zoom Meeting". This seamlessly appends Zoom meeting details to your invite. It's lovely!
#6 Touch-up My Appearance
This is one of my favorite Zoom features. You can actually improve your looks before making a presentation. If you had a rough night or poor lighting, you could enable the 'Touch-up My Appearance' feature. 
Once done, Zoom gets to work and provides a soft focus for your entire screen. Now you can look a lot more professional and polished with little to no prep time.
Here's a good example. Cindy Berger utilized the "Touch-up my appearance" feature in Zoom. Here's the Before and After result.
#7 Zoom Immersive In-Office Collaboration
Yet again, Zoom for Home is a new feature that comes with Zoom Meetings user licenses. So how does it work?
Well, it allows Zoom users to activate a personal collaboration device for video meetings and phone calls. Also included are interactive whiteboarding and annotation. 
This feature can be personalized for users. Quickly sync your user calendar, meeting settings, phone across devices to achieve a video-first unified communication experience and even user status.
With this feature, you can easily connect Zoom Phone across mobile, desk phone, desktop, and also Zoom for Home devices. There's no limit to what you can do with the Zoom Immersive In-Office Collaboration.
#8 Virtual background
Zoom gives you a lot of design options for your meetings. With the Virtual background feature, you can meet from anywhere or at least appear like you're in a particular place or scenery with Zoom's Virtual Background. 
Simply set a new background in your meetings to hide clutter, showcase branding, or eliminate distractions.
Follow this path to set a background in your Zoom app. Go to Settings > Virtual Background.
#9 Zoom Marketing Automation
Zoom is a powerful automation software for teams and businesses. With Zoom, you can streamline your marketing automation easily.
Nurture lasting relationships with your audience when you integrate Zoom Video Webinars via third-party platforms such as Marketo, Eloqua, Pardot, Kaltura, Panopto, and Salesforce.
Note: The Zoom Marketing Automation also helps you to monetize your webinars by integrating with PayPal, CVent, and Eventbrite.
WebinarJam Vs. Zoom – Pros And Cons
Let's take a look at WebinarJam's pros and cons first:
| | |
| --- | --- |
| Pros | Cons |
| It's easy to use | It's expensive (starting at $499/Year for the Basic plan) |
| HD quality audio and video | It sometimes takes times to enter a live room |
| 7-day free trial (for 100 attendees) | Integrating with apps can be improved |
| Integrates well with 3rd party tools (e.g., ConvertKit) | Webinar templates are outdated and basic |
| Built-in rich data analytics tools for all plans | Sometimes, it breaks on mobile for users |
| Easily customize your Live room to suit your brand | Customer support can be better (it takes hours to get a response) |
| Straightforward scheduling functionality | |
| The Panic button is super helpful | |
And now it's Zoom's turn:
| | |
| --- | --- |
| Pros | Cons |
| Easily share screens with others | It's not beginner-friendly |
| Host up to 100 participants with Zoom's free plan. | Issues with compatibility of plugins |
| Easy annotations tools for everyone | Video calls can be better |
| Syncs with multiple calendar apps | Customer support isn't the best (response time is poor) |
| Allows for virtual backgrounds | Sharing multiple monitors simultaneously is a bit hard |
| Offers plenty of meeting settings | |
| Quickly share your Zoom link with others to join | |
Where Do I Get The Most For My Money?
WebinarJam Pricing Options
WebinarJam has 3 pricing structures. Let's break it down:
Basic (499/Year): This starter plan allows 2 presenters, 500 attendees, 2 hours max duration, and you can host unlimited webinars. It's an annual payment of $499.
Professional ($699/Year): When you're ready to grow your business or take on more attendees, the Professional plan is ideal, as it allows 4 presenters, up to 2,000 attendees, 3 hours max duration, Always-On live room, and you get the Panic Button. It's also a yearly payment.
Enterprise ($999): Everything included in the "Professional" plan, plus the ability to admit up to 5,000 attendees, co-host with 6 presenters, present for 4 hours, etc. You also get the Panic Button, Always-On live room, and the Control Center.
Zoom Pricing Options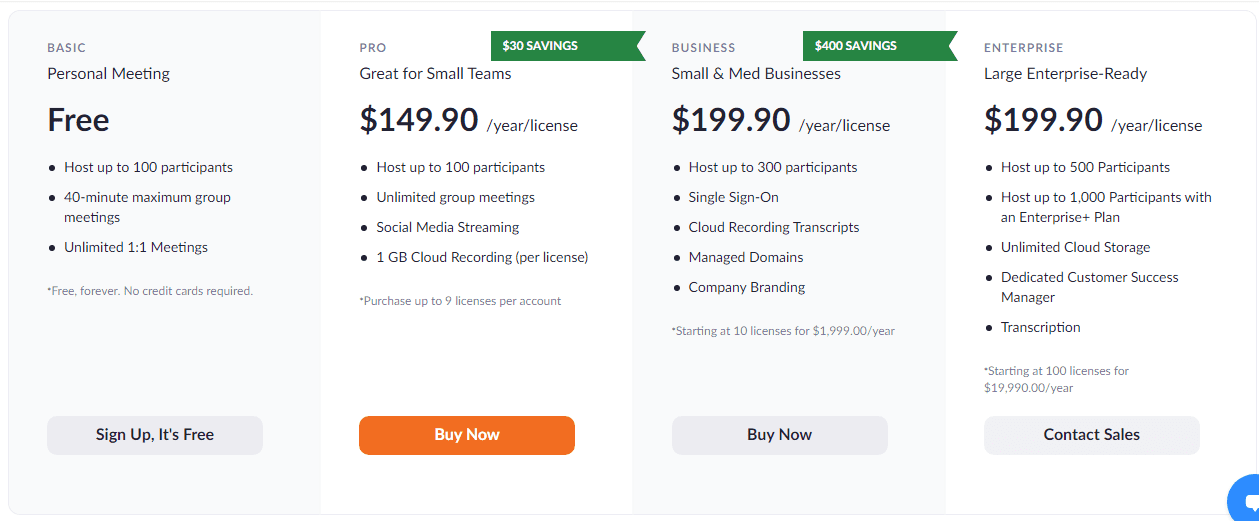 Zoom offers four pricing plans, and they're as follows:
Basic ($0.00): This is a completely free plan for hosting personal meetings — of up to 100 participants. 40 minutes maximum group meetings, unlimited 1:1 meetings, and no credit card is ever required.
Pro ($149.90/Year): If you're a small team, this Zoom's Pro plan is best for you. You can admit 100 participants, host unlimited group meetings, social media streaming, and 1 GB cloud recording (per license).
Business ($199.90/Year): With this plan, small and mid-size businesses can host 300 participants in a meeting, activate single sign-on, access to cloud recording transcripts, managed domains, and company branding.
Enterprise ($199.90/Year): This plan is for large enterprises. This yearly license allows you to host to 500 participants, gain access to unlimited cloud storage, dedicated customer support manager, transcription, etc.
Conclusion – Which Is Better: Webinarjam Or Zoom?
I hope you've enjoyed this WebinarJam vs. Zoom comparison.
If you want to host up to 1,000 participants, Zoom is ideal for that. WebinarJam, on the other hand, allows you to accommodate 5,000 attendees in a single webinar. 
If you're looking to host a paid webinar, WebinarJam offers the best tools to help you make money. That's why online marketing entrepreneurs and advertisers love it.
Zoom isn't the best option for marketing webinars. It's most preferred for virtual meetings and video conferencing by large businesses.
WebinarJam Vs. Zoom – FAQ
Let's answer some of the Frequently Asked Questions when it comes to WebinarJam and Zoom:
Question #1: How many participants can join a meeting/webinar?
WebinarJam allows up to 5,000 participants or attendees in each meeting, while Zoom allows 100 participants by default in each presentation (and up to 1,000 participants with Large Meeting add-on).
Question #2: Can I use WebinarJam for small meetings effectively?
Yes, you can. You can use ExpressJam to broadcast in 30 seconds, for up to 6 participants.
Question #3: What is the difference between Zoom Room and Zoom Meetings?
Zoom Rooms is designed to run on hardware and appliances as a dedicated meeting environment, ideal for group collaboration, while Zoom Meetings is what users use daily to join meetings from their desktop or mobile devices.
Question #4: Does WebinarJam integrate with other tools?
Yes, WebinarJam integrates with other third-party tools that you use — such as ActiveCampaign, Infusionsoft, and Zapier (which integrates 750+ additional tools).