Are you looking for the best eCommerce that's right for you? Well, you're in luck since we'll be having an unbiased comparison between Wix vs. BigCommerce in this article.
Continue reading to find out more about Wix and BigCommerce. I'll assure you that by the time you've reached the end, you'll be able to make the best-informed decision possible.
To get the most information about Wix and BigCommerce, I'll guide you through their key features, pros and cons, best use case, and more.
Now, let's move forward.
1. Wix vs. BigCommerce At A Glance
Wix and BigCommerce are one of the biggest names in the eCommerce platform industry. We'll be having a quick look at the comparisons between the two and see what edge one has over the other.
So, how does Wix differ from BigCommerce as an eCommerce platform?
| | |
| --- | --- |
| 4.8 | 4.3 |
| Best Overall. Fairly straightforward and easy to use for most and also includes intuitive eCommerce tools. Starts at $17/month. | Best for customization. Equipped to deal with advanced and professional eCommerce websites and features. Starts at $29.95/month |
| Try Wix | Try BigCommerce |
2. Who Is Wix Best For?
Wix is best for those seeking to create visually appealing websites and start their eCommerce business from the ground up.
Suppose you're a start-up, small business, or independent trader. In that case, Wix's easy-to-use interface will be an excellent fit since this will allow you to establish your eCommerce business even with the technical know-how.
3. Who Is BigCommerce Best For?
BigCommerce is great for established medium to large businesses that are looking to grow and scale their operations.
If you already have an established medium or large business, BigCommerce's built-in sales tools and advanced eCommerce tools will surely be valuable in growing and scaling your business.
4. A Close Look At The Features Of Wix and BigCommerce
Let's take a glance and compare the features and tools of Wix and BigCommerce. Where, where does each website builder stand out over the other?
| | | |
| --- | --- | --- |
| Features | | |
| Abandoned Cart Recovery | | |
| POS Available Globally | | |
| App Market or App Store | | |
| Shipping Options | | |
| Payment Options | | |
| Intuitive Editor | | |
| Themes included in Package | | |
| Affordable Plans | | |
| Get Started | Try Wix | Try BigCommerce |
5. Key Features Of Wix
Let's take a look at Wix's key features and find out if these features are the one that works for you.
#1 Storefront and eCommerce Website
Your storefront is the first thing that your customers see when they visit your eCommerce site. Therefore, your storefront needs to make a lasting impression on your customers.

Like Weebly and Squarespace, Wix helps you attain the storefront that best represents your brand well with a simple and easy-to-use editor. Wix offers over 500 stunning professional templates to cater to every eCommerce business and customize it exactly the way you want.
Let's take a look at the storefront and eCommerce features that Wix offers:
Personalized Online Store – Develop a unique and memorable shopping experience for your customers. Customize every part of your site, from your storefront to custom cart and express checkout.
Mobile-Responsive Storefront – Wix has an advanced, built-in mobile editor so that your online store looks excellent on any device, be it desktop, tablet, or mobile.
Extensive Media Library – Wix gives you free access to a library of 1 million high-resolution images from Unsplash. You can also interact with your site visitors using exclusive videos from Wix.
Multichannel Sales – With Wix, you can sell on Facebook, Google Shopping, eBay, Instagram, and more, all from a single dashboard.
Limitless Customization with APIs – Open APIs and Velo by Wix enable you to connect your tools to create custom solutions easily.
Global eCommerce Business – Wix Multilingual lets you translate your store into 90+ languages. You can also create local subdomains and optimize translated sites for SEO.
Robust Blog Platform – Engage, interact, and grow your audience with your blog. Easily set up your blog, share content on social media, and enjoy built-in features, such as additional blog contributors and scheduled posts.
Custom Domain Name – Have your personalized domain name and build your online presence. You can buy your domain through Wix or quickly connect your existing one.
Work with an eCommerce Expert – If you're having trouble, you can hire an eCommerce professional, called a Wix Partner, that will take care of creating, designing, marketing, or optimizing your online store.
#2 Wix Store Management
Just like a physical store, your online store needs some management as well. Be it inventory management, order fulfillment, shipping, and more, Wix's store management feature is here to make your online store management easy and breezy.
Here are the features of Wix's store management:
Catalog and Inventory Management – Wix's open APIs let you easily connect your chosen inventory tools to your Wix store. With this, you can have everything fully synced at all times.
Streamlined Shipping – With Wix, you can handle shipping and print order labels for all orders from a single dashboard. You can also get competitive rates from domestic and international shipping services integrated with Wix.
Dropshipping – You can start your dropshipping business with Wix. You can source millions of high-quality products from reliable and trustworthy suppliers without worrying about managing inventory, fulfillment, or shipping.
Hassle-free Fulfillment – You can simplify storage and fulfillment with third-party order fulfillment service providers integrated with Wix, like ShipBob.
Smart Business Automations – You can create custom business automation to streamline your workflow, like sending automated reminders to shoppers or suppliers. This automation will save valuable time and speed up workflow.
Email Marketing Campaigns – Wix has built-in email marketing campaigns, so you wouldn't need to use a separate email marketing software. With this, you can send product promotions and special offers to your contacts to attract customers and build customer loyalty.
Customer Profiles – With this, you can get insight into your customers' order history, shopping habits, and more, which will help determine how to target your customer base better.
Smooth Refund Process – Wix offers you worry-free handling of refunds. You can monitor and handle refunds with ease, as you can cancel orders and issue partial or full refunds to your customers to their payment method right from your dashboard.
Wix Owner App – Wix's mobile app allows you to manage your business on the go. You can use the mobile app to add new products, fulfill orders, track your inventory, offer coupons, and more, no matter where you are at any time.
#3 Products, Cart, and Checkout
No matter what you're selling, be it handmade goods or digital downloads, Wix can handle it. If you have services to offer that require scheduling or booking an appointment, Wix got you covered as well.
With Wix, there is no limitation to the type of products you can sell on your eCommerce business.
Let's have a glimpse at more of Wix's product features:
Multichannel Inventory Management – For all your sales channels, with Wix, you can manage and sync your entire inventory. You can track top products, monitor stock levels, and stop selling when your inventory is out of stock.
Multiple Product Variants – Wix lets you sell different variations of your products. You can add multiple materials, sizes, colors, and more and modify your products' weight, price, and stock correspondingly.
Product Organization – You can sort your products by category, style, sale, and more. You can also make categories and add products to one or multiple collections and then design how you would want them to appear on your storefront.
Product Imagery – Create trust with potential buyers by adding high-resolution images and videos for your product. Wix allows you to add up to 15 product images for each product you upload, and with Wix's built-in product zoom, your customer can have a much better idea of what you're offering.
SEO-Optimized Products – Wix helps you set up your product pages so that your pages can rank high on search engines such as Google. Wix helps improve your ranking by providing you with advanced features such as SEO patterns, product-specific meta titles, tags, and URLs.
Import and Export of Products – Wix lets you create and share a list of your store products easily. You can import and export CSV files of your inventory or use an import and export app from Wix's app store.
Unlimited Product Collections – Wix does not limit the number of products you can sell on your online store.
Offer Subscriptions – You can also offer your customer subscriptions to your products and services that will help you generate recurring revenue and improve your inventory predictability.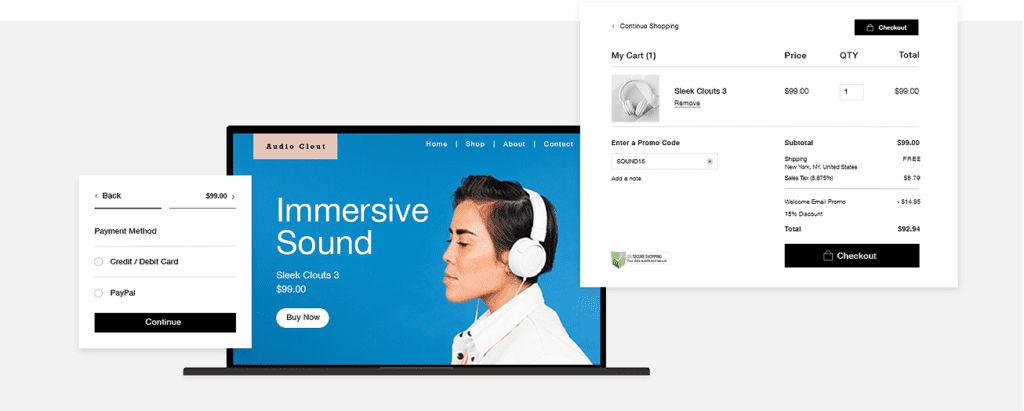 Your eCommerce business is incomplete if you don't have a shopping cart and checkout options. Wix makes sure to provide you with full eCommerce features so you can relax and focus on growing your business.
Here are the inclusions of Wix's Cart and Checkout features:
Free SSL Certificate – Your customers would want to know that they are safe and secure when they shop in your store. You get a free 256-bit SSL certificate to protect your online store with Wix, and Wix secures all of your site content, personal information, and payments with advanced, end-to-end encryption.
Wix Payments – With Wix Payments, you can accept major debit and credit cards and other popular payments since you have access to 50+ payment gateways, like Paypal, Stripe, Square, and more.
Seamless Checkout Experience – With a streamlined checkout, you can reduce abandoned carts and boost your sales since your customers won't have to leave your site when paying for your products and services.
Currency Converter – With Wix, you can let customers browse your shop in their local currencies worldwide.
Express Checkout – You can add express checkout to encourage your customers to purchase your products faster by sending them directly to checkout.
Integrated Members Area – You can create a loyal customer base with exclusive member accounts. The members can create wishlists, view their order history, manage their events, follow your forum, get express checkout, and more.
Abandoned Cart Recovery – You can reduce revenue loss by sending automated emails encouraging shoppers to complete their purchases on your site and offer related products.
Free Shipping, Custom, and Discounted Shipping Rates – You can boost your sales by offering customers free shipping by creating a free shipping rule above a set price point or as a dedicated coupon. Wix allows you to set your shipping rates for products with specific delivery costs and helps you get shipping rates at reduced costs from popular carriers in your region.
#4 Advanced Marketing Tools
Reaching out, engaging, and growing your customer base is the next step after successfully setting up your eCommerce store. Wix helps you promote your online store with a suite of advanced marketing tools.
Let's take a look at some of the marketing tools that Wix has to offer:
Wix SEO Wiz – Wix's SEO tool, Wix SEO Wiz, will help your website rank higher on search engines and get your store discovered online.
Facebook and Instagram Ads – Wix lets you create a campaign and handles audience targeting, A/B testing, sales tracking, and more to target the right shoppers with automated ads on Facebook and Instagram.
Discounts – You can attract customers to your store by offering coupons and promo codes for free shipping, sales, and more.
Product Reviews – When customers see reviews made by other customers who purchased your product, customers start to build brand trust. Allow shoppers to share what they think of your products and customer experience to encourage other shoppers to buy.
Lead Generation -You can add customizable forms to collect contact details, take payments online, ask for store or product feedback, and more. With this, visitors can turn into potential shoppers.
Branded Marketing Campaigns – With unique email marketing campaigns, you can draw customers back to your store. Wix offers a wide range of beautiful email templates that you can customize to fit your brand's look and feel.
#5 Store Analytics
Having detailed information to see how your online store is doing is essential in deciding when to scale and grow your business. Wix's store analytics will help you make informed decisions when you get detailed, built-in eCommerce analytics and insights.
These are what you get with Wix's Store Analytics:
Business Insights – You can observe your store's performance and look at your sales success with an integrated analytics dashboard and professional reports. You get to analyze your revenue, customer base, marketing campaigns, top-selling products, and more.
Traffic Reports – With traffic reports, you will find out how much traffic your site is getting, and how visitors find your store online and view their specific referral points.
Top Products – You can see which products are your best and worst performers based on the most revenue earned, highest quantity sold, and most viewed.
Google Analytics – Wix sends events to Google about your store products, so you can learn from Google Analytics how visitors behave in your online store. You can see actions like product clicks, payments, add to cart, and purchases.
Custom Reports – You can generate custom reports to show your most important data, including revenue breakdowns and customer behavior. You select how to display your stats by creating a custom report from scratch or editing ready-made reports by Wix.
Business Reports – Wix lets you send detailed reports for your store to investors or your accounting firm. You can also export these reports as a CSV file.
6. Key Features Of BigCommerce
#1 Online Store Creation
BigCommerce is one of the big names in eCommerce platforms like Etsy, Shopify, and Amazon. BigCommerce helps you launch your online store quickly with a stunning, content-filled storefront that scales and grows with your business.
BigCommerce's flexible, open SaaS platform aims to help you and your businesses to build, grow and succeed by providing you with advanced tools, a secure and trustworthy platform, and a powerful shopping cart.
Bigcommerce offers beautiful themes that you can customize with the Page Builder to design your website for your brand.
You can change your store's appearance with the Page Builder or let experienced developers access the HTML and CSS to give a more professional touch.
Online stores built with BigCommerce are also made for mobile as your site automatically adjusts to fit desktops, laptops, and mobile devices.
#2 BigCommerce's POS functionality
BigCommerce lets you connect your online store with a leading point-of-sale solution to sell smoothly online and in-person, with your inventory synced everywhere.
Your catalog between your online and physical stores is in sync, so your shoppers have access to the inventory of the products you want to sell online, no matter where they're shopping.
BigCommerce's POS integrations allow you to expand online and sell to shoppers globally. Your inventory automatically updates with every sale you make, both online and in-store, saving your time and eliminating other errors.
BigCommerce lets you connect with leading point-of-sale solutions, like Vend, Heartland Retail, Clover, Square, and Hike, without additional fees.
#3 Inventory Management
Managing your inventory is one of the most laborious tasks in managing an online store. You can manage your inventory easily as BigCommerce offers a straightforward tool to manage stock levels.
You can keep your inventory on track with a smooth integration between online and offline channels.
BigCommerce's inventory management lets you keep watch on stock levels by product or SKU, so you always know how much inventory you have on hand. You can also set low-stock notifications so BigCommerce can automatically notify you when you're running out of stock.
BigCommerce ensures a real-time, two-way inventory syncing that helps update your stock whenever and wherever you make a sale. A synced inventory system eliminates overselling and reduces data entry errors.
#4 Marketing Solutions
Marketing your products to your audience to turn them into potential customers is what comes next once your online store is ready. BigCommerce has built-in marketing features and an extensive range of third-party apps to further grow your audiences and establish your brand.
BigCommerce designed your online stores optimized for SEO to rank better in search engine rankings. BigCommerce equips your online stores with search-friendly themes, sitewide HTTPS, automatic sitemaps, optimized URLs, and microdata, and you can fully customize your URLs, titles, header tags, and metadata.
BigCommerce also has a built-in abandoned cart saver that sends customizable emails to shoppers who left during the checkout process. Activating this tool will help recover potentially lost sales and increase your revenue.
Allow your customers to share their purchases on Facebook, Twitter, and other social media platforms by enabling social share buttons. These buttons can create valuable, free promotions.
You can also connect to Facebook Ads through BigCommerce's extension. You can create targeted ads for your products to find new customers and increase sales.
BigCommerce lets you sync your store data with leading email marketing platforms like MailChimp, G Suite, and Constant Contact. With these platforms, you can easily promote products, target long-time customers with rewards, and win back previous shoppers with special offers.
#5 Global Selling
BigCommerce gives you the ability to reach shoppers around the world. You'll get to use features that let you sell anywhere from international payment providers to native language support.
You can accept multi-currency payments and allow international shoppers to transact in their local currency. BigCommerce supports 100+ currencies and lets you customize currency displays to follow regional best practices.
Integrations with the world's most popular shipping providers help merchants in more than 150 countries trust BigCommerce to enable their businesses, and you can be one of them.
7. Wix vs. BigCommerce – Pros And Cons
Let's take a look at Wix's pros and cons and see if it fits your needs.
Wix:
| | |
| --- | --- |
| Pros | Cons |
| App Market | Lack of stock management alerts |
| Multichannel selling | Websites are usually not fast loading |
| Easy-to-use and beginner-friendly | |
| Multilingual sites | |
| Affordable plans | |
| No commission charges | |
Here we'll see BigCommerce's pros and cons to see if it's the right one for you.
BigCommerce:
| | |
| --- | --- |
| Pros | Cons |
| No platform fees | It takes time to get used to |
| Multichannel integrations | Themes are bought separately from packages |
| Great SEO features | |
8. Where Do I Get The Most For My Money?
Between Wix and BigCommerce, where do you get the most value for your money? Which one is worth the investment?
Here are Wix and BigCommerce pricing plans to help you decide.
Wix Pricing Plans
Wix's business and eCommerce plan are for those who aim to build an online store and need to use the eCommerce tools that Wix offers. This plan comes in 3 pricing options:
Business Basic ($17/month) – This is the basic plan that includes secure online payments, free domain for a year, unlimited products and bandwidth, 20GB storage, 5 hours of video, abandoned cart recovery, and 24/7 customer care. You can enjoy all these without Wix Ads displaying.
Business unlimited ($25/month) – Bring your business to the next level by purchasing business unlimited. This is the most popular plan and comes with the Business Basic inclusions.
It offers 35 GB storage, 10 hours of video, subscriptions, multiple currencies, automated sales tax for the first 100 transactions per month, dropshipping for up to 250 products, and 1000 product reviews.
Business VIP ($35/month) – This plan gives you all of the features. It includes all of the features of business unlimited except that it offers 50 GB storage, unlimited hours of video, customized reports, automated sales tax for the first 500 transactions per month, dropshipping unlimited products, 3000 product reviews, and a loyalty program.
BigCommerce Pricing Plans
BigCommerce comes with four plans to choose from:
Standard ($29.95/month) – If you're a small business or just starting, this plan will work for you as it includes all of the basic features of the BigCommerce platform. The features are: you can sell up to $50k Annually, no transaction fees, unlimited staff account, 24/7 support, integrations with leading payment gateways, single-page checkout, marketplace, and social integrations, integrations with leading POS providers, free sitewide HTTPs and SSL, mobile, and more.
Plus ($79.95/month) – This is the most popular package. It includes everything in the Standard feature, except that it offers that you can sell up to $180k annually, Customer groups and segmentation, abandoned cart saver, persistent cart, and stored credit cards.
Pro ($299.95/month) – This plan is ideal for large businesses that need a virtual shop. This plan includes everything in the Plus plan except that it offers that you can sell up to $400k annually, faceted search or product filtering, and custom SSL.
Enterprise – This plan is perfect for huge enterprises looking to transition online. For this plan, you have to call their customer hotline to get a quote. Some of the features included in this plan are price lists, unlimited API calls, no selling GMV limits annually, express routing and priority support, and more.
9. Conclusion – Which Is Better: Wix Or BigCommerce?
We're finally at the end of the article. It's now time to strike the gavel and decide which one is the better eCommerce platform.
If you're an individual, a start-up, or a small business that's just starting to establish your online store, without a doubt, Wix is the one for you. It comes with an easy-to-use and beginner-friendly editor, complete eCommerce tools, packed with stunning templates to choose from and comes at an affordable price.
Wix will help set up your online store smoothly without hurting your wallets.
If you already have an established business, be it small, medium, or large, and you're looking to scale your business, BigCommerce's more serious eCommerce platform targeted at growing businesses is the best for you. You'll be getting advanced eCommerce tools that will help in scaling and growing your business, and the little extra cost that comes with BigCommerce will surely be worth the investment.
10. Wix vs. BigCommerce – FAQ
Here are answers to four of the most frequently asked questions (FAQS) about Wix and BigCommerce.
Is Wix good for eCommerce?
Wix's beginner-friendly and easy-to-use eCommerce tools allow you to set up your eCommerce store easily, even without tech or web design knowledge.
Is BigCommerce any good?
BIgCommerce comes with its fair share of powerful eCommerce tools, which will help your eCommerce business grow and succeed.
What big companies use Wix?
Some of the big companies that use Wix are Victoria's Secret, Kel & Partners LLC, SAG-AFTRA, and Institute of Electrical and Electronics Engineers Inc.
How does BigCommerce make money?
BigCommerce makes money when businesses avail of one of their plans and services.