Building a user-friendly online store is a great way to make money online.
If you are looking for the best eCommerce platform to use, you are in luck, as I have tested two of the most competitive platforms in the market today – WooCommerce and Shopify.
In this WooCommerce vs Shopify comparison post, I will share what I have uncovered during the testing period. This includes highlighting the platform's similarities, advantages and disadvantages, and unique key features.
I will also reveal which eCommerce platform helps me list over 100,000 products and handle multiple transactions within minutes. Let's dive right into it.
1. WooCommerce vs. Shopify At A Glance
In a hurry? Compare Shopify and WooCommerce at a glance.
| | |
| --- | --- |
| 4.8 | 4.5 |
| Best Overall. Super flexible online store builder. Includes all tools to start, run and grow a profitable eCommerce business. Starts at $29/month. | Best for WordPress users. Customizable, open-source eCommerce platform. Comes with great marketing tools as well. Try for free. |
| Try Shopify | Try WooCommerce |
So, what makes WooCommerce and Shopify good eCommerce platforms?
Both WooCommerce and Shopify can build an intuitive online store that is sure to convert. WooCommerce offers unlimited extensions to help you upload high-quality images, pick the right color scheme, etc. Shopify also offers these tools, and they are all in-built into its drag-and-drop editor.
2. Who Is WooCommerce Best For?
WooCommerce is ideal for anyone who wants full control over the entire store creation process. This WordPress-based platform gives you the freedom to customize every aspect of the online store either by heavy coding or using a WYSIWYG editor.
Is there an easier way to set up WooCommerce plugins? Absolutely, yes.
WooCommerce is developed as an open-source eCommerce plugin for WordPress. Therefore, you can install and set it up on any WordPress site within minutes (seven simple steps).
Another good option is to select a web hosting provider that offers a one-click installation, such as Bluehost and Dreamhost.
3. Who Is Shopify Best For?
Shopify is the go-to eCommerce shopping cart solution for anyone who prefers a traditional website builder and does not require complicated configurations. Since it is completely hosted and cloud-based, Shopify users can create and launch their online store quicker.
They can also accept credit cards, mobile pay, and other online payment methods.
Currently, there are 100+ Shopify payment options available. Whether you are just starting up a new business or making a switch, Shopify can help build your dream online shop and manage the day-to-day operation.
If you are still not convinced, you can start a free trial for 14 days to explore its capabilities.
4. A Close Look At The Features Of WooCommerce and Shopify
In this section of my WooCommerce vs. Shopify comparison, I will summarize their notable features and see which one has a better advantage.
| | | |
| --- | --- | --- |
| Features | | |
| Easy-to-use online store builder (drag-and-drop) | | |
| Automatic refunds (one-click) | | |
| Offline selling possible | | |
| Online Store Design (pre-built themes & templates) | | |
| Ready for dropshipping | | |
| Detailed analytics and reporting | | |
| Easy to handle | | |
| Get started | Try Shopify | Try WooCommerce |
5. Key Features Of WooCommerce
WooCommerce may not have a hosting provider, but it can still point your online store in the right direction as they offer endless options of tools and features.
Here's a closer look at the five important tools and features they have:
#1 Store Profiler
Setting up your eCommerce store in WooCommerce requires you to accomplish various forms. No need to worry because it will walk you through the entire process by simply downloading the Setup Wizard.
WooCommerce Store profiler is one of the important forms you need to fill up.
This is where you will input all the essential details of your store, and it starts with your store location. Go to Settings > General to fill in the correct information.
Before proceeding to the next step, a pop-up box will appear to ask if you like to add/share non-sensitive data (click yes or no to skip it).
The rest of the process requires you to add the following:
Industry your store belongs/operates
Type of products to sell
More business-related information
Here's the good news, you can also use WooCommerce Store profiler to install various social and email marketing tools. Successfully doing so will reach your target audience and increase profitable sales.
#2 Customizable Themes
If you are a WordPress user, no additional learning curve is required because you already know how to use its editor.
However, for first-time users, the user-friendliness of the store builder all depends on the web hosting provider you purchased. Do not worry, WooCommerce provides thousands of customizable themes (free and paid) for a hassle-free creation process.
If you are looking for more designs, you can go to other theme marketplaces like ThemeForest.
Choosing the right theme is crucial to business success. Though appearance is essential, ensure to focus as well on the following aspects:
Responsive: The theme must be optimized for all web browsers and devices.
Support: It is recommended to choose a theme with an active support community forum to help you fix bugs.
Custom functionality: Every theme includes unique functionalities, which are recommended for growing businesses. But for new store owners, it is best to choose a lightweight and simple theme and then add plugins or extensions as your store grows.
Release frequency: Learn how often the theme receives updates per year. Since new updates can cause errors, you can include codes to quickly check if your theme is compatible with the latest version.
There are different ways to customize WooCommerce themes – using a plug-in or custom child theme. A plug-in is ideal for adding custom styling and performing other minor modifications.
On the other hand, a custom child theme is preferable for in-depth modifications.
Visit the WooCommerce theme store to explore all the available pre-designed templates. Store owners can select either by category (free and premium themes) or industry.
Currently, there are a total of 46 themes to choose from.
Since WooCommerce is a WordPress plugin, you can install a theme via the WordPress Dashboard. Another method is to upload and activate a theme on your website manually.
#3 Official Extensions
WooCommerce extension is one of its great advantages over Shopify. It gives you the freedom to equip your online store based on the type of business and product you sell.
Is your online store ready for launch? WooCommerce offers ten extensions that can help you achieve success on your launch. A few of these are the following:
WooCommerce Pre-orders – Give your customers the liberty to order your products even before they become available.
Live Chat – Let the support team answer customers' inquiries and concerns in real-time using this reliable messaging platform.
Jetpack – Protect your online store and customers' important information by installing comprehensive security and backup system.
Product add-ons – Offer additional service to your customers to provide the utmost convenience (gift wrapping, personal engraving, etc.). You can include the options on the product page via dropdowns, checkboxes, custom price inputs, sample images, and more.
Follow-ups – Send a personalized email or tweet to your customers and prospects after making a purchase. You can also use this extension to track your emails' performance (clicks, open rates, etc.).
Social Login by SkyVerge – Allow your customers to log into your online store using their social media account logins for effortless account creation and checkout.
You can also use WordPress plugins if you want more. Mailchimp by WooCommerce is one good plugin to add.
This plugin allows you to do the following:
Access WooCommerce customer data and create/send targeted campaigns
Manage all marketing campaigns (automation, social ads, etc.) without leaving your Mailchimp account
Use its marketing CRM tools to drive more repeat purchases and traffic
Grow your business exponentially by adding all the necessary sales and marketing extensions.
Since the average cart abandonment rate reaches 69.57%, adding an abandoned cart recovery extension is recommended. It works once the shopping cart is marked 'abandoned'.
WooCommerce will automatically send your customers cart recovery emails or social media messages to complete the checkout process.
Yoast SEO (Search engine Optimization) is another excellent add-on. It provides product-specific SEO analysis and attention-grabbing formats for your products to stand out from your competition.
It also helps your website get better rankings on search engine platforms.
People are likely to stay longer on websites and online stores written in their native language. Use a professional multilingual extension to translate every page of your WooCommerce store into any language you support.
#4 Coupon Builder
Offering coupons is an effective method to engage shoppers to purchase your products. WooCommerce provides an easy-to-use coupon-building platform to help you create one in seconds.
Inside the coupon builder, there are three sections that you need to fill out, and those are the following:
General section: The two data blocks on top are dedicated to the coupon's name and description. After completing it, you need to pick the discount type (percentage, fixed cart, or fixed product), the coupon amount, and its expiration date.
Tick the free shipping checkbox if you wish to cover it on the coupon.
Usage restriction: You can set all the limitations you want the coupon to have in this section. You can indicate the minimum and maximum spend (order subtotal), products, and product categories to exclude, and if it is strictly for individual use only.
If you have products on sale, you can also tick the checkbox if you want to include them.
Usage limits: This section allows you to set the number of usages per coupon, items covered, and usage limit per user.
#5 Automatic Refund Method
A good refund policy gives the customer the security and confidence to shop in your online store. WooCommerce makes the refund process simpler by making it automatic.
The automatic refund allows you to process the refund through your store's connected payment gateway (Paypal, Stripe, Amazon Pay, etc.).
You can process this refund type by going to your WooCommerce admin dashboard. Upon processing, the order status will change and reverse the money back to your customer.
You can also look at the Order notes (right sidebar) to know if the changes are made successfully or encounter any errors.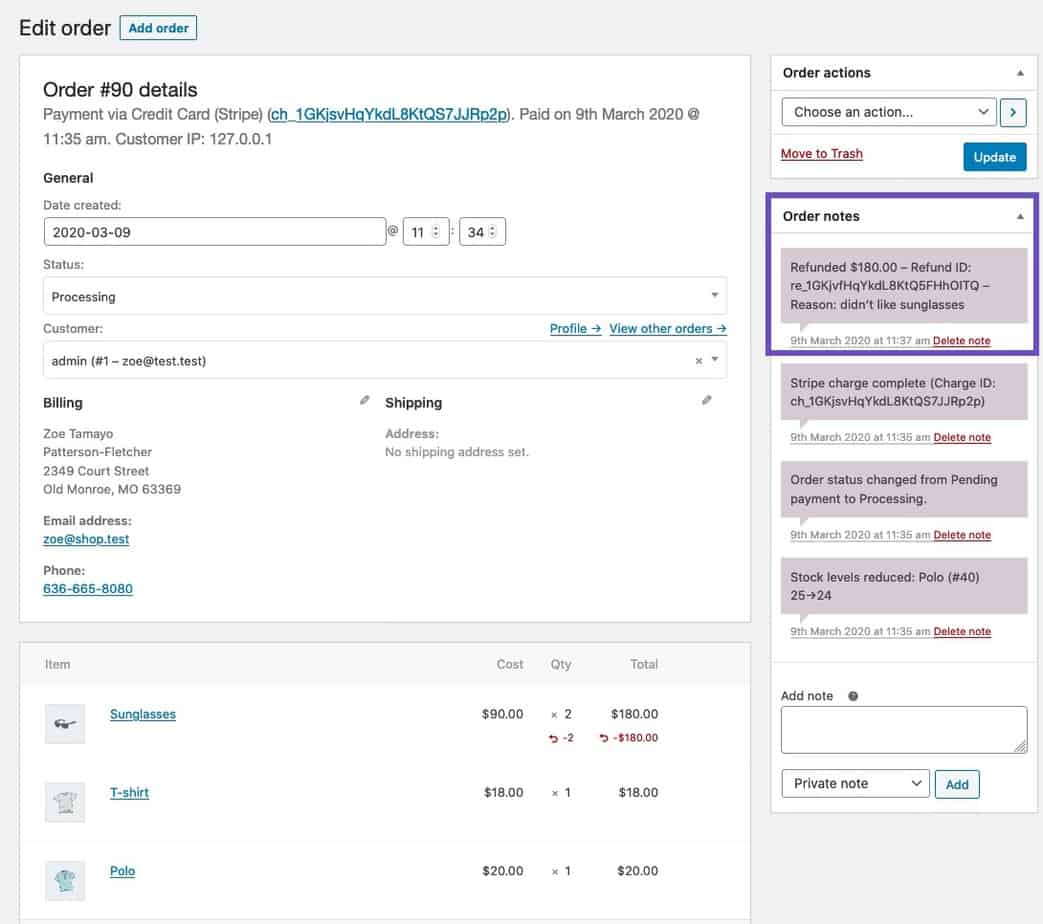 You have the option to activate automatic restocking of products when the refund is processed.
You can activate this function by ticking the "Restock refunded items" checkbox.
WooCommerce keeps ease of use in mind when designing the setup process of the automatic refund. But if you need assistance, you can contact a WooExpert (access Support Forum for non-users) or find help on its help center (guides, blogs, tutorials, etc.).
After setting the refund, create a web page outlining your refund policy.
This is an excellent way to inform your customers of the terms and requirements in requesting a refund. Add the page's link to your online store's menu bar or order confirmation emails.
6. Key Features Of Shopify
Build your online store and start selling fast on Shopify. Here are a few of the powerful tools and features you can enjoy using:
#1 Branding & Business Tools
A strong brand identity helps your online business stand out from the competition and make a lasting impression on your customers.
Shopify can help you build it within minutes as it is equipped with exclusive branding tools. All tools are free for your convenience.
Shopify business name generator can give you hundreds of suggestions by simply entering the business name you want and clicking the "generate name" button. Do not forget to tick the domain availability checkbox to view all domains available and their respective cost instantly.
If you finally decide what to get, Shopify will give you an option to only get the business name or get the business and domain name altogether.
Let your customer identify your online store fast by creating a unique logo.
Shopify introduces the Hatchful logo maker, a simple logo-making platform that contains hundreds of templates. Pick one and personalize it in their user-friendly design studio.
Hatchful logo maker is completely free to use.
Other free business tools you can expect to use are listed as follows:
Calculator for a business loan, CPM (cost per thousand impressions), profit margin, and discount
Exchange Marketplace
Generator for barcode, invoice, pay stub, QR code, privacy policy, and terms and conditions
Image resizer
Link in bio for commerce
Templates for a gift certificate, purchase order, shipping label, and bill of lading
You can check Shopify plans if you want more options.
#2 Store Builder
Shopify features a simple yet intuitive drag-and-drop store builder. It provides you with a default theme to start with.
Use its robust editing tools to add your personal and business style.
You can always change the default theme by exploring its paid and free themes or uploading your own theme design. You can also choose Shopify themes based on functionality/industry, catalog size, layout, and design.
Shopify also allows you to customize the themes through coding. This is a great advantage for tech savvies who want to take control of the theme designing process.
It uses Liquid, a templating language that can transform your HTML and CSS codes into an impressive eCommerce website design.
If you want to tweak more of the design, you can use the Template Editor. From your store builder, you can access the coding platform by clicking the "theme actions" then "edit code".
When uploading files in your theme, ensure their size does not exceed 20 MB.
If you have larger-sized files, you are required to:
Import CSV files for importing customers, inventory, and products data
Add shareable links (YouTube, Vimeo, and alike) to your content for videos
Verify your email address to upload PDF files
If you have a premium plan, you can upload any file format.
Do WordPress themes work on Shopify?
Unfortunately, no. One of the many reasons is because of their structure difference:
WordPress is an open-source content management system (built on PHP and MySQL).
Shopify is a hosted eCommerce website solution (built on the Ruby on Rails framework).
#3 Point-Of-Sale (POS) Hardware
"Not Just eCommerce. All commerce." – Shopify is true to their words as they can now sync your online and offline sales together through their POS hardware.
Why is POS important to a business?
Scalability is the primary reason. As your business grows, you need to address your current and future needs.
POS hardware is one excellent solution to future-proof your operation.
You can get started by getting their complete retail kit where it includes a tap and chip card reader, dock (tap and chip card reader), retail stand (iPad), mounting kit, and a mini-dock cable. Install it on any stable, level counter and ease your mind that all devices are fully charged and ready to use.
The POS hardware is designed with powerful software that can easily be downloaded on your tablet or smartphone. This allows you to manage the entire operation of your store (online and offline) in one secure place.
Shopify also offers these plug-and-play devices individually so you can only get what you need. For ultimate convenience, POS hardware accessories are also made available.
A few of these accessories are the following:
Barcode scanners
Label printers
Cash drawers
Tap and Chip Reader case
Correctly setting the preferred devices guarantees to make inventory management and tracking of goods (delivery and stock) a breeze.
#4 Sales Channel
Shopify provides easy integration to various sales channels to allow your online store to expand its audience reach.
Converting your Facebook and Instagram followers into valuable customers is made easy. Properly integrate your Shopify store into these social media platforms for an automatic syncing of all your products.
The good news, you can now also grow your online store with TikTok.
As of January 2022, TikTok reaches over a billion monthly active users. Therefore, it is an excellent platform to sell your goods right now.
When you bring your online store to TikTok, users can shop with one simple swipe.
It also includes in-feed ads to bring your products closer to your target audience. If you do not have the time to write your ad's message, you can use TikTok's video generator tool to create unique and relevant content.
All you need to do is upload the product videos or images, and this tool will do the rest.
Do you wonder whether the video ads are working or not? You can use Pixel to track the video ads' performances.
Other sales channels Shopify can easily integrate into is online marketplaces:
Google channel
Shop channel
eBay
Walmart
Amazon by Codisto and CedCommerce
LYST Channel
JD Marketplace
Rakuten Ichiba (Japan)
Handshake for Suppliers
Cdiscount Marketplace
MyDeal Australia
Wanelo
Visit Shopify App Store to browse all the available applications and plug-ins. The great thing about these integrations is, you can manage it all in your Shopify account.
You can watch the Shopify video tutorial on YouTube to learn how to add, manage, and remove sales channels into your account.
#5 Order Management and Fulfillment
Handling thousands of orders can be overwhelming. Shopify eliminates this by simplifying the workflow – from checkout to shipping.
The first step is to choose your preferred fulfillment methods.
There are three methods available – fulfill orders yourself, use a third-party fulfillment service, or combination. If you only sell digital products, you have the option to set an automatic fulfillment.
Go to Settings > Checkout > Order processing settings to set up the automatic order fulfillment.
At checkout, you have the option to use a simple default form or customize it according to your likings. You can also offer discounts, free shipping, or flat rate shipping to entice your customers to come back.
Do not forget to include digital wallets and other payment methods (local and multi-currency) to allow the shoppers to choose what they prefer to use.
By default, you can use Shopify Payments (a built-in payment processor) to accept credit cards from direct providers. The best part of it, it will not charge transaction fees.
But you can freely use third-party providers to accept other modes of online payment.
After a successful checkout, you need to prepare the packages. Shopify offers postage services where they can handle various package types – envelope, poly-mailer, and small to a medium-sized box.
They also provide shipping labels for each order that you can print from your home.
Shopify partnered with leading carriers (USPS, UPS, and DHL) to ensure your customers will get affordable shipping prices. Do you want to have an idea of how much it costs per package?
You can check it using the Shopify shipping calculator.
7. WooCommerce vs. Shopify – Pros And Cons
Here I discussed a few of the important pros and cons of WooCommerce and Shopify:
WooCommerce:
| | |
| --- | --- |
| Pros | Cons |
| Free to use | Customer care does not offer phone support and can be a bit slow to respond on email and live chat  |
| Ability to add and pay for extensions that your online store truly needs | The set-up process can be time-consuming. |
| The open-source platform gives you complete customization control | Separate cost for web hosting, backups, maintenance, and security |
| Unlimited options for themes and designs for WordPress website | You cannot use WooCommerce without creating a WordPress account. |
| No transaction fees even when used a third-party payment gateway | |
Shopify may be an excellent eCommerce site, but it is not exempted from having disadvantages. A few of their pros and cons are the following: 
Shopify:
| | |
| --- | --- |
| Pros | Cons |
| 24/7 customer support provides quicker response time | Charge transaction fees when using a third-party payment provider |
| Straightforward and fair pricing plans offered | Limited SEO plugins offered |
| Launch your online store within minutes | Email marketing features are pretty basic |
| Better multi-channel integration | |
| Provide stronger protection against cyber-attacks | |
8. Where Do I Get The Most For My Money?
In this section of my WooCommerce vs. Shopify comparison, I will break down the costs to help you identify which eCommerce platform is a smarter investment.
WooCommerce Pricing Plans
Since WooCommerce is completely free, I will focus this pricing plan on the available extensions it offers.
Unlike other eCommerce websites, WooCommerce does not limit you from selling physical products. At an affordable price you can expand your business by selling digital products and services such as the following:
Subscriptions ($199): This extension allows you to sell a wide range of subscriptions for online classes, video streaming services, audiobooks, and more. You can indicate expiration dates for each product and offer discounts or free trials.
Bookings ($249): This extension is a reliable online booking system that allows your customers to book their appointment at their preferred time and date. Depending on your settings, customers can also view the available schedules based on the customer's time zone, the maximum number of people allowed per the scheduled time, and more.
Membership ($199): In this extension, WooCommerce allows you to sell a membership as a stand-alone product, part of a product purchase, or if you are creating an exclusive members-only section in your store.
Grow your business by retaining valuable customers and converting new visitors into paying shoppers using WooCommerce marketing tools. Two of the popular extensions are the following:
AutomateWoo ($99): This extension is designed to optimize customer communication and automate the sending process. This is all applied to transactional emails, reward notifications, abandoned cart reminders, and more.
Smart coupons ($99): Offering coupons is an effective way to boost repeat orders and customer loyalty. This extension can do the right job by allowing you to create and sell various types of coupons. You can also automate the issuance of the coupons to save time and effort.
Through this extension, you can also sell store credits, gift cards, vouchers, and more.
Other vital extensions that WooCommerce developed are listed as follows:
Shipping (Free): Prepare, manage, print, and save all your DHL and USPS labels on your devices (PC, laptop, or mobile). It is built directly on your WooCommerce dashboard.
Shipment tracking ($49): Seamless tracking of customer shipment via online and mobile apps. It also supports custom and automatic tracking links of 16 courier/postal providers.
Min/max quantities ($29): Set a minimum and maximum quantity for orders and products. An error message will be shown when customers exceed the restrictions.
Table rate shipping ($99): This extension provides advanced shipping options. You can set unique shipping rates per item count, location, price, and weight.
Checkout field editor ($49): Add, edit, and remove any fields (text, select, checkboxes, and date pickers) displayed on your checkout page. It supports WooCommerce 3.0+ version.
All WooCommerce extensions are billed annually and include a 30-day money-back guarantee.
Shopify Pricing Plans
Shopify offers three set pricing plans where each is dedicated to a specific size and type of business.
Basic Shopify ($29/mo.): This pricing plan is ideal for startups or any businesses that are new to in-person selling. It includes standard features such as an eCommerce website and blog, unlimited products to sell, 2 staff account access, 24/7 customer support, simple integration to various sales channels, assign inventory up to 4 locations, free SSL certificate, manual order creation, and more.
Not to mention the addition of Shopify shipping, payments, POS, and global selling (sell up to 133 currencies and up to 5 different languages) features.
Shopify ($79/mo.): For a growing business with 1 retail store, this pricing plan is the smart choice. All the basic features are included with a few upgrades and additions – 5 staff account access and assign inventory up to 5 locations.
In global selling features, you are allowed to have international domains and customize product prices for different countries.
Advanced Shopify ($299/mo.): If you handle 2 retail stores, this is the best plan to get. You are allowed to manage 15 staff user accounts, assign inventory in 8 different locations, provide you with an advanced report builder, and show you third-party calculated shipping rates.
In global selling features, you are also eligible to set individual prices for different countries.
Shopify offers two additional pricing plans and those are the following:
Shopify Plus ($2,000/mo.): This plan is exclusive for businesses handling a massive scale of products and orders. It allows you to manage the entire operation of the business in one location (Shopify admin), gives you up to 18% higher conversion when using Shop Pay, customize product pages by adding built-in AR, video, and 3D media, and many more.
Shopify Lite ($9/mo.): This plan is recommended for businesses that only want to add a "buy" button on their existing online store. Upon purchase, you can access the Shopify Admin and POS Lite sales channels.
9. Conclusion – Which Is Better: WooCommerce or Shopify?
With WooCommerce's complex configurations, it becomes clear that this is more suitable for tech-savvy individuals.
But that's not always the case.
Remember that WooCommerce offers more flexibility in design customization. So, if you prefer to do in-depth tailoring for a smoother shopping experience, this is the best eCommerce solution to get.
Shopify is the walk-in-the-park type of eCommerce platform.
Everything you may possibly need for your online store is well-provided. They have a simple drag-and-drop store builder packed with powerful editing tools and customizable themes.
Not to mention, it includes various marketing and sales features to ensure your business and sales will grow altogether.
Whether you are a first-time seller or simply new to in-person selling, Shopify can walk you through every step of the process. It is a plus that Shopify is Level 1 PCI DSS compliant (certified).
10. WooCommerce vs. Shopify – FAQ
Here are four of the frequently asked questions raised for WooCommerce and Shopify:
Can I restrict the usage of coupons for specific customers (new or existing) and countries?
Yes, you can restrict a specific user, country, state, and zip code by installing WooCommerce's coupon restriction extension (paid).
Can I upgrade or downgrade my plan subscription to Shopify?
Yes, you can freely change your plan any time you want without shouldering additional fees.
How can I customize my dropshipping order notifications?
Simply go to your WooCommerce admin dashboard, click settings then emails. Under the email section, you will see the "Dropshipping notifications" tab. Personalizing the emails and adding contact information are the few things you can do on this tab.
Is the Shopify POS app available worldwide?
Yes, you can use the Shopify POS app wherever you are as long as you are equipped with its compatible POS hardware. This is to make sure you can easily sync in the offline and online sales, and accept credit card payments.