Are you in search of the best YouTube to MP3 converter?
Look no further. I got just what you need.
I've already shared how you can download YouTube Videos in 4K, so now I decided to share with you the best MP3 converters I found, tried, and reviewed that will come in handy for you.
You'll discover which of these is the perfect tool for you, which fits your needs, its pros and cons, and its pricing options.
What Is The Best YouTube To MP3 Converter?
In a rush? Here are my top 3 picks at a glance: 4kdownload, YTD Video Downloader, and Wondershare UniConverter.
| | | |
| --- | --- | --- |
| 4.8 | 4.6 | 4.2 |
| Best overall. Provides high-quality video and audio options. Starts at $15/month. | Best value for money. Download full playlists and 8k videos. Starts at $1.99/month. | Most features. Fast conversions and multiple file types supported. Starts at $7.98. |
| Try 4kDownload | Try YTD | Try Uniconverter |
Are you ready to find out the 7+ YouTube to MP3 converters I curated just for you? Here they are:
1. 4Kdownload – Top Pick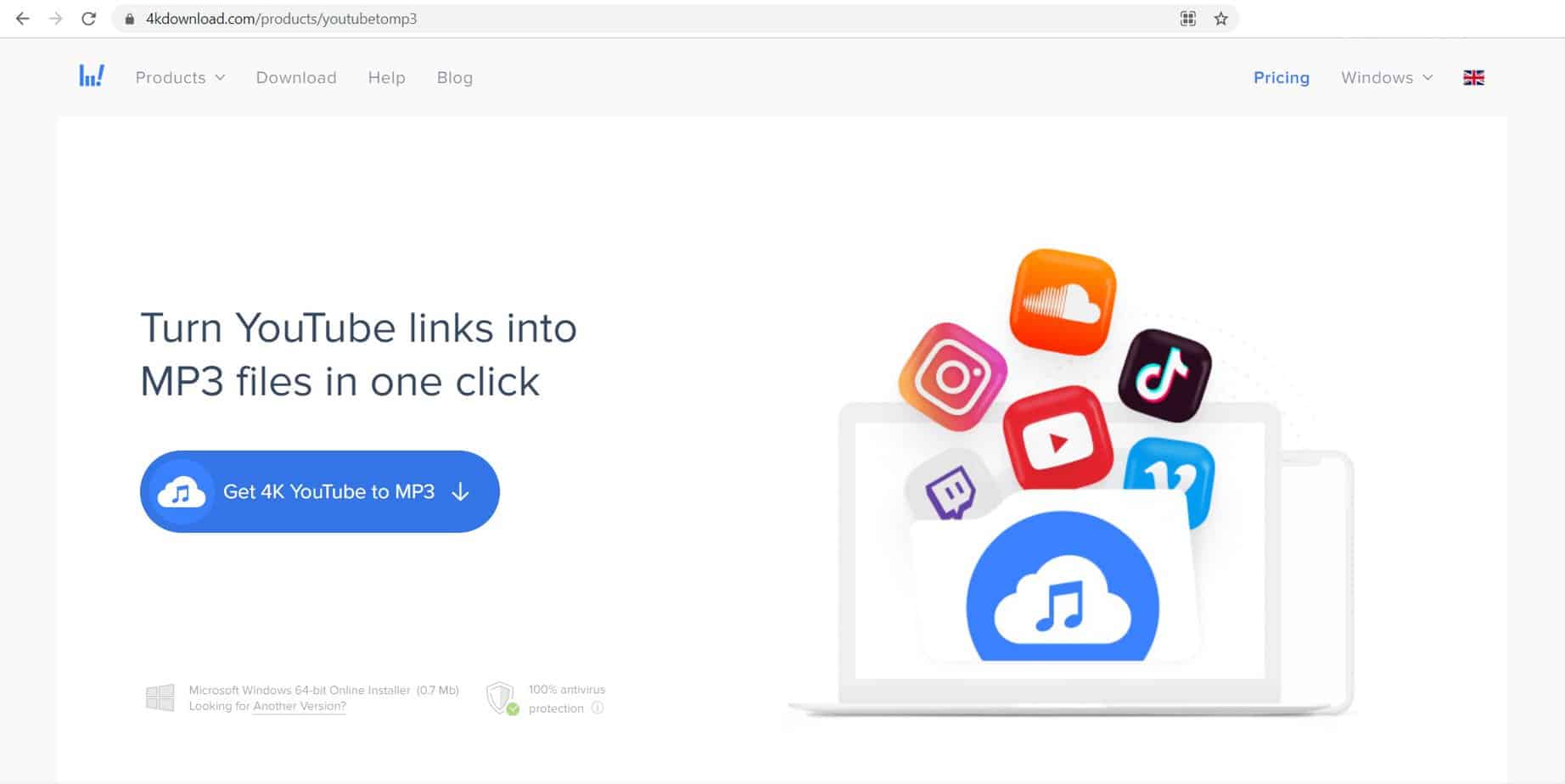 Versatile YouTube Downloader & Converter For Video and Audio [Free | $15 a month]
For converting and downloading YouTube audio and video to MP3 or other formats, 4Kdownload is my number 1 pick. Here's why.
It offers different products, from downloading YouTube videos of your favorite content creators to watch later to downloading audio of podcasts, webinars, or music covers.
But one of the things it does best is…
Converting YouTube to MP3.
Aside from this, here's what else you can do with 4Kdownload:
Convert videos, channels, playlists, subtitles, and more from multiple sites
Save audios from videos in OGG, M4A, and other formats
Choose your preferred bitrate
Download and convert sounds from videos hosted on Flickr, Facebook, SoundCloud, Vimeo, and others.
Easily save audios by just copying the address from your web browser
Pros And Cons Of 4Kdownload
| | |
| --- | --- |
| Pros | Cons |
| Can do batch downloading | Premium version needed to download entire playlists |
| Offers in-depth tutorials for beginners | |
| Lets you save entire playlists and channels from YouTube | |
| Download videos in high resolutions such as 720p, 1080p, 4K, and 8K | |
| In-app proxy setup lets you bypass geographical restrictions | |
| Multiple file formats like MP3, MP4, MKV, 3GP, M4A, and more | |
4Kdownload Pricing Plan

4Kdownload's 4K YouTube to MP3 offers five pricing options.
All of these pricing options are one-time fees good for three computers.
Let's have a look at what each plan offers:
Free ($0): In this plan, you can do 30 single audio downloads per day, ten audio tracks per playlist, five audio tracks per channel, and one download at a time.
Personal ($15): In this plan, you can download unlimited single audio, audio tracks per playlist and channel, and private YouTube content download, up to 3 simultaneous downloads, and no advertisements.
Pro (Sale: $45, Regular: $60): This plan includes everything in the personal plan, plus you can now download YouTube Premium HQ audio and have permission for commercial use.
Bundle ($25): This gives you Personal license for all the 4K products and includes all future updates.
Pro Bundle ($65): This plan gives you Pro license for all the 4K products and includes all future updates.
Need to convert some YouTube videos to MP3? Go and give 4Kdownload's YouTube to MP3 converter tool a try. Visit their site to get started.
2. YTD Video Downloader – Best Value For Money
Simple & Affordable YouTube Downloader For Audio and Video [ Free | $1.99 a month]
If we're talking about simplicity and value for money, it will be YTD Video Downloader, hands down.
Let me tell you why.
Its user interface is smooth and uncluttered, making it fast and easy to use. Its developers update it regularly to incorporate the latest technology and give you rich functionality.
Do you need to download some of your favorite influencers' and digital nomads' content?
YTD Video downloader can help you with that as it lets you download from 50+ sites, including YouTube, Tiktok, Vimeo, Facebook, Dailymotion, and more.

Here are some of its features:
Download entire video playlists
Convert your videos to MP3, MP4, 3GP, MPEG, AVI, etc.
Download high-definition (HD) videos.
Automatic resume and retry of download when your internet connection fails
Fast download and conversion speed
It comes with an integrated video player to let you watch your videos right away
Pros And Cons Of YTD Video Downloader
| | |
| --- | --- |
| Pros | Cons |
| Comes with a converter and integrated player | Can't download or convert more than one video at a time in the free version |
| Ability to pause and resume downloads | Batch downloading not supported in the free plan |
| Batch downloading | |
YTD Video Downloader Pricing Plan
YTD Video Downloader offers a free version with limited features. Want to unlock all of its features?
Avail one of its paid plans that lets you unlock the following:
Unlimited download of videos and playlists
Advanced panel for activity monitoring
Free email support
Simultaneous downloads
Here are the paid plans:
2-year plan for $1.99 per month ($47.76 billed every 2 years)
1-year plan for $3.16 per month ($37.92 billed every year)
1-month plan for $9.99 per month ($9.99 billed every month)
Interested? Give their free plan a try and then avail of one of its paid plans to unlock more features.
3. Wondershare UniConverter – Most Features
Feature-Rich Downloader & Converter for YouTube Video And Audio [$7.98 a month]
Are you looking for a feature-packed converter? Wondershare's Uniconverter will be perfect for you.
Used by millions across the globe, it claims fast conversion and download speed and excellent video quality and file formats.
Let me tell you the features it comes with:
It comes with a DVD Toolkit that lets you create and edit DVD files easily, Blu-Ray included
Video compressor
Image converter
Screen recorder
GIF maker
VR converter
DVD converter
Convert videos for different devices
Convert multiple media files simultaneously
Save videos from 10,000+ sites
Merge videos
Add files to iTunes after conversion automatically
Download subtitles and closed captions from YouTube
Trim video into several segments
Crop video
Add watermark for copyright protection
Add subtitles to videos
Record Skype videos, Facetime videos, etc.
Record screen for guide, tutorial, online courses, etc.
Auto-fix and edit video metadata info
Transfer videos or music to Android/iOS devices
Customize DVD menu
CD burner/ CD converter
Pretty rich with features, don't you agree?
Pros And Cons Of Wondershare UniConverter
| | |
| --- | --- |
| Pros | Cons |
| Download and convert videos from various platforms like Dailymotion, YouTube, Facebook, Vimeo, and more | Blu-Ray editing compatible only with Windows systems |
| Intuitive user-interface | No free plan |
| Offers free DVD templates | |
Wondershare UniConverter Pricing Plan
Wondershare UniConverter offers different plans for individuals, teams, businesses, students, and teachers.
The plans for individuals give you a license that lets you access all of its features for one PC. Here are the plans:
Annual Plan ($39.95/year)
2-Year Plan ($55.95/2 years)
Perpetual Plan ($79.95 one-time fee)
Annual Bundle Plan ($71.95/year) – includes Wondershare's UniConverter and Filmora Video Editor.
It offers one plan for teams and one plan for small to medium businesses and enterprises. Both plans include all of Wondershare Uniconverter's features.
Here are the plans:
For Team ($59.95/year for the yearly plan, $89.95 for perpetual license): This plan's price varies depending on the number of users.
For SMBs and Enterprise (Custom Pricing): This plan supports more than 20 PCs or Macs, more advanced data security and privacy, and more. For more information, you must request pricing from their sales team.
Are you a student? There are affordable plans for you.
In collaboration with Student Beans, students are eligible for affordable plans. All student plans include all features, free tech support, free updates, and privacy protection.
Here are the plans:
Monthly Plan ($7.98/month)
Quarterly Plan ($19.96/quarter)
Annual Plan ($31.96/year)
Perpetual Plan ($55.96 one time fee)
For teachers and educators, you need to fill out a form to get in touch with their team, and they'll get back to you within 24 business hours for more information about the educational discount.
Need a feature-rich converter? Avail one of Wondershare UniConverter's plans! Get started by visiting the site.
4. YTMP3 – Easiest To Use
Easy-to-Use Online MP3 & MP4 Converter for YouTube [Free]
Are you looking for a no-frill online converter? That's YTMP3.
It's a highly accessible and completely free online YouTube to MP3 converter. It is compatible with different types of devices, like computers, mobiles, and tablets.
Here are the features:
Convert and download your videos in MP3 and MP4 formats
Easy to use
Gives high-quality audio and video
Convert videos of up to 90-minutes in length for free
Fast conversion and download
Edit, modify, and personalize your file's name when saving
Pros And Cons Of YTMP3
| | |
| --- | --- |
| Pros | Cons |
| High conversion and download speeds | No batch conversions |
| No hidden pop-ups or advertisements | Quality of the audio file cannot be modified |
| Virus-free | 90-minute video length limitation |
| Simple and clean user-interface | Videos not available in the public domain cannot be converted |
| Easy to use | |
YTMP3 Pricing Plan
YTMP3 is entirely free and will cost you nothing at all to use. Isn't it great?
It does not even require any software or registration, and the conversion is done entirely online. However, by using its service, you are accepting its terms of use.
Another fantastic thing is that converting a video is easy as pie.
You only need to copy the video URL into the converter, select the format you want, and then click the convert button. Once the conversion finishes, you can download the file by clicking the download button.
Now, if that's not easy, I don't know what is. If you need a fast and easy solution for your YouTube to MP3 conversion needs, just visit their website and convert!
5. FLVTO – Free and User-Friendly
Excellent Free Multi-Format Converter for YouTube Audio and Video [Free]
Want another wholly free and straightforward online converter? FLVTO got your back.
It offers free conversion services that give you high-quality files. It's straightforward to use, and it can download audio or video from YouTube, Instagram, Tiktok, Twitter, and more.
Let's have a look at what it can do:
Gives HD quality audio and video
Interface is easy to use
Can be used in different browsers such as Google Chrome, Mozilla Firefox, Opera, Safari, etc.
Your video can be converted to MP3, MP4, MP4HD, AVI, and AVI HD
Offers a fast way to download video files by inserting "fl" before the word "youTube" in the URL
Output file can be shared via email or Dropbox
Pros And Cons Of FLVTO
| | |
| --- | --- |
| Pros | Cons |
| No need for extra software | Not suitable for offline use |
| Multiplatform support | Ad-filled website |
| Easy to use | |
| Multiple languages supported | |
FLVTO Pricing Plan
Just like YTMP3, FLVTO is also completely free. You don't need to spend a dime to convert your favorite YouTube videos. Amazing, right?
You don't need any registration or software to convert. All you need is your video's URL, put it in the converter, choose the format you want, then click convert.
Once the conversion is done, you just need to click the download button, and you're done.
Now that is easy. Converting your video to MP3 is easy. Go ahead and give FLVTO a try.
6. Freemake – Popular Tool
Popular Multi-format Converter For YouTube Videos and Audios [Free]
Are you looking for a converter trusted and used by millions? You got Freemake.
It claims to have been recognized as the #1 free YouTube downloader for ten years. It lets you download and save videos and playlists in MP3, MP4, AVI, FLV, and more.
Let's see the features that made it the best for ten years:
Lets you download videos from different platforms such as Vimeo, YouTube, Dailymotion, and more
With the tool, you can edit, modify, join, cut, and rotate video clips
You can download videos, including their subtitles
Save entire playlists and channels
Choose video quality from 2400p, Full HD to 4K.
Upload file to Google Drive, Dropbox, and OneDrive
Proxy and parental control
Save up to 500 clips all at once
Pros And Cons Of Freemake
| | |
| --- | --- |
| Pros | Cons |
| Multilingual support | Customer service needs improvement |
| Convert 2-hour full HD video in around 4 minutes | High-speed conversion is not always guaranteed |
| Free to use | |
Freemake Pricing Plan
Freemake, as its name suggests, is also completely free. It will cost you absolutely nothing to use its services. Awesome, right?
What's more, is that it's already trusted and loved by over 93 million users and guaranteed as safe for ten years. That's not all.
Using it is easy as pie; in just two clicks, you can download videos or playlists. Just paste your video URLs and save online clips using the tool.
And to make sure that you get only the best service, its developers regularly update it, and any issues that arise are fixed within 24 hours.
Pretty impressive for something free, don't you think?
Go ahead and give Freemake a try. It's absolutely free! Visit the site to get started now.
7. ClipGrab – Fast & Easy-To-Use
Speedy & User-friendly Converter For YouTube Video And Audio [Free]
Are you in need of a fast but simple YouTube to MP3 Converter? ClipGrab is the answer.
It's user-friendly and lets you convert and download videos fast and efficiently. Let's take a look at what it can do:
Compatibility with different platforms: With this tool, you can download and convert videos from various platforms such as YouTube, Vimeo, Dailymotion, Facebook, and more.
Multi-format File Conversion: Convert your videos into different formats such as MPEG4, OGG, WMV, MP3, Theora, Vorbis, and original format.
Quality Options: You can choose the video quality you want to save.
Pros And Cons Of ClipGrab
| | |
| --- | --- |
| Pros | Cons |
| One of the fastest tools in the market | Must download and install software to use it |
| Compatible with Windows, Mac, Linux | Free version's functionalities are a bit limited |
| Detailed FAQ page that tells in detail how to use it | |
| Dedicated users forum | |
| Built-in clipboard monitoring | |
| Supports many video sites | |
ClipGrab Pricing Plan
ClipGrab, just like Freemake, is entirely free of cost and doesn't have any paid plans. Great, isn't it?
Also, converting YouTube to MP3 is super easy. Let me tell you how:
First, install the software.
After installing the software, copy the link or URL of the video you want
Then, paste that link into ClipGrab.
Select MP3 as the target format or choose the format you want
Click the "Grab this clip!" button
Once It finishes downloading the video, it's automatically converted and saved on your PC. You're done!
Easy as ABC, right? Go and give ClipGrab a try! It's completely free and super easy!
Visit ClipGrab's site to get started.
8. SnapDownloader – Trusted & Known
Popular & Reliable Multi-Format Converter for YouTube Audio and Video [$3.99 a month]
Are you looking for something similar to 4Kdownload? That's SnapDownloader.
It's one of the most popular YouTube to MP3 converters with the highest audio quality. It's a full-blown video downloader meaning it's the only tool you will need for all your video downloading needs.
Let's take a look at its amazing features:
Download High-Quality Videos: Download videos of high-quality resolution, including 8K, 4K, 1080 HD, and 720p.
Download From Over 900 Websites: You can save videos from different platforms like Facebook, YouTube, and Twitter.
Download Playlists And Channels: You can now save your favorite playlist videos and channels.
Download VR 360° Videos: You can now download your favorite VR videos.
Batch Downloads: You can download multiple videos simultaneously from different websites.
Schedule Downloads: You can also schedule videos to be downloaded at your preferred time.
Proxy Setup: You can also set up your proxy to access geographically blocked videos.
Convert MP4 to MP3: You can download and convert your videos to MP3 or MP4 format.
Pros And Cons Of SnapDownloader
| | |
| --- | --- |
| Pros | Cons |
| High resolution and quality video and audio downloads | No free version/plan |
| Convert to different file formats such as MP4, MP3, AVI, AAC, M4A, AIFF, and WAV | |
| 24/7 customer support | |
| Download up to 15 videos at once | |
SnapDownloader Pricing Plan
SnapDownloader offers two different kinds of pricing plans, a subscription plan, and a lifetime license plan.
Both plans include the following:
30-day money-back guarantee for a lifetime and annual licenses
24-hour money-back guarantee for a monthly license
Free lifetime upgrades
24/7 customer support
Unlimited access to all features like unlimited downloads from 900+ websites, batch downloads, high-speed download, one-click mode, in-app proxy, built-in video cutter, paste up to 100 links and download all of them at once, and many more.
Here are the pricing plans:
Monthly Subscription ($3.99/month): License for one computer
Annual Subscription ($19.99/year): License for one computer
Personal License ($29.99 one-time payment): Lifetime license for one computer
Family Edition ($54.99 one-time payment): Lifetime license for three computers
Awesome features for each plan, right? Go and give SnapDownloader a try. You can try it for free for 24 hours – no payment is required.
Visit the site to get started.
Conclusion
I curated the best YouTube to MP3 converter for 2022, but I must say that out of the 8 I listed, 4Kdownloader is my top pick.
Let me explain. It's versatile, safe, and comes with all the features I'm looking for and need in a YouTube downloader and converter.
Moreover, its free plan comes with competitive features. Its paid plans come with more advanced features that are excellent in their own right.
These are just my cents.
There are also accessible online converters you can choose from. I'm sure that one of these converters I listed would definitely work for you.