What is the most effective display ad network program? There are tons of options to choose from, and today, I'll highlight 7+ of the leading advertising software available this 2022.
As a small online business owner, I understand the importance of leveling up my advertising game to get a competitive edge. And I successfully do so with the help of a display ad network program.
If you also want to get a head start with your competitors, my best recommendations for display ad network platforms are here. I've included their robust features, pricing plans, advantages, drawbacks, and more.
I've included their robust features, pricing plans, advantages, drawbacks, and more.
What Is The Best Display Ad Network Program?
If you're in a hurry, check out my top 3 picks instead: Criteo, AdRoll, and Bannerflow.
| | | |
| --- | --- | --- |
| 4.9 | 4.6 | 4.1 |
| Best overall. Highly flexible platform for targeted advertising for businesses of all sizes. | Best value for money. AI-driven marketing solutions for an affordable price. Starts at $19/month. | Easiest to use. User-friendly platform with intuitive dashboards and easy-to-navigate UI. |
| Try Criteo | Try AdRoll | Try Bannerflow |
Make sure to take your advertising game to the next level with the best display ad network program. Here are your options:
1. Criteo – Top Pick
Commerce Media Platform With Contextual Targeting Solutions [Quotation-Based Pricing]
Criterio landed on my top picks because its solutions are specifically created to support various business goals.
They successfully deliver so by designing each solution based on specific user types – marketers, media owners, and retailers.
You can use the platform to help with media planning, increase brand awareness, traffic (website and app), and conversions if you're a marketer.
Criterio has a built-in AI engine that can analyze various shopping intent signals and provide dynamic creative optimization and product recommendations – perfect for your text ads. And thanks to its 2.5 billion active users, they also have an in-depth understanding of the consumer journey.
Through these features, they can effectively bring more views to your native ads, social media, and increase website traffic. It can even help with traditional marketing resources like billboards and TV ads.
The solutions mentioned above are also applicable to publishers and retailers, and the only difference they have are:
Brands and media owners like ad agencies can leverage Criterio's platform to drive more sales by promoting their goods using native product ads, commerce display ads, and offsite ads.
Retailers can increase their revenue by creating a superb shopping experience.
Currently, Criterio offers 11 advertising products that can surely help your business achieve success.
The most popular is Contextual Targeting. As its name implies, this solution combines contextual signals into their commerce data set and with your first-party data.
Together, they can help you identify the right audiences to reach and the best website to deliver your ad campaigns.
It may seem complex at first, but it works in three simple ways:
First, it uses semantic analysis technology to understand each web page's relevancy.
Then, it will analyze your first-party data of online shoppers to understand their shopping browsing and purchasing behavior.
Lastly, it will combine all gathered results to build lookalike audiences and provide the best display ads with relevant product recommendations.
Pros And Cons Of Criteo
| | |
| --- | --- |
| Pros | Cons |
| Supported tons of platforms (supply-side, data, etc.) | No offered free plan or trial version. |
| Relatively easy to use and administer | Don't provide real-time customer support via phone or live chat |
| Uses advanced AI algorithms to analyze data | Not the easiest to set up |
Criteo Pricing Plan
Criterio's products are available in quotation-based pricing plans. You can request a meeting with their experts by filling up and submitting their contact form.
One of their experts will contact you to discuss the products or solutions you're interested in purchasing.
2. AdRoll – Best Value For Money
AI-Driven Display Ad Network Software With Advanced Audience Targeting Options [Free | $19 a month]
AdRoll is the marketing platform you need to boost your eCommerce store's growth and revenue. From its first year to a certain time in its operations, it supported the following online shopping platforms:
Shopify
WooCommerce
BigCommerce
And, Magento
But as it evolved, it added reliable support for PrestaShop, Squarespace, and Wix eCommerce platforms.
You can connect your online store to their platform with a few simple clicks. You also need to copy and paste their pixel (JavaScript code snippet) into your website.
What if your online store is not included on their list?
Don't worry, AdRoll also provides an option to install the pixel code manually. If you run an internship, this shouldn't be handled by interns, beginners, or non-tech users since this requires heavy coding.
You can test out if the pixel code is implemented correctly into your online store by installing PixelPal.
Now that everything is set up, you can leverage its standard features and advanced audience targeting options.
The standard features include fundamental tools that can help you create display ads that provide the following results:
Increase your brand awareness
Bring back visitors who abandoned their shopping cart
Build customer loyalty
On the other hand, advanced audience targeting solutions can help you widen your reach.
Currently, there are six options available, and these are:
Contextual targeting: This allows you to choose categories relevant to your content, target market, or industry.
Demographic targeting: Uncover what your target market or ideal customer looks like by identifying their age, gender, profession, net worth, and more.
Interest targeting: This allows you to reach out to new people with similar interests to your ideal target audience.
Lookalike targeting: Uses AI technology to identify people who act and look exactly like your existing customers/audiences.
Retargeting: This allows you to retarget people who previously interacted with your website, social media channels (Facebook and Instagram), and mobile apps.
CRM audiences: This allows you to bring your contacts from your CRM software to re-engage them.
Pros And Cons Of AdRoll
| | |
| --- | --- |
| Pros | Cons |
| Generous Starter package (free) | No real-time customer service support (limited to self-service help center, contact form, and social media channels) |
| Support HTML5 and GIF ads with up to 30 seconds (5-20 frames/second; no looping) | The mobile interface isn't as user-friendly as with the web-based platform. |
| Support seven marketplaces | |
AdRoll Pricing Plan
AdRoll landed on my best value for money because they give you complete control of your budget. You can get started with their free Starter plan, which provides you with 5,000-limit emails sent per month.
If you want a higher limit and complete access to all its standard and advanced features, you can get the Growth plan at $19 per month.
This plan includes a 30-day trial version, allowing you to explore its platform first before purchasing. Also, you can spend up to $65,000 per year on your ad campaigns.
If you want a higher ad spend limit, you may contact their sales team to get a personalized pricing quote.
3. Bannerflow – Most Features
Creative Management Platform With All-In-One Display Ad Network Solution [Quotation-Based Pricing]
If you're building a strong in-house marketing team, Bannerflow is the right platform to use. It's packed with an all-in-one digital marketing solutions that are proven effective for all industries and help with any marketing communication.
These solutions are divided into three areas, and those are:
Creative Studio
Creative Campaign management
Creative Personalization
The Creative Studio is where you can design pixel-perfect display ads. They use an AI-powered smart scaling tool to deliver high-quality image ads and campaigns that you can run on:
Your website
All major social media networks
Desktop, mobile, and other devices
As standard, it comes with editing tools to tweak its layout and design.
To make the campaign more engaging and interactive, you can add basic graphic design to advanced animations (HTML5). When you add the latter, you need to use rich media assets.
Adding these assets wouldn't be a problem because you can easily drag and drop them into your design making landing page creation easy as well.
If you have a different ad in mind and you prefer to add your own designs, you can use Creative Studio's custom widgets. Other elements you can use on your campaigns are listed as follows:
Automatic and live data feeds
Localized your copy into your audience's native language
Team member's comments and instant approval
The last element is part of the team collaboration tools. It's provided to boost your team's productivity and save device storage space since you no longer have to send heavy files to one another.
Any member of the team can access and share a live preview of the campaign and the different ad types your company is working on.
Once your team finalizes the design, you can export them into the following formats:
Next is Creative Campaign Management.
Primarily, this solution helps in streamlining your processes with automation and direct integrations. As of writing, there are 20+ ad servers, DSPs, and ad networks that you can benefit from.
You can also create dynamic content that can stay relevant to your customers and prospects and ensure conversion.
The best part of this, you can create them without writing a single line of code.
Let your team understand your advertising performance and make smart, data-driven decisions. They can effectively do so using Bannerflow's campaign analytics.
Inside the analytics, they will find all the results gathered from A/B testing and heatmaps. You can also connect it to your chosen data management platforms to get deeper insights that can help scale your campaign.
Last on the list is Creative Personalization.
As the name implies, it provides features that can help you create unique and powerful ad experiences that indeed convert potential customers, which is essential for any company in the advertising industry. The best part of this solution, you can update multiple ad campaigns in real-time and from a single source.
It can also provide product recommendations to improve your conversion and re-engage your previous customers.
Pros And Cons Of Bannerflow
| | |
| --- | --- |
| Pros | Cons |
| Easy to use, setup, and administer | No 24/7 phone support is available |
| Excellent quality customer support through live chat | Not ideal for freelancers and startups |
| The product includes features for design, collaboration, campaign management, and personalization. | Do not support mobile platforms |
| Support a wide variety of ad formats | |
Bannerflow Pricing Plan
Everything you need to boost your in-house marketing team's productivity is included at Bannerflow. If interested in using the platform, you can contact its sales expert to request a personalized pricing quote or book a demo.
4. Perpetua – Best For Anyone Who Sells Online
eCommerce Advertising Software Designed For Amazon DSP [$250 a month]
Perpetua is another eCommerce advertising program on my list engineered to meet any business goals.
They deliver this by building an ad engine, the tool that can execute all your strategic objectives. All you have to do is to input your goals.
There are three types of goals you can include:
Universal goal: Input your target ACoS and daily budget.
Brand-based goal: Set individual target ACoS and daily budget for branded and unbranded keywords.
Advanced goal: Set individual target ACoS and daily budget for branded keywords, categories, and competitors.
It also uses A.I. technology to effectively optimize and run any ad campaigns for Amazon vendors and sellers.
There are two types of ad campaigns you can run – display advertising and video advertising.
Perpetua and Amazon DSP work together to effectively combine A.I. technology and natural human creativity. As a result, they can deliver your display advertising campaigns to the right audience at the right time.
You can also measure your profitability and sales using Amazon DSP's analytics and reporting.
A few of the insights you can expect to see are the following:
ASIN-level metrics
In-depth data for the campaign, inventory, and audience levels
Total spend and sales, blended ACoS, and organic sales (sponsored ads and more)
On the other hand, Perpetua features a built-in video creator for a quick and easy way to create engaging advertising campaigns for mass communication to your audience.
You can start from scratch or request a custom theme from Perpetua's creative team. Whichever option you choose, ease your mind that you'll get engaging, responsive, and optimized video ads.
Though it's mainly designed for Amazon, it can also support other marketplaces such as:
Instacart
Walmart
And, Target
Pros And Cons Of Perpetua
| | |
| --- | --- |
| Pros | Cons |
| Easy to use and administer | Do not offer a free plan or trial version |
| Superb quality of customer support (responsive and helpful) | Setting up should be made easier for everyone. |
| Support four major marketplaces | |
Perpetua Pricing Plan
Perpetua eCommerce advertising program is offered in three subscription plans:
Growth ($250/mo. or $500/mo.): The price varies on your desired monthly ad spend. You can get $250/mo. for an ad spend of less than $5,000 or $500/mo. for less than $10,000.
Pro ($500/mo. + % of ad spend): The recommended plan if you intend to spend more than $10,000 monthly on your ad campaigns.
Enterprise (Custom pricing): The plan to get if you intend to spend more than $300,000 per month. You may contact the sales team to get a personalized pricing quote.
Perpetua also offers an Agency plan for businesses or teams managing multiple clients/accounts. Visit their website to learn more.
5. Basis by Centro – Omni-Channel DSP
Demand-Side Platform (DSP) With Excellent Display Advertising Solutions [Quotation-Based Pricing]
Basis by Centro is one of the most comprehensive advertising platforms you can find in the market today. So you can bet that it works well for any business that has initiatives to improve their mobile ads, search ads, and even search engine ranking (SEO). It includes a total of 13 technologies, and most of them are AI-driven.
The simplest technology you can use is the Basis Assistant.
This is a note-taking tool where you can record campaign changes simply by writing a comment. All notes are organized on the platform, and you can download them anytime as a CSV file.
You can use it as soon as you download its extension into your browser, connect your account, and authorize your desired platforms:
Facebook ads
Google ads
Microsoft ads
And the list goes on.
If you're running display advertising campaigns, you can use its demand-side platform. It's a secure and unified platform where you can access all its advertising channels and devices.
The advertising channels and devices you can access are the following:
Programmatic
Retargeting
Video
Display
Audio
Mobile
Native
Connected TV
You can also manage, plan, and optimize here all your ad campaigns and inventories.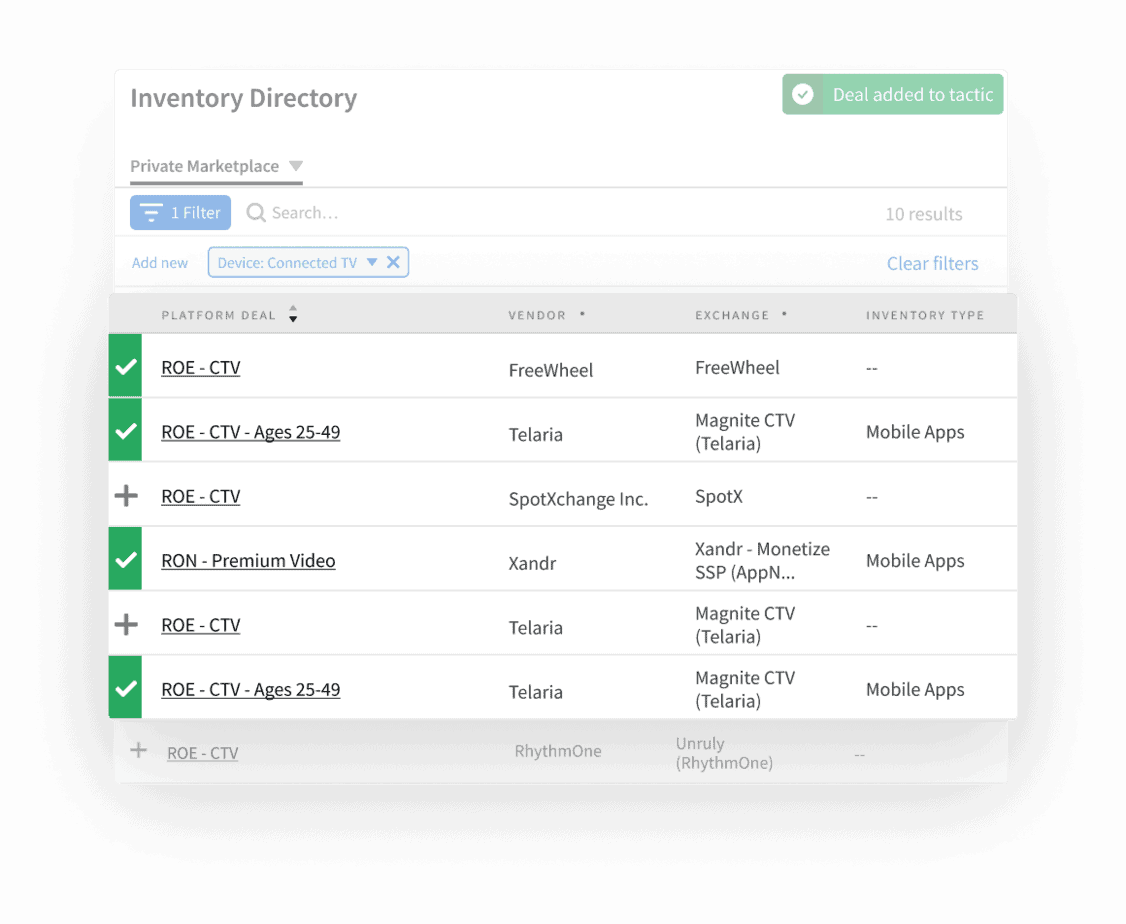 The best part of this platform is it allows you to broaden your reach. As standard, you can target them by identifying their demonstrated behaviors, interest, the device used, and demographic groups.
If you want to gather more in-depth and personalized insights, here are your options:
Hyper-local allows you to target your ideal customers using powerful geofencing functions.
Retargeting allows you to capture your previous audiences' attention and bring them back using a re-marketing message with great copywriting.
TV targeting will enable you to target your audience based on their viewing habits, program genre, and other real-world behavior metrics.
All insights gathered are presented in a clean and organized report.
Pros And Cons Of Basis by Centro
| | |
| --- | --- |
| Pros | Cons |
| Support three types of digital display ads (standard banner, rich media, and native) | Limited options to contact customer service (contact form) |
| Provide multiple options to purchase digital display ads | With the number of features, setting up your account can take longer. |
| Include brand safety and fraud prevention | |
| Relatively easy to use and administer | |
Basis by Centro Pricing Plan
Level up your advertising game using Basis by Centro. If interested, you can contact their sales team to book a meeting.
Once their sales expert reaches out, you can discuss your advertising program goals and expectations, pain points, and more.
It's important to discuss everything upfront to receive a precise pricing plan tailored for your needs.
6. Celtra – Best For Customer-Focused Creatives
Demand-Side Platform With Display Ad Network Solutions [Quotation-Based Pricing]
People's interests are changing rapidly.
Celtra can help you keep your audience engaged by creating new and beautiful digital ads that convert and fill your ad space. If you're a designer, you can integrate Adobe Photoshop to develop code-free designs.
For marketers whose specialization isn't creating good graphics, you can instead use their pre-built templates and edit them in the ad builder to fit your brand.
You can choose from any of the hundreds of high-quality banners, images, and videos. You can design display ads per channel to post or target specific markets.
You also have access to its central content repository, where you can organize the following elements:
Call to actions
Headlines
Descriptions
Translations
You can do so many things with Celtra that creative teams of all sizes can benefit from.
But let's not forget its original purpose – automating creative production. From planning to distribution, Celtra ensures you will never delay or miss a launch date.
After creating a pixel-perfect ad campaign, you can use its project management tools.
These tools are made to speed up the process of reviewing and sharing work across your team.
Lastly, select a platform where you want your campaigns to run, and Celtra will seamlessly launch them.
Pros And Cons Of Celtra
| | |
| --- | --- |
| Pros | Cons |
| Include pre-built templates and animation tools for non-designers | No 24/7 support via phone |
| Provide Adobe Photoshop integration and custom fonts for designers | Platform interface should add function to share documents or updates easily. |
| Centralized content repository for quick management of headlines, CTAs, and more | The platform is only reliable on desktop devices (convenient to have added support for portable devices too) |
| Superb quality of customer support via chat, contact form, and help center (self-service assistance) | |
Celtra Pricing Plan
Celtra offers multiple solutions, and you can contact their sales team to know what solutions best match your content needs. They will get in touch with you and propose a personalized pricing quote based on your requirements.
7. Salesforce Advertising Studio
Salesforce Marketing Cloud Platform With Digital Advertising Solutions [$25 a month/user]
The Advertising Studio is part of Salesforce's Marketing Cloud product, and it's built with a simple concept…
Activate your marketing and CRM data for targeting (through its Advertising Audiences application).
Integrating digital advertising with your marketing and CRM data helps create a unique experience for every customer and prospect. They also backed you up with powerful tools to design customer experiences based on their preferred channels which greatly helps with account management activities.
There are two important things you need to get started:
Use all available data in your Marketing Cloud, Sales Cloud, or Service Cloud
Sync customer records from digital channels (Facebook, Google, Instagram, LinkedIn, Twitter, YouTube, and more)
Once everything is set into your Salesforce account, you can proceed with analyzing your customer behavior.
You can identify and sort new customers with similar behavior to other audiences. Or re-connect with previous customers and subscribers that no longer interact with your brand.
After successfully identifying all your audiences, you can align your email and display advertising or public relations campaigns.
Salesforce also offers a Journey Builder, the application you can use to create display ad campaigns on social media channels, email, and mobile. Ensure to enable it into your Marketing Cloud account so that you can use it with ease.
Lastly, you can use its Lead Capture application to automate leads on Facebook and apply Google Adsense strategy for a more optimized search.
Pros And Cons Of Salesforce Advertising Studio
| | |
| --- | --- |
| Pros | Cons |
| Provide seamless integration for various marketing, sales, customer service, and CRM apps | Steep learning curve |
| Include a Journey builder for social media channels | Cost can quickly pile up for businesses with demanding needs. |
| Excellent quality of customer support via phone and live chat | |
Salesforce Advertising Studio Pricing Plan
Salesforce Advertising Studio is offered at a starting price of $25/month/user. This may still change depending on your specific advertising needs.
You may contact their expert to get a personalized pricing quote.
If you're hesitant to purchase, you can explore its platform by signing up for its 30-day free trial version.
8. AdEspresso by Hootsuite For Small & Mid-Sized Businesses
Advertising Optimization Platform For Facebook, Instagram, & Google Ads [$49 a month]
If you primarily run ad campaigns on Facebook, Instagram, and Google search ad, AdEspresso is your go-to display ad network program.
It's the only platform that allows you to create display ads and perform a split test simultaneously. It's super handy because you'll spend less time in the creation process and immediately identify which creative elements can get the best results.
This is perfect if you're trying to perform an A/B test to see certain results like lower CPC, CPM, banner ads performance, improved PPC, CPA, and more.
It also provides a Grid Composer to organize your campaigns across hundreds of locations – a very ideal feature for marketing and advertising agencies.
It includes custom fields where you can add all important elements of the ads like headlines, location name, store number, and more. Another time-saving feature you can expect to get is the automatic page post promotion.
Most advertising programs support static and dynamic ad campaigns.
For AdEspresso, they only support dynamic ads. Simply add your product catalog, and its platform will allow creating active ad campaigns for every targeted audience you have.
Another strength of AdEspresso is its campaign management feature. It's primarily designed to provide you with complete control over your campaigns and budget.
You can adjust your budget accordingly per campaign or pause your ads by implementing your own optimization rules.
You can also use the Lead Ads Synchronization engine to connect your favorite CRM platforms into your Lead Ad forms. As of writing, several integrations are supported, and a few of them are HubSpot, Mailchimp, GetResponse, and AWeber.
Committing errors to your campaigns is inevitable.
AdEspresso made it easier for everyone to edit each ad creative. You have the option only to edit a specific ad or all the ads affected.
The latter option will also display the total number of ads affected.
Other features included are listed as follows:
PDF reporting tool with drag-and-drop function
Team accounts with a unique login for each member
Team collaboration features for the seamless campaign approval process
Pros And Cons Of AdEspresso by Hootsuite
| | |
| --- | --- |
| Pros | Cons |
| Include additional marketing services like campaign review, one-on-one coaching, and concierge services | Requires longer time to set up the account and learning the entirety of the platform |
| Provide individual guides for specific users (agencies, eCommerce, SMBs, and advertisers) | Limited options to reach out to customer support (contact form and help center) |
| Plus and Enterprise plan allows to add access for team members (15 to unlimited) | |
AdEspresso by Hootsuite Pricing Plan
AdEspresso advertising program is available in three subscription plans:
Starter: $49/month with a spending limit of $1,000/month
Plus: $99/month with unlimited ad spend and includes 15 seats for your team member
Enterprise: $259/month with unlimited ad spend and seats for team members
Get started with the subscription plan you desired for free by signing up on their 14-day trial version.
Conclusion
eCommerce is quickly growing, and it will continue to grow even after the pandemic. Stand out from the competition by creating captivating display ad campaigns.
Out of all the display ad network programs included in my list, I recommend Bannerflow the most.
It's easy to use and handy in producing attention-worthy campaign designs. All designs are suitable for every device, digital channel, and industry.
If you need help, you can count on their customer service support.
They may not provide 24/7 phone support, but you can get quick and helpful assistance from their live chat support.
Do you have a favorite display ad network program? Share it with us through our comment section.