The non-fungible token (NFT) market will prosper this 2022 as its trading volume hits nearly $8 billion during the first quarter. If you are interested in buying, read on, this guide will help you learn how to buy NFT.
NFT may not be as popular as Bitcoin, but it is proven valuable in validating ownership of digital assets. As an entrepreneur with a great passion for music, I have had my fair share of buying NFTs for my favorite artists' exclusive digital content.
The good news is that buying NFT isn't tricky to do. In this step-by-step guide, I will explain each step, including useful tips that can save more of your time.
As a bonus, I'll give you the most important factors to check and consider when choosing an NFT and answer popular questions people ask. Let's begin.
Step 1: Check Current NFT Prices & Crypto Exchange Rates
The risks of trading cryptocurrencies are high – the prices and market sentiment can unexpectedly change anytime. So, it is wise to check out the latest price per new NFT. It will help you decide how much money to invest and set your limits.
A simple Google search will do the trick.
Most NFT marketplaces use Ether (ETH) for payment, a native currency of the Ethereum network. You can start your search (exchange rates) on that specific cryptocurrency and decide if it is the right crypto you want to invest in. I have shared a screenshot to show you the latest crypto exchange rates of Ether (set in U.S. dollars).
I have also included its rates' trends from December 2016 to June 2022, so you will know how it changes over the years.
The exchange rates may still change depending on the NFT marketplace you select. Aside from the main price, you must also consider the gas fee (denoted in gwei or gigawei). Gas refers to the computing energy that miners use to process and validate transactions.
Therefore, the gas fee is a form of compensation for the miners to successfully complete a transaction or execute a smart contract on the Ethereum blockchain platform.
It is not cheap and for a good reason – security. The world wide web is a dangerous place, particularly for crypto-related transactions. To ensure safety from malicious attacks, miners provide different layers of security to the Ethereum network.
Now, before you get disheartened, you can calculate the gas fee for your transaction.
You can use this simple formula: Gas unit (limit) x (base fee + tip) = total gas fee.
Gast units: Specify how many units of gas (maximum) you prefer to consume per transaction.
Base fee: The required amount of gas (minimum) to complete a transaction. Users have no control over this; it is adjusted based on the volume of users interacting with the Ethereum network.
Tip: Serves as a priority fee. Miners will prioritize a specific transaction that provides the highest tips.
Step 2: Select A Cryptocurrency Wallet
Before you can proceed to buy NFTs, you first need an Ethereum-compatible crypto wallet.
It will safeguard your digital assets (coins and tokens), recovery phrases, and access keys (public and private). This is only the standard function of crypto wallets; other features will depend on your selected crypto wallet.
There are currently two types of cryptocurrency wallets – cold and hot.
The cold wallet refers to the physical hardware wallet. It is the most secure option because it stores cryptocurrency offline. Because of its cost, it is recommended to use it only if you have a few hundred dollars worth of crypto.
On the other hand, the hot wallet refers to software, mobile, desktop, and web-based crypto-wallets. It is easy and more convenient because it is compatible with all devices. You can also connect it to your selected crypto exchange and NFT marketplace for quick and easy buying.
Can you enjoy the best of both crypto wallet worlds?
Yes, you can. Most users recommend using a combination of cold and hot wallets to secure your digital assets. You can use the hot wallet for buying and trading and remain the cryptos in the cold wallet if you decide to lie low.
A. Cryptocurrency Cold Wallet Suggestion: Ledger Nano X
The Ledger Nano X is a terrific choice for a hardware wallet. It is secure and supports over 1,800 coins and tokens. When it comes to managing and storing NFTs, it can efficiently do so through its Ledger Live app.
You can safely manage, send, and receive up to 5,500 coins and tokens.
B. Cryptocurrency Hot Wallet Suggestion: Coinbase Wallet
Coinbase wallet has a higher value for money. Aside from its top-notch security, it also supports a wide variety of blockchain assets, including Ethereum and all EVM-compatible networks. It is developed as a self-custody wallet.
Therefore, it gives you complete control over your assets. On top of that, your private keys are stored on the web or on a mobile device.
If you only intend to use your hot wallet for tokens and digital assets on the Ethereum ecosystem, the MetaMask wallet is a much better choice.
Step 3: Choose A Cryptocurrency Exchange & Open An Account
Assuming you have decided to purchase Ethereum, the next step is opening an account on a crypto exchange. Hundreds of cryptocurrency exchanges are available, so choosing one can be challenging. No need to worry because I have listed the essential features to help you narrow down your options.
3.1 Security
Theft and hacking are common cyber threats anyone may face during a transaction. So, choosing a platform with excellent security features is essential. Encryption, registry lock, and anti-DDoS modules, to name a few.
3.2 Availability
Select a crypto exchange that's legally available in your country or state.
If you choose an international exchange, you should also check its regulatory requirements and updates. Any regulatory changes can make a crypto exchange illegal in several countries. So, it is best to keep yourself updated and safe.
It is also a good idea to look for the availability of their customer service team. A friendly, knowledgeable, and responsive support team is nice to have to quickly resolve any issues or concerns.
3.3 Funding Options
There are multiple methods to fund your account. Transfer funds via bank account, debit card, credit card, or digital wallet (PayPal, Cash app, etc.). It is recommended to get a cryptocurrency exchange that supports it all (or most).
3.4 User-Friendly Mobile App
Navigating a website on a mobile browser can be difficult. It is wise to choose a crypto exchange with a mobile app. You can bring it anywhere and trade it whenever you want.
3.5 Fees
Cryptocurrency exchanges have different fees. Some charge a commission per trading, and some offer a competitively low fee.
Crypto.com, Binance.US (American partner of Binance), and Phemex are three cryptocurrency exchanges offering zero-fee trading, including selling. On the other hand, Voyager is one of the few exchanges that offer a commission-free transaction.
Cryptocurrency Exchange Suggestion
Considering all the features above, one promising option is Coinbase. On top of its wallet, it also has an independent platform for cryptocurrency exchange.
It is the most used crypto exchange today and the recommended choice for beginners. It uses industry best practices to provide superb security.
It also stores all cryptocurrencies in encrypted, offline storage (geographically separated).
I listed below other amazing features it offers. The features mainly focus on how easy it is to set up, insurance coverage, and accessibility.
A three-step process to get started
Support over 100 countries
Provide cryptocurrency insurance up to $250,000 (FDIC)
Mobile app for Android and iOS
Buy, sell, transfer, and hold NFTs
Step 4: Transfer Ether To Your Crypto Wallet
Once you successfully purchase Ether on a crypto exchange, you can transfer them into your crypto wallet.
The transfer process will depend on the exchange platform you have used. The process is much simpler when using a crypto exchange with a built-in wallet like Coinbase.com and Coinbase wallet.
After linking the crypto wallet into your Coinbase account, you can tap Settings (gear icon) and click Buy or Transfer.
Next, choose the supported cryptocurrency and enter the amount you want to transfer. Take note that you can only transfer all available balances. Any balances with an 'on hold' label can't be transferred. Click Continue, then Confirm once you verify that you enter the right amount.
Let's say you used a different crypto exchange and wallet. It entails a longer process, but you can still complete the task within a few minutes or less. For example, you have bought the Ether from Coinbase and want to transfer it to your MetaMask wallet.
I have listed the steps to give you an idea. The steps are simple and won't take you too long to finish.
Log in to your Coinbase and MetaMask accounts.
On your wallet's account, click the Buy and Send option (three dots icon)
Copy your wallet's address by clicking the Copy Address to Clipboard option
Paste the wallet's address in the Coinbase wallet address field
Input the amount of Ether that you wish to send
Click the Complete button
Other crypto wallets have a longer process. But no need to worry because all prompts include instructions so you can easily follow them.
Step 5: Pick An NFT Marketplace
We're finally on the step where you can buy your own NFTs. But first, you need to pick the right marketplace.
There are different types of NFT marketplaces you can choose, and the best way to determine the right one is by identifying your interests.
The screenshot above gives you a brief idea of what each platform is best for. I will cite some examples to provide you with a clearer picture.
I. Mass Marketplace
If you are a wandering shopper (an individual who is not looking for any particular item), the mass marketplace is the right place to be.
One good example of a mass marketplace is OpenSea. It is by far the most established and largest NFT marketplace available today.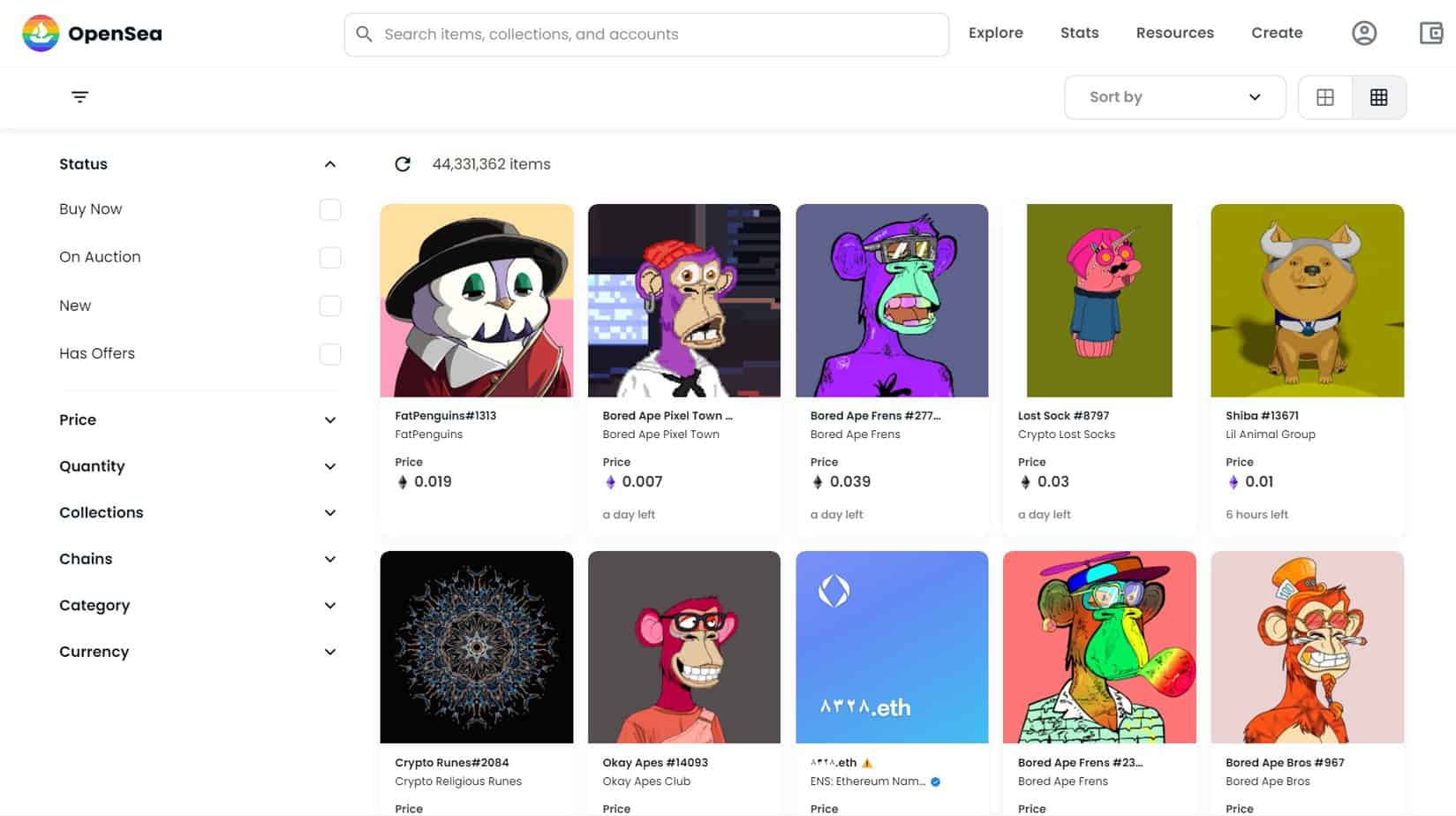 Creators sell NFTs differently. Some offer their items by chains like Ethereum and Solana, while others provide by NFT collections (Bored Ape Yacht Club, CryptoPunks, etc.).
II. Non-Curated, Self-Service NFT Marketplace
It is an open platform where anyone can sell NFTs for digital art, memes, and other digital collectibles. Rarible and Mintable are two of the best non-curated NFT marketplaces today.
The advantage of Rarible is its affordable transaction fee (5% on overall price), search of community features, and versatile blockchain support.
On the other hand, Mintable offers a free minting fee.
III. Curated NFT Marketplaces
Curated NFT marketplaces are the place where creators need to apply as an artist before they can sell their artworks and designs. All marketplaces have a dedicated team to thoroughly verify the overall quality of each item.
Nifty Gateway is one of the recommended options as it offers many unique features.
It allows artists to create limited-edition collections without handling the complex technical aspects of minting. All these processes are handled by Nifty Gateway. They also allow users to purchase Nifties (items) using a regular debit or credit card.
IV. Gaming NFT Marketplace
As the name implies, it is the marketplace where in-game collectibles are sold or swapped with other players. It can range from accessories and weapons to characters.
Axie Marketplace is one of the popular shops to visit.
It is developed specifically for the video game Axie Affinity. You can purchase Axies (in-game characters), accessories, and plots of land.
The best thing about this game is you can earn money from the real world while playing.
I used to earn around $10 to $50 per day playing this game, but you can make more once your skills advance.
V. Sports NFT Marketplace
The favorite NFT marketplace of sports fans and enthusiasts. Here, they can get limited-edition trading cards and other cool collectibles of players.
NBA Top Shot marketplace is one example of a sports NFT marketplace.
It offers licensed video clips and play highlights from the national men's and women's basketball games. You have the option to search by tiers, badges, players, teams, or sets.
VI. Niche NFT Marketplaces
Not all NFT marketplaces are interest-centric. Some also offer NFTs for a specific subject matter. The most popular is selling tweets as NFTs. It doesn't have to be owned by famous people. You can bid on any tweets you like.
Valuable is one of the best NFT marketplaces for this niche.
The process is simple, starting with placing an offer on your chosen tweet. Once the author accepts the tweet, the system will mint it and produce a personalized NFT (including the author's autograph).
I will also list down other niche NFT marketplaces available to give you a good selection.
Royal: Exclusive for Music NFTs
Jambb: Comedy collectible NFTs
Xtingles: ASMR content
KLKTN: Anime, K-Pop, and J-culture NFTs
No matter what type of NFT marketplace you choose, they all work as an auction house – the highest bidder wins.
Step 6: Purchase The NFT That Catches Your Interest
Once you find the NFTs you like, click on them to check the price. If you are comfortable with the amount, tap the Buy Now button.
It will redirect you to the log-in page of your crypto wallet.
After signing in, you can proceed to the checkout page. Let's say you use OpenSea, for example.
The screenshot below is what your checkout page will look like.
Ensure to read the Terms of Service. It lets you know about your obligations and the provider when using their service.
Most Important Things To Keep In Mind Before Buying an NFT
Shopping for NFTs is exciting but can also be time-consuming. I have listed all the factors you must consider to save time and effort.
i. NFT Unique Properties
NFTs are valuable because of their authenticity. They are unique cryptographic assets that cannot be replicated. One way to determine its value and legitimacy is by checking its properties' rarity.
The more description the seller provides for its NFT projects, the higher its value. The screenshot below shows you what NFT properties should look like when using OpenSea.
The number of properties doesn't equate to a higher value. There are basic NFTs with fewer properties that are still considered most valuable. An excellent example of this is the Bored Ape NFT.
I have also listed the other factors that impact the value of the NFTs. If an NFT possesses all these factors, you can ease your mind that it's unique and irreplaceable.
Liquidity premium
Ownership history
Utility
ii. Seller Verification Mark
Another method to verify legitimate NFT sellers is checking their verification mark (check icon).
Its purpose is similar to social media's verification mark for influencers and brands – to determine a recognized seller from the impostor accounts. The mark is located beside the seller's online handle.
Not all NFT sellers acquire a verification mark. If you wish to transact with these sellers, it is best to check their social media profiles and see if they have a large following. It is a plus if they have a verification mark on their social profiles.
iii. NFTs' Price Performance Of The Seller
Thoroughly checking the seller's profile is a must-do. Aside from the verification mark, you can also check its overall price performance.
This is an efficient way to determine if their NFT is an excellent investment.
See how much its NFT prices have changed in the past. You can also see the floor price to determine the lowest fixed price it has been traded for in the marketplace.
Seeing the volume of NFTs traded in the marketplace would be great.
iv. NFT Quality
NFT isn't a cheap investment. So ensure you buy something you love and appreciate the most so you don't waste every Ether you spend on it.
The good news is there's no general standard for checking NFT's quality.
Everything will be based on your preferences and definition of beauty. You can judge it by artistic composition, creativity, or the message it conveys.
Conclusion
NFTs may not be a popular trend on Google search, but it is undoubtedly trending on different platforms because many online communities support them. Buying NFT is exciting but can also be overwhelming for first-time users.
I hope this guide on buying NFT helps you speed up the decision-making and buying process. If you are still wondering if NFTs are a good investment, the answer depends on the type of NFTs you have purchased.
The answer is yes for sports trading cards.
This type of trading card remains valuable even after long years as long as they're in good condition. You can also resell it later on if you like.
Other types of NFT will hold value depending on their memorability (follow your own preference). If you have tips to share on how to buy NFT, leave them in the comment section.
Frequently Asked Questions
Do you have more questions in mind? I provide answers to a list of questions that people also ask about buying NFTs.
How much does it cost to buy an NFT?
The cost of NFTs varies between different marketplaces. But the most affordable that has been sold cost 0.002 ETH (approximately US$4.49).
Is NFTs commercial use?
It depends on the seller's terms and conditions. Most creators provide limited rights to use, copy or display NFTs. But some are open to mediation to give the purchaser an unlimited, worldwide license.
Can NFT replace copyright?
No, NFTs aren't copyright infringement or work like it. NFTs only prove the ownership of digital assets. It does not even meet the basic criteria for copyright protection.