Share-worthy video content is undeniably an invaluable tool for boosting one's online presence. As an entrepreneur, I've proved its effectiveness in gaining brand awareness and increasing traffic to my website.
The benefits are limitless, and the key to enjoying all its benefits is getting the right streaming software. Looking for one can be a challenge, but don't worry, I've done all the heavy lifting and compiled the 14+ top choices.
What Is The Best Streaming Software?
If you're in a hurry, you can look at my top 3 picks: OBS Studio, ManyCam, and OneStream.
| | | |
| --- | --- | --- |
| 4.9 | 4.4 | 4.1 |
| Best overall. Large amounts of ready-made community assets available. Available for free. | Best value for money. Highly intuitive dashboards for regular streaming. Starts at $29/year. | Most features. Supports a wide range of platforms for streaming content. Starts at $8/month. |
| Try OBS Studio | Try ManyCam | Try OneStream |
Let's jump straight into the discussion so you can learn their unique features, which platforms they run best, and more.
1. OBS Studio + OWN3D Pro – Top Pick
Best Streaming Software For Twitch, YouTube, & Facebook [Free]
OBS Studio is tried and tested by many as a reliable open-source software for live streaming and video recording.
It's compatible with Mac OS, Linux, and Windows, so you can easily download it and begin to stream. If you're using hardware encoders, ensure it uses the latest drivers for your GPU (NVIDIA, AMD, or Intel GPU drivers).
It also supports various popular streaming platforms.
Three streaming platforms that work best are Twitch, YouTube, and Facebook. For Twitch and YouTube, this type of setup is the norm.
But this is not the case for live streaming on Facebook; many still prefer using their smartphone.
Though live streaming through OBS Studio isn't the simplest method, it guarantees to help you produce high-quality content. Here's why:
Allows you to use advanced production devices (cameras, microphones, and more)
Provide more control to customize (use screen filters, intuitive video/audio mixing, and more)
Broadcast your video content without limitations (use it for commercial and personal use)
Do you want a fresher and more modern look for your stream?
You can now easily do so by adding OWN3D Pro. This is an OBS Studio plugin that provides you with creatively designed overlays, alerts, and widgets (available in 9+ languages).
All are built with a 1-click installer to ensure you can add them to your stream design hassle-free.
Pros And Cons Of OBS Studio + OWN3D Pro
| | |
| --- | --- |
| Pros | Cons |
| Limitless recording time | It doesn't work for simple screen capture. |
| User interface is built for beginners | OWN3D Pro only runs on Windows OS |
| OWN3D Pro is also compatible with Twitch, YouTube, & Facebook | OWN3D Pro alerts are only supported on Twitch |
OBS Studio + OWN3D Pro Pricing Plan
OBS Studio is 100% free to download and use. Visit its download page, and you can choose whichever version is compatible with your device.
OWN3D Pro also offers a free version where you can get the following:
Five free overlays and alerts for all supported platforms
Stream labels
Copyright-free music
Countdown widget
Twitch chatbot
If you want to get exclusive access to its premium overlays, alerts and add a PayPal donation site, you can get its paid version.
2. ManyCam – Best Value For Money
Go-To Streaming Software For Facebook & Video Conferencing Apps [Free | Starts at $29 a year]
Just like with the OBS studio, ManyCam supports Twitch, YouTube, and Facebook. However, its platform is more beginner-friendly, making it ideal for Facebook users.
Getting started on ManyCam is easy.
Download it on your device (Windows or macOS) and log in to your account (the one you created during the purchase). Once done, you can start adding video sources.
ManyCam support a broad range of video sources, and here are a few of them:
Webcam
IP cameras
Mobile device camera using ManyCam app (Android and iOS)
Media files (use as an output image)
YouTube URL
Start streaming by logging in to your preferred streaming platforms.
Make each video content more engaging and fun by adding masks, objects, and effects (over 12,000 options to choose from).
By default, ManyCam is built as a webcam software and video switcher. This means that you can use it as your virtual webcam, making it a perfect companion for such as Webinarjam or Zoom.
Let's take Zoom, for example.
Once you install ManyCam, Zoom automatically detects it and uses it as your primary camera source. This allows you to manage all your presentations, video playlists, and other media assets on a single platform.
This makes it a perfect solution for anyone managing online classes and meetings.
Pros And Cons Of ManyCam
| | |
| --- | --- |
| Pros | Cons |
| All offline work (video edition, encoding, and more) is done and stored 100% on your device. | No free trials are offered on paid plans |
| Safe to use because it's GDPR compliant & protected with AES-256 encryption. | Support limited numbers of streaming platforms |
| Allows simultaneous broadcasting on Twitch, YouTube, & Facebook | |
ManyCam Pricing Plan
ManyCam is free to download and use.
However, if you intend to use it for commercial purposes, a license is required. There are four annual subscription plans available under two categories – individual and business.
Under individual category, you can choose from the three pricing tiers:
Standard ($29/yr. | $59/lifetime): Get this plan, and you're eligible to add it on 1 device, 4 video sources, and record/stream with HD video quality.
Studio ($59/yr. | $119/lifetime): This allows you to add it on 2 devices, 12 video sources, and record/stream with 4K video quality.
Premium ($79/yr. | $149/lifetime): Add it on 3 devices, 24 video sources, and get exclusive priority support.
On the other hand, the business plan only offers one subscription plan, costing $119 a year or $298 for lifetime access. Visit its pricing page now to know everything you'll get on this plan.
3. OneStream – Most Features
Best Cloud-Based Streaming Software For Social Media Platforms [Free | Starts at $8 a month]
If you intend to broadcast your video content (live and recorded) to more than 40 social media channels, OneStream is the ultimate choice.
As of writing, there are 44 social media streaming networks supported, and the top 5 are the following:
Facebook (Profile, Pages, Groups)
YouTube
Instagram
Twitch
Custom RTMP
In 3 simple steps, you'll be able to start a pre-recorded and real-time streaming.
Since OneStream is cloud-based, no installation and complicated setup are required. You can browse it on all the latest versions of browsers (Google Chrome, Mozilla Firefox, and Safari).
There are tons of incredible features included on its platform, and recently they added three more:
Embed player: This tool helps you to stream on your own website. You can do this by getting the embed code from your dashboard and copying it to your website.
SRT files: This tool allows you to add captions to your stream.
Unified chat: This tool is still in the beta version. It works by managing all the viewer's incoming messages, comments, and replies from a single screen.
Find out how your streams perform per social channel and during a specific date by checking their streaming analytics.
Pros And Cons Of OneStream
| | |
| --- | --- |
| Pros | Cons |
| Don't have access to your social channel's account information (username, password, etc.) | Require ample time to learn its functions |
| It comes with secure storage servers that keep all your information as long as you own an account, except uploaded videos (retain for 60 days) | Playlist streaming is only allowed on the highest subscription plan |
| No download, installation, or setup is required. | No refunds are provided for any subscription. |
OneStream Pricing Plan
OneStream offers a free plan and three subscription plans:
Free: Get this plan to produce unlimited live and pre-recorded streaming (1 queued stream at a time). Each stream must only have a 5-minute length (recorded or capture) and publish on one social account.
Basic ($8/mo.): This plan is recommended for anyone in need of a multicasting feature (only pre-recorded), wants to capture or record a 15-minute stream, add captions/subtitles, schedule pre-record video, and more.
Standard ($32/mo.): For small teams, this is the recommended choice. It allows you to add 2 team members, produce real-time streaming, add 25 social accounts, and more.
Professional ($74/mo.): This is intended for larger teams that want to add up to 4 team members to manage the account. You can also embed streams, access Facebook Live cross-posting, and more.
Producing quality video content is an excellent way to earn money online. But if you want to boost your revenue, you can join OneStream Affiliate Program and receive a 55% commission on every referral purchase.
4. Stage Ten – Best For YouTube
Excellent Streaming Software For Interactive Live Video Streams [Free | Starts at $15 a month]
Streaming on multiple platforms helps you maximize your audience reach and revenue. However, many still prefer to stick to one social media platform – YouTube.
There's a total of 6 streaming software recommended for YouTube, and Stage Ten is the most promising choice.
Through its web-based Pro Studio, you can transform your YouTube channel into an interactive, social TV channel. A few of the things you can do are listed as follows:
Add bumpers, photos, special effects, and video clips to customize your stream
Mix your video content with pre-recorded videos and live stream
Create an interactive live show by inviting guests
Multi-stream to 30+ social media channels
Use Rozy player to add your merchandise or add real-time voting on your live show.
Through this setup, you can successfully multi-stream and lead your viewers to your website or online storefront at the same time.
Pros And Cons Of Stage Ten
| | |
| --- | --- |
| Pros | Cons |
| Simple one-time set up to YouTube & Facebook | No phone support is available |
| Shallow learning curve | Video quality is limited to 720p and 1080p |
| Internet connection speed must be at least 15 Mbps for smooth broadcasting. | Only support the latest version of Google Chrome. |
Stage Ten Pricing Plan
Stage Ten offers monthly and annual subscription plans:
Free: This plan allows you to stream from cameras and mobile devices with 2 people onscreen and 1 multi-stream output. You can also broadcast 720p videos, use videos, screen sharing, and custom branding.
Starter ($15/mo.): On top of the free features, you can also remove Stage Ten watermark and schedule events for YouTube and Facebook.
Creator ($60/mo.): Connect to custom RTMP outputs while saving and downloading all your broadcast recordings.
Business & Enterprise (Custom pricing): This plan permits you to broadcast without limitation. Contact sales support to get a personalized pricing quote.
Sign up for its free plan and find out how it can help you grow your audience connection.
5. Twitch Studio – Recommended For Twitch Streaming
Reliable Streaming Software For New Twitch Streamers [Free]
Twitch recommends tons of different streaming software to its users. But in 2019, they finally introduced their very own software called Twitch Studio.
They created this software with a mission in mind – to simplify the broadcasting process for new streamers.
And they are true to their words because once you download and install Twitch Studio on your device, just log in, and you can move on to the initial setup (video and audio).
To create a unique interface, you can customize your stream scene with different layers. A few of the layers you can add are the following:
Countdown timer
Chatbox
Twitch alerts
Browser source
Activity feed
You can add these layers by clicking the + icon.
Pros And Cons Of Twitch Studio
| | |
| --- | --- |
| Pros | Cons |
| The platform interface is simple and intuitive. | Limited to Windows 7 and latest versions |
| Suitable for gamers and new streamers | Manually grant the software to access your microphone and webcam. |
| Customize stream scene by adding layers | No mobile version is available |
Twitch Studio Pricing Plan
Twitch Studio is another free-to-download streaming software on my list. It eliminates the complex setup, so ease your mind you can quickly set it up.
Download it now and learn how it can help you create quality content and build a solid community.
6. Switcher Studio – Trusted For LinkedIn Live Stream
Outstanding Streaming Software For Niche Of All Types [Starts at $45 a month]
As live streaming's popularity continues to grow, many social media platforms adapt to the trend. In 2019, LinkedIn successfully did this by introducing its very own live streaming technology.
Years after its inception, LinkedIn Live is proven to build a deeper connection to your professional community.
To ensure you'll ace your first LinkedIn live stream, LinkedIn recommends using Switcher Studio. This is a multi-camera live streaming software that allows you to capture stunning videos using your iOS devices.
Getting started is made simple.
Download and install the app on your device, then set up your LinkedIn account as the primary streaming destination.
Using the streaming software doesn't require a steep learning curve. It's built with a straightforward interface design that can help you do any of the following tasks:
Manage and edit videos in real-time (even during live streaming)
Simultaneously connect to multiple cameras or video sources
Share your screen with guests (up to 9 allowed)
Display viewers' comments on screen
Add captions, polls, and scoreboard (for sports)
Of course, Switcher Studio is not only limited to LinkedIn. You can also use it for live streaming on Facebook, YouTube, and Twitch or as a webcam for Microsoft and Zoom.
I've included a screenshot to give you all the topics you can create in this streaming software.
Pros And Cons Of Switcher Studio
| | |
| --- | --- |
| Pros | Cons |
| Simple to use | No phone support offered |
| Can support up to 9 devices | Only compatible with iOS devices |
| Capture a video from multiple angles & easily edit it in real-time | |
Switcher Studio Pricing Plan
Switcher Studio offers two subscription plans and a pay-as-you-go pass. No matter what you choose, you'll get all Switcher's live streaming tools.
Monthly: $45
Annual: $400
7-Day Pass (one-time fee): $20
Create an account today and explore Switcher Studio free of charge for 14 days.
7. StreamYard – Go Live On RTMP Destinations
Live Streaming Software For All Platforms [Free | Starts at $20 a month]
Facebook, YouTube, LinkedIn, and Twitch may be the most popular online video sharing and social media platforms today. But they're not your only choice.
There are tons of platforms out there, and StreamYard can help you stream on those platforms with ease.
They can effectively do so using the custom RTMP feature.
Real-Time Messaging Protocol (RTMP) is the backbone of streaming technology. It works by delivering your video content from an encoder to an online video host/player.
In StreamYard, you can broadcast to any RTMP destination by adding:
RTMP Server URL: This contains the link to the destination where you intend to broadcast.
Stream Key: This presents as a private code (consisting of alphanumeric characters) that grants access to your RTMP feed to connect to the exact location of where you're streaming.
What online video sharing and social media platforms accept RTMP streams?
StreamYard can support Amazon Live, Dacast, Vimeo, and more. They also accept virtual event platforms such as Accelevents, BigMarker, Eventfinity, and SpotMe.
To get started, you need to create a broadcast – live or using a pre-recorded video. Once you settle on one, you need to set up your video and audio source.
The succeeding steps are more on customizing the interface of your stream.
Pros And Cons Of StreamYard
| | |
| --- | --- |
| Pros | Cons |
| Support Chrome, Firefox, and Opera browsers | Streaming requires lots of data access, hardwire (ethernet) recommended |
| Stream on up to 8 destinations simultaneously | Can only add up to 10 people on-screen |
| Suitable for on-brand and professional streams | No available phone support |
StreamYard Pricing Plan
StreamYard offers three simple subscription plans for you. All are payable on a monthly and annual billing cycle.
Free ($0): Stream in any destination with a 20-hour limit per month. You can also use features like screen sharing and green screen and add six guests on-screen.
Basic ($20/mo.): Stream live and pre-recorded videos in any destinations, including Custom RTMP destinations. You're allowed to multi-stream (3 destinations) and add 10 on-screen guests.
Professional ($39/mo.): Stream in full HD (1080p), record audio, multi-stream to 8 destinations, and more.
If you have a larger team, you can avail StreamYard's business plan. Contact the sales team to get a personalized quote.
8. Ecamm Live – Best For Facebook Live Stream
All-In-One Live Streaming Software For Mac Users [Starts at $11.20 a month]
As a bonus, I'll discuss another streaming software recommended for Facebook – Ecamm Live.
This is an all-in-one live streaming production platform specifically designed for Mac devices. Through this software, you can easily go live to Facebook groups, pages, and profiles.
Customizing your stream scenes is made easy because it comes with tons of customization tools such as:
Advanced overlays
Web widgets
Animations
Scrolling stickers
You can also change your video backdrop with a click using its green screen feature.
Compared with ManyCam, Ecamm Live includes a guest feature. This makes it the perfect platform to live stream interviews and collaborations.
They are also built and compatible with a wide variety of inputs and outputs to ensure you can use any hardware you desire.
When you choose this streaming software, make sure you have at least 1-4 Mbps internet connection to ensure seamless broadcasting. In terms of devices, you need to own a macOS 10.12 device or newer versions.
Pros And Cons Of Ecamm Live
| | |
| --- | --- |
| Pros | Cons |
| Provide a preview mode to allow editing during live streaming | Mac-only streaming software |
| Ideal for live interviews | No free plan is offered. |
| Add overlays to customize your stream scenes. | The virtual camera option is only offered in the highest plan. |
Ecamm Live Pricing Plan
Getting started with Ecamm Live requires you to subscribe to its 14-day free trial or avail of one of its paid subscription plans:
Standard ($11.20/mo.): Get this plan and enjoy unlimited streaming to all platforms with no Ecamm watermark included.
Pro ($22.40/mo.): This plan allows you to use Ecamm as a virtual camera, 4K streaming, automatic Facebook page cross-posting, and more.
All prices only apply to the first year. For the succeeding years, you need to pay the standard rate of $16 and $32 a month, respectively.
Choose a plan now to start broadcasting.
9. Streamlabs OBS – Cloud-Based Streaming Platform
Best Cloud-Based Streaming Software with Open Broadcaster Software (OBS) & Electron [Free]
Streamlabs is built as a reliable live streaming software.
But for this particular product, their team of experts developed it using a combination of:
OBS for excellent media streaming and recording
Electron for better user interface
Together, they allow Streamlabs OBS to run on the desktop (MS Windows) and various streaming platforms such as Twitch, YouTube, Mixer, and Facebook.
Can you stream using web browsers? Yes, you can.
You're allowed to do so through Melon and Github.
Getting started on Streamlabs OBS has a similarity with OBS Studio.
You need to download the desktop app, and upon installation, it will automatically scan your hardware device and internet speed.
This is a simple way to determine the recommended settings and prevent performance issues.
One advantage of this platform is that it also features a layout editor.
The layout editor is a great place to build your stunning and unique streaming interface. It features a drag-and-drop function for ease of use.
Once the creation is done, you can start tweaking the audio and video settings to ensure you'll get only the best quality.
Other great features you can get on Streamlabs OBS are listed as follows:
Dynamic in-game overlay (single monitor only)
Replay buffer
Live Stream Remote Control App (Streamlabs Deck)
Another great advantage it offers is its web-based dashboard.
Here, you can access all the Stream Essential tools, analytics, and other features that can personalize your brand and boost your revenue.
If you're a new user, they will automatically send you tutorials on how to get started. You can find them under notifications.
Pros And Cons Of Streamlabs OBS
| | |
| --- | --- |
| Pros | Cons |
| Drag-and-drop layout editor to create a personalized user interface | Streaming through a computer only |
| A dynamic in-game overlay allows you to view all the activities on one screen. | Setting requires fine-tuning to lessen CPU usage. |
| Supports virtual camera to display scenes in video conferencing software | |
Streamlabs OBS Prime Pricing Plan
Streamlabs Prime is the company's way to help you take your streaming channel to the next level and engage your audiences at the same time.
You can always start at its free-forever starter plan to create a basic merch store and accept donations.
Its paid subscription plans are pretty straightforward:
Annual: $12.42/mo.
Monthly: $19/mo.
Aside from multi-streaming and creating an advanced merch store, here are a few of the great features you can also get when you join Streamlabs Prime:
10. Wirecast – Windows/Mac Streaming Software
Best Overall Streaming Software For Live Production [Starts at $599, One-time payment]
If you're looking for powerful and versatile cross-platform streaming software, Wirecast is the ultimate choice.
It provides you with all the features and tools you may need to perform the following successfully:
Live stream various intimate events, sports, classroom lessons, and more
Broadcast News (on television or radio) with multiple screens
Use as a live video marketing tool
All these are categorized based on their purpose – capture, produce, and stream.
The categories represent Wirecast's simple broadcasting workflow:
Upon connecting your devices, you can start capturing and managing your digital assets from your hardware.
Once everything is set, you can begin producing your video/show by adding their professional production features (built-in graphics and titles, scoreboards, replays, clock times, etc.).
Lastly, stream it on your chosen live streaming platform, social media channels, or record it locally.
Compared to the other streaming software I've discussed, Wirecast is much easier to use.
Download its desktop app and you can get the hang of it in no time.
Inside the platform, you can expect to see two window panels – one displays the preview of a specific layer, and the other displays the live broadcast.
On top of the window panels are the control/status bar.
The controls inside the yellow box are the master audio controls.
System CPU usage is placed at the corner right side (inside the orange box) to guide you that your video/show runs at your PC's recommended settings.
Wirecast supports both MS Windows and Mac operating systems. I'll share with you a screenshot of its minimum and recommended system requirements for reference.
Pros And Cons Of Wirecast
| | |
| --- | --- |
| Pros | Cons |
| Allows streaming and recording at the same time | Email and unlimited phone support come with a price. |
| Wide variety of compatible hardware and software | Live streaming in multiple destinations may require higher CPU usage and internet bandwidth. |
| Built a live video streaming app for iOS devices (Wirecast Go). | |
Wirecast Pricing Plan
Start sharing your story by purchasing one of its offered products:
Wirecast Studio ($599): Get unlimited destination outputs and capture with two remote guests allowed (via Wirecast Rendezvous conferencing). Other comprehensive features included enhanced production and priority support.
Wirecast Pro ($799): On top of Wirecast Studio's features, you also get advanced features for unlimited capture that allow seven remote guests, production controls (camera, audio, backgrounds, etc.), and many more.
Test it for free now by clicking the 30-day free trial button.
11. vMix – Best For Professional Broadcasting

Complete Live Streaming Software with Create-Your-Own Production System [Starts at $60, One-time payment]
vMix takes live video production to the next level.
Their team of experts built the software with a high-end video mixer and switcher. Together, they work so well to produce top-notch video quality.
They also allow you to record and live stream different media sources with Standard Definition (SD), full High Definition (HD), and 4K resolution.
But what truly makes vMix stand out is its ability to help you build a custom live production system that fits your very needs.
Check out this vMix Reference Systems page to see their complete offers.
Here are other incredible features that you can expect to use on its desktop application:
Organize all your inputs in one place. Refer to the below screenshot to know what media sources you can add.
Make your video interactive by adding a combination of the 13 transition effects. Of course, if you want more effects, you can always configure each input's setting.
Manage all your audio sources in its built-in audio mixer. Aside from the standard features (mute, delay, and auto-mixing), it can also fine-tune the audio source with EQ, compressor, and noise gate effects.
If you want to bring guests to your live video stream, you can easily use vMix Call. This feature allows anyone with a webcam and browser to be a remote guest (only available in HD, 4K, and Pro editions).
Whether you're recording a podcast or a big-budgeted live event such as concerts and sporting events, you can rely on vMix to provide all you need.
Pros And Cons Of vMix
| | |
| --- | --- |
| Pros | Cons |
| Live stream in 4k resolution | Software is not compatible with portable devices like smartphones. |
| Stream on your favorite streaming platforms – Facebook Live, Twitch, Ustream, and YouTube. | No customer support via phone (only email, contact form, and knowledge base) |
| Use one license on up to two computer devices (don't use at the same time) | |
| Include HD virtual sets with high-quality Chroma key and customizable camera position presets. | |
| It also supports virtual cameras. | |
vMix Pricing Plan
vMix created four editions of their streaming product. Here's a glance at each plan:
Basic HD ($60): Add a total of 4 inputs with a maximum resolution of 1920 x 1080. You can also get access to GT designer standards, professional color correction, and more.
HD ($350): Add a total of 1,000 inputs with a maximum resolution of 1920 x 1080. You can also use vMix Call for one remote guest and add a video list on the top of Basic HD features.
4L ($700): Get all HD edition's features plus recording using two recorders, accept a maximum resolution of 4096 x 2160, 1 camera for instant replay, and use vMix call for up to 4 guests.
Pro ($1,200): All vMix basic and advanced features are included for your convenience.
Download its trial edition now and explore its functions for 60 days free of charge.
12. XSplit Broadcaster – Easy To Customize Streaming Platform
Versatile Streaming Software For Gaming, Presentations, & Live Events [Free | Starts at $15 a month]
XSplit Broadcaster is one of the modern live streaming and video-mixing software available in the market today.
Its platform is fully equipped with advanced yet easy-to-use tools. This is intended to ensure you can consistently produce a high-quality presentation, huge live events, and even a simple screen capture.
To give you a clear picture, here are a few of the tools you can use:
A user-friendly interface where you can manage and resize all your media sources.
Split mode for quick scene switching
Simple control options to adjust the audio level of each scene
Flexible plugins and extensions to broadcast your show to your favorite streaming platforms.
I've included a screenshot to show you more of its standard features.
Though it has a long list of practical applications, one application that stands out is for capturing gameplay.
You will immediately understand why upon installation of its desktop app.
XSplit Broadcaster created five pre-built templates to simplify the creation process, and two of them are for gaming purposes – PC and console.
Choose your preferred template, and all you need to do is personalized all elements included for a unique user experience.
Pros And Cons Of XSplit Broadcaster
| | |
| --- | --- |
| Pros | Cons |
| Impressive drag, drop, and resize feature for the media sources. | Compatible on MS Windows only |
| Supports both standard and popular file formats | No phone support available |
| Tons of powerful plugins and extensions included | Not ideal for anyone new in live streaming |
XSplit Broadcaster Pricing Plan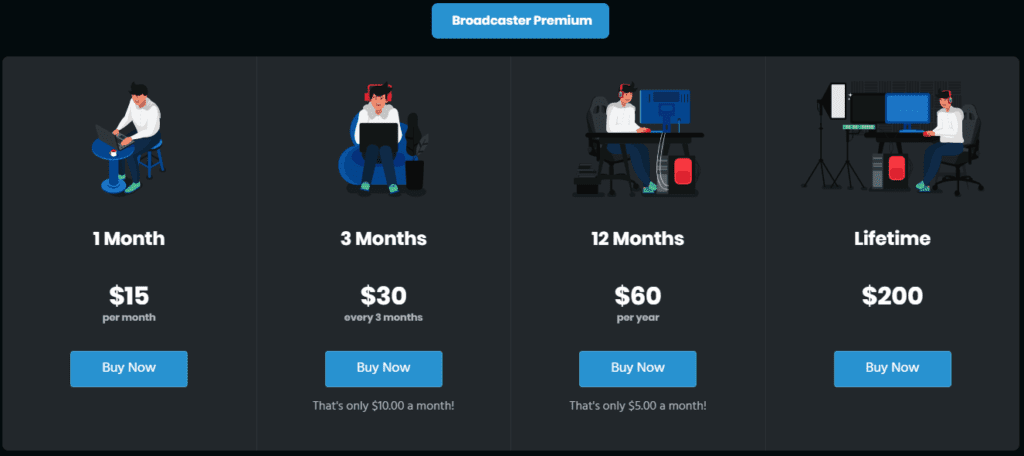 XSplit Broadcaster offers the most flexible pricing structure.
If you want to take no-risk testing, you can get its free license to create presentations with up to 4 scenes.
All the content included will also contain a watermark if you set a higher framerate than 30 fps or resolution than 720p.
For anyone that doesn't mind a monthly or yearly commitment, here are the subscription plans you can purchase:
1 Month: $15
3 Months: $30
12 Months: $60
Get any of these subscription plans, and you'll unlock the following premium production features.
Not a fan of monthly/yearly subscriptions? Get lifetime access by paying a one-time payment of $200.
13. Lightstream Studio – Live Streaming For Content Creators
Cloud-Powered Streaming Software For Online Shows [Starts at $7 a month]
Looking at the team of experts behind Lightstream Studio, you'll have a clear idea of what this platform is good at – live streaming and capturing gameplay.
Connect your console to its user interface and it will stream it directly on your channel.
As of writing, its platform supports Twitch broadcasts from the following console:
Xbox One X|S
Xbox Series X|S
Playstation 4 (PS4)
Playstation 5 (PS5)
The next step is to personalize your stream by adding any of these elements:
You can also add widgets and alerts to engage your audiences more or get them hooked for long.
These features for gamers are handy but compared to other streaming software, they are pretty basic.
Based on my experience, I find Lightstream Studio more beneficial in creating a podcast and any live talk shows.
It includes a green room where you can invite or chat with your guests and arrange the layout of their screens.
You can also provide a wonderful experience to your guests by giving them the freedom to do any of the following:
Share their screens
Adjust their camera, speaker, and microphone settings
Private chat with the host
And view the stream output
Disconnect protection with auto BRB message
Can mix multiple media sources into one stream
Get the Creator plan to see the complete list of its advanced features.
Pros And Cons Of Lightstream Studio
| | |
| --- | --- |
| Pros | Cons |
| No downloads required (purely browser-based) | 7-day free trial requires credit card information to sign up. |
| Use a drag-and-drop editor to create a show that matches your brand. | It doesn't require an expensive streaming PC or capture card. |
| Includes a remote-control feature | |
Lightstream Studio Pricing Plan
Lightstream Studio subscription plans are created based on the needs of its intended users. You can pay it monthly or annually.
I've listed down the pricing rates in the annual period because it gives you a great discount.
Gamer ($7-$14/mo.): Get this plan and you'll acquire access to its cloud-based console capture for Xbox and PlayStation to Twitch. The prices changes depending on the resolution you prefer to get.
Creator ($20-S40/mo.): Get this plan and you can add up to 7 remote guests, a max of 4 RTMP sources per scene, stream on various platforms, and access to browser-supported screen share.
Unfortunately, Lightstream Studio doesn't offer a freemium plan. But you can still try it out for free by availing of each subscription plan's 7-day free trial.
7. Nvidia ShadowPlay – Accessible Gameplay Streaming Platform
Most Powerful Streaming & Capturing Software For MS Windows [Free]
Capture your gameplay's highlights and sharing them with your friends is made easy with Nvidia ShadowPlay.
In three simple clicks, you'll be able to broadcast your favorite games to Facebook Live, Twitch, or YouTube Live.
Convenience at its best.
However, this is not what makes it rise to fame.
Nvidia ShadowPlay has become popular because of its high-quality capture and record features.
DVR-style Instant Replay mode is one feature you must take seriously. Press a hotkey, and it will record and save the last 30 seconds of your gameplay.
This is included to ensure your audience will never miss out on the best gaming stunts you've done.
Do you want to transform your best moments into a GIF?
You can do so because GeForce Experience allows you to create a 15-second GIF. You can further personalize it by adding texts.
There are over 350 games that Nvidia ShadowPlay supports. Look at it to know if it supports the game you're playing.
Pros And Cons Of Nvidia ShadowPlay
| | |
| --- | --- |
| Pros | Cons |
| Include instant replay mode | Customer service is limited to live chat, Twitter, forum, and knowledge base. |
| Record videos with up to 8K HDR at 30 frames per second (or up to 4K HDR at 60 FPS) | Compatible to MS Windows OS only |
| Hundreds of games supported | |
Nvidia ShadowPlay Pricing Plan
Here's another excellent streaming software that is entirely free of charge. Start capturing your special gaming moments by downloading its desktop app now.
Make sure to have NVIDIA GPU and meet other system requirements for a seamless installation.
14. Restream – Best For Growing Your Online Audience
Cloud Multi-streaming Software For Content Creators & Business Owners [Free | Starts at $16 a month]
Restream is one of the simplest and easiest to use multi-streaming platforms.
Since it's powered by the cloud, there's no need for you to download any app. You can start streaming using your web browser.
You also don't have to invest in expensive computer hardware.
All you need to own is an average computer equipped with a webcam and microphone. You can also use a smartphone as a replacement for the webcam or microphone.
Restream was initially built for the gaming community.
But with the growing demand for IRL streaming and professional broadcasting, they develop it to suit the needs of business owners and content creators.
Now, they are the best streaming platform for widening your audience reach, engaging them more, and boosting sales.
Restream created four major features to guarantee success in every stream:
Multi-streaming: This allows you to stream to 30+ social platforms and video communication software simultaneously and on a single platform.
Scheduler: This is the best feature to use for live streaming pre-recorded videos. It works by uploading the recorded video (must follow the proper format) and picking a date and time when you want it to go live.
Chat: The chat feature allows your viewers to interact with you and others during the live stream. The great part of this is you can mask offensive words to keep a friendly atmosphere for everyone.
Analytics: It's built with an interactive dashboard and shows you great insights to help you understand your viewers and identify your most successful streams.
Studio: This is the platform where you can personalize your stream. All the features I've mentioned (except for analytics) are neatly organized for quick access.
Pros And Cons Of Restream
| | |
| --- | --- |
| Pros | Cons |
| Stream live content to 30+ social platforms at the same time. | The free plan is only limited to a personal Facebook page and group. |
| Offer a 7-day money-back guarantee for first-time users. | The highest plan has a 4-hour limit per stream. |
| No special equipment is required to start streaming. | |
Restream Pricing Plan
Restream designed its pricing structure for individual and business use. They may cover different features, but you can pay both on a monthly or annual period.
The individual plan includes three subscription plans:
Free ($0/mo.): This plan gives you access to the basic version of Restream Studio and can add up to 6 on-screen participants.
Standard ($16/mo.): Get tools to record the first 6 hours of your stream and store it for 15 days. You can also add up to 10 participants and deliver your chat message within 5 seconds.
Professional ($41/mo.): Create a live stream without Restream branding, add a logo, record up to 10 hours per stream, and add three secured RTMP pull links to your broadcast.
The business plan is also designed with three subscription plans:
Premium ($83/mo.): Get all standard and advanced features of Restream, except failsafe stream backup. It also has a video upload limit of 2 hours and storage can store 25 videos.
Business ($249/mo.): Use Restream Studio, chat, and analytics any time you want. You only have 4 hours of video upload limits, record 20 hours per stream, and storage can store 50 videos.
Enterprise (Custom Pricing): This is the plan for businesses that need more storage capacity, video recording and streaming limits, and other custom features.
For new users, get any subscription plan and Restream will give you a 7-day money-back guarantee.
15. Gamecaster – Stream & Record Lag-Free
Easiest Live Streaming Software For Casual & Experienced Gamers [Free]
After discussing Restream, I decided to discuss the easiest streaming software to use for gamers as well.
Gamecaster is the best one I can recommend because of its studio simplicity in the design and workflow process. You can start streaming or recording within seconds.
Gamecaster Studio neatly arranged its tools and features for quick access. It's also well-labeled so that you can stay focused on the tasks.
A few of the features included that you should take note of are listed as follows:
Scene Editor: Make every scene interactive and engaging by adding general to advanced widgets, chat feeds, alerts, media sources, and more.
Pre-built templates: Gamecaster templates saves you tons of time in creating your first stream. Each includes three standard pages for start, in-game, and intermission.
Tools & Services: This is the newest addition of Gamecaster. Now you can immediately see all the latest tools and services they offer that can help maximize your live streaming.
Want to make money out of your streaming?
This is possible as the platform allows you to accept tips.
The best part of this is that Gamecaster won't get a percentage out of your earnings.
If you want to maximize your profit, you can always integrate with other platforms such as Streamlabs, Restream, and more.
Pros And Cons Of Gamecaster
| | |
| --- | --- |
| Pros | Cons |
| Mobile apps turn your smartphone into a remote control. | It only works on MS Windows. |
| Responsive Discord chat support | Limited phone support (Singapore only) |
| Stream Music is available for use. | |
Gamecaster Pricing Plan
Start your streaming journey by downloading the Gamecaster desktop app. It's completely free to download and use.
Conclusion
With live streaming's popularity continuing to skyrocket, video content is your biggest opportunity to increase your revenue. You can achieve this simply by choosing the right streaming software.
Of all the software I've discussed, I recommend OneStream the most.
It's the easiest platform to use — no download and setup required since it's purely cloud-based. All you need to own is the latest versions of Chrome, Firefox, and Safari browsers.
It's also the most affordable.
At $32 a month, you can simultaneously go live or schedule recorded videos to 25 social media platforms.
OneStream also comes with a custom RTMP feature. This is an advantage if you intend to broadcast on other online video sharing and multi-streaming platforms.
I hope this article helps you decide which is the best streaming software for your channel. If you have helpful tips or a personal favorite, please feel free to share them in the comment section.