How We Increased Organic Search Traffic For Estuary By 2,407%
"When we first thought about outsourcing our content, we weren't sure it would work. But Novum came in, worked closely with our experts, and created top-notch content that we made into our own. We've published over 100 articles which has directly led to +5X more leads."
David Yaffe
Co-Founder at Estuary
growth in organic sessions
annual organic traffic value add
growth in leads from content
Estuary is revolutionizing the world of data integration by building the next generation of real-time solutions. Their aim is to empower engineering teams across the globe to create data-intensive applications at scale with minimal friction.
Estuary is not just simplifying data engineering. They're shaping its future.
Estuary was struggling with overall visibility amongst potential clients, averaging a mere 12 daily visitors to their website.
Fortunately, the proficient team at Estuary had already recognized the crucial role of SEO-driven content as a catalyst for success. However, Estuary needed to establish an effective strategy and subsequent implementation to truly leverage this approach.
The marketing team was small and lightweight. Content was produced through collaborations and guest authors. Domain authority was virtually non-existent. A proper SEO strategy wasn't there and the team just needed help.
Novum closely partnered with Estuary's product and marketing teams to develop a holistic SEO and content strategy. We focused our efforts on in-depth research, targeted content development, strategic backlink acquisition, and the implementation of technical SEO best practices.
I. SEO-Driven Content Strategy
Although Estuary had already developed a section for content, many of their blog posts were not geared towards attracting new leads and customers. If the content you create does not align with what people are searching for, they can't discover you.
To address this, the initial step involved implementing a data-driven content strategy, leveraging comprehensive search term deconstruction, competitor gap analysis, and search intent evaluation. The emphasis was on generating meaningful traffic that could effectively convert into leads and ultimately, customers.
The main objective was to increase revenue, not merely drive traffic.
II. Topical Authority via Hub & Spoke
We've enhanced the contextual relevance of Estuary's content by focusing on high-value, competitive transactional topics, serving as our hubs.
To enrich the content further, we've leveraged less competitive informational queries – spokes, contributing to a more comprehensive and diverse content depth. This is executed through our hub-and-spoke model approach.
Moreover, we've meticulously elevated Estuary's pre-existing content to an A+ standard, while generating new high-quality content designed to be highly pertinent from Google's perspective.
This targeted strategy enabled us to secure a higher number of top rankings.
"Building topical authority is non-negotiable if you want to win the SEO game. An extremely effective method for achieving this is to utilize a Hub-and-Spoke model, where hub topics are core to the business and covered in depth through each spoke."
III. Strategic Backlink Acquisition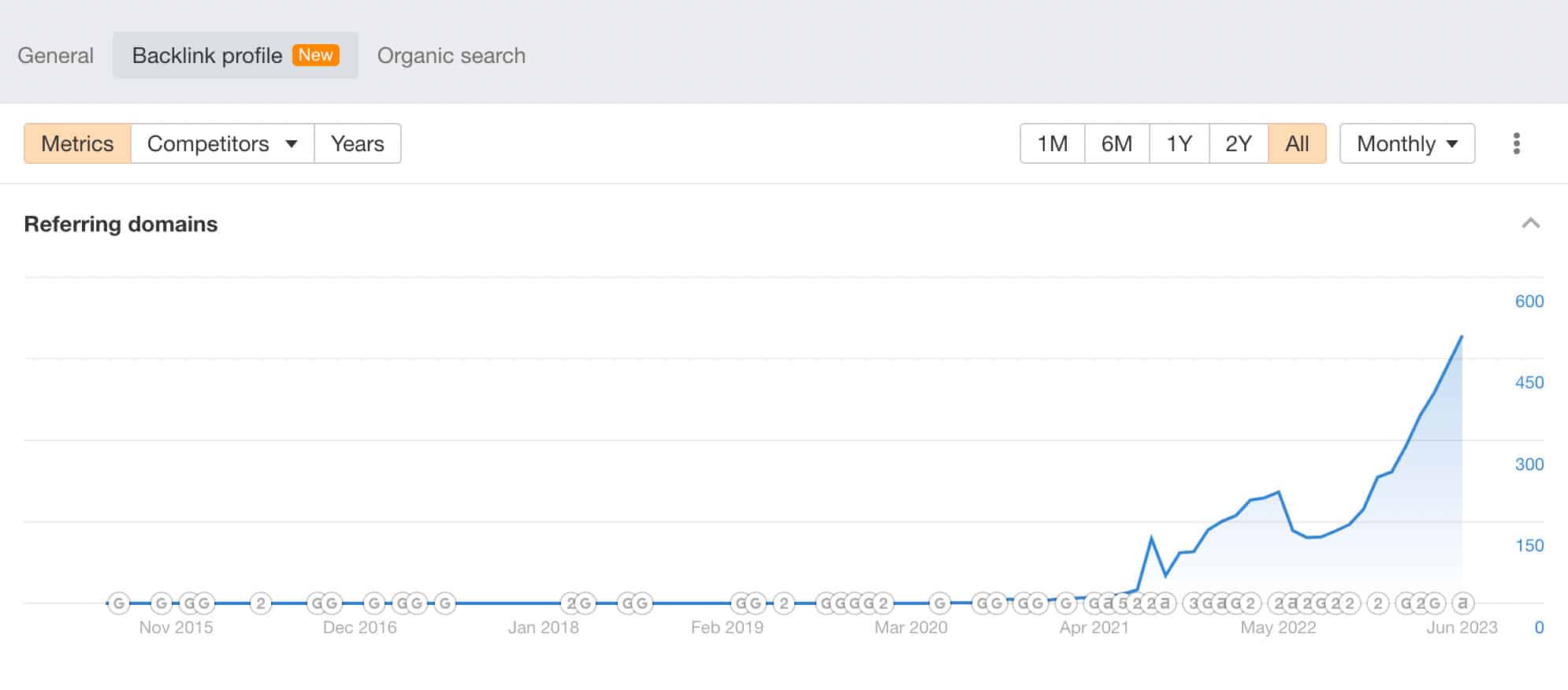 As a relatively new domain, Estuary required a comprehensive off-page strategy to amplify the reach of its freshly crafted content and enhance its page and domain authority.
We capitalized on pre-existing relationships with publishers and influencers in both the software and business sectors.
We pinpointed Estuary's most valuable pages – those that effectively attract sign-ups and new customers – and meticulously created in-content links from reputable, authoritative websites that directly point to these key assets.
Within 6 months, we've grown Estuary's organic search traffic by 2,407%.
And have increased their monthly traffic value from $86/mo to $15,606/mo ($187,272 annually, 18,023% growth).
Managed to get 4,745 keywords indexed.
Built a white-hat backlink acquisition system, that promotes Estuary's money pages (496 referring domains so far).
And have grown their monthly sign-ups by 593%.
This is merely the start.
Estuary's product signups and revenue are steadily increasing, fueled by a combination of organic traffic and engaging content. This momentum propels them on a trajectory to become a major player in their industry.
Let's find out how we can help you make SEO your most profitable acquisition channel.
Want To See Your True Traffic Potential?
Apply for a free roadmap call to identify your biggest organic growth levers. Did I mention it's free – no strings attached?