Baltimore's got more than just great seafood – it's packed with SEO talent too.
If you're looking for a list of top-tier SEO companies in Baltimore, Maryland, you're in the right place. Running a marketing company myself and working with countless clients, I've curated the most important factors to look for when considering an SEO company to work with.
I've compiled a straightforward list of the 13 best SEO companies in Baltimore to make deciding who to work with easier for you. Ready to discover some local SEO gems?
Top SEO Companies In Baltimore Handpicked For You
In this comprehensive guide, I've handpicked the 13 best SEO companies in Baltimore, orchestrated to help you make the most informed decision.
So, lean in and let this curated list illuminate your path to SEO success.
1. Search Pros SEO
Search Pros SEO gets it right. They understand that it's more than just generating traffic. It's about increasing sustainable revenue. So if you're a business looking to get more organic traffic AND turn that into paying customers, Search Pros SEO is your best pick.
With their expertise in local SEO, SEO-driven content marketing, and authoritative link building, Isaac Hammelburger and his crew have done some impressive work. They helped a beauty store 3x their traffic, boosted a beach product company's traffic by 2.5x within a year, and made a medical community's website traffic surge 3x.
Do you know what's really cool? They don't just work with their own clients. They also help other SEO agencies boost their clients' success. So, whether you're a direct client or an SEO team needing an extra brain to work on technical and content aspects, Search Pros SEO has got you covered with their detailed expertise in website analysis and performance reporting.
And if you're on LinkedIn, check out Isaac. He's pretty active there, engaging with his community by running polls and sharing the latest trends, Google updates, and even occasional SEO-related memes.
Best suited for: Local businesses that value revenue over website traffic.
Min. project size:
$1,000+
Headquarters:
Baltimore, Maryland, USA
Avg. hourly rate:
$100-$149/hr
Employees:
2-9
Services offered:
local SEO, SEO-driven content marketing, lead generation
Founded:
2018
2. Dragonfly Digital Marketing
If you're looking for an SEO partner that has been around for quite some time, Dragonfly Digital Marketing is a great choice. They've been doing search engine optimization for more than 16 years now and have some well-known brands and success stories under their belt, including Aeroseal, Blackford & Flohr, and Widener University.
For Geoffrey Hoesch and his team, those they serve are more than mere clients. They think of them as partners with whom they build loyal relationships, making a point never to work with direct competitors simultaneously.
If they have to look at the competition, it'll be solely to determine what works best in that specific industry. Their free website audit tool is at the heart of their services to see what's working from what isn't.
Communication is another notable strength. Dragonfly Digital Marketing makes a bold promise to respond within 1 business day, with the penalty of a $250 discount on your next invoice if they fail to meet this commitment.
Best suited for: Commercial, healthcare, law, education, small businesses, and SaaS firms who value loyalty and fast client support in driving traffic and staying relevant in the target industry.
Min. project size:
$1,000+
Headquarters:
Baltimore, Maryland, USA
Avg. hourly rate:
$100-$149/hr
Employees:
2-9
Services offered:
On-page and off-page national SEO
Founded:
2007
3. Noah Kain Consulting
Noah Kain Consulting specializes in helping brands that sell premium products and services boost their online footprint. Even though it's still a relatively new company based in Baltimore, Noah Kain has a 7-year track record of hands-on experience growing organic traffic for eCom brands.
You might think Noah Kain Consulting is the underdog in this list not just because the firm has only been around for 2 years, but also because he's a one-man team. Still, he already helped a digitally native brand grow its organic revenue from $20k/mo to over $50k in just 9 months of implementing SEO strategies. He even started a new series on his YouTube channel if you want to deep-dive into the case study where he explains this.
If you want someone who can help you explain complex SEO topics in an easy-to-understand way, I highly recommend Noah. He doesn't just share this with his clients but also uploads short clips to explain eCom SEO topics for his LinkedIn and Twitter followers. Occasionally, he guests in podcasts too, and doesn't hide behind his logo.
Best suited for: eCom brands looking for a highly collaborative and reputable SEO agency that almost feels like an in-house team.
Min. project size:
$5,000+
Headquarters:
Baltimore, Maryland, USA
Avg. hourly rate:
$100-$149/hr
Employees:
2-9
Services offered:
On-page SEO, content creation, link building
Founded:
2021
4. Bimeo Digital Solutions
Bimeo Digital Solutions follows a complete SEO road mapping. It's not just about churning out content filled with search terms – it's more about crafting informative pieces that genuinely add value for readers. Cody Dillon, the man behind it all, sees content creation as more than just a way to play the Google game. He believes in teaming up with Google, making it easier for users to find top-quality, relevant content. And that's EXACTLY how it should be!
Although Bimeo Digital Solution doesn't primarily focus on SEO, their approach is what it takes to win the SEO game in 2023 and beyond. That's how one of their clients, Politz Enterprises, went from being the new kid on the block to ranking locally for industry-specific keywords. The result? Their website's search traffic went up by 87% and page views by 55%.
Even if you're not quite ready to team up with Bimeo Digital, you can still pick up some handy SEO advice from their social platforms. Check them out on LinkedIn, Instagram, and Pinterest. You'll find checklists, FAQs, dos and don'ts, stats, and insightful SEO quotes. It's a great resource for SEO newcomers who want to get a better understanding of what SEO is all about and how it can benefit them.
Best suited for: Best for local businesses looking for a passionate team with years of expert experience in personal branding management.
Min. project size:
$5,000+
Headquarters:
Baltimore, Maryland, USA
Avg. hourly rate:
$100-$149/hr
Employees:
2-9
Services offered:
Local, on-site & off-site SEO
Founded:
2015
5. The Search Ninjas
The Search Ninjas is a specialized Baltimore SEO agency primarily focusing on law firms, helping them boost their online visibility. That's not all, though – they also extend their expertise to medical, accounting, B2B, and even plumbing firms. If your business falls under any of these sectors, you might want to consider adding The Search Ninjas to your shortlist.
With a solid track record spanning over 17 years, George Murphy, the driving force behind the company, has successfully utilized techniques such as user experience optimization, link and citation building, and load time improvements to drive targeted traffic. These efforts have paid off big time, with clients like Max Meyers Law seeing a 200% increase in traffic.
While George still takes on SEO projects, he is currently also serving as a law firm marketing director. So, if you don't mind teaming up with a busy expert who is continuously sharpening his skills in the field, consider this SEO agency. George stays active on LinkedIn, regularly sharing new tools he's using for SEO, like Google Bard. It's clear he keeps his finger on the pulse of the ever-changing SEO world.
Best suited for: Best for companies based in Baltimore (focus on law firms and plumbers).
Min. project size:
$1,000+
Headquarters:
Baltimore, Maryland, USA
Avg. hourly rate:
$100-$149/hr
Employees:
2-9
Services offered:
Local, on-site & off-site SEO
Founded:
2012
6. Gauge Digital Media
Gauge Digital Media, led by Brett Callegary, isn't just about driving traffic to your website. Their main focus? Ensuring that the traffic your website gets provides the highest return on investment. Other than SEO, they also offer web design, SMM, and PPC.
If you're still shopping around and weighing your options, why not drop by Gauge Digital Media's LinkedIn company page? They regularly share their project results there. Plus, they offer a free, no-risk SEO report. This way, you can get a clear idea of what your website needs and how they can help address those needs. It's a great way to get a feel for their solutions before making a decision.
Best suited for: Best for automotive, finance, eCommerce, real estate, and tech businesses.
Min. project size:
$1,000+
Headquarters:
Baltimore, Maryland, USA
Avg. hourly rate:
$100-$149/hr
Employees:
2-9
Services offered:
Local, on-site & technical SEO
Founded:
2013
7. Klik Digital
Klik Digital sets itself apart with an obsession for delivering results. They don't just claim it. They live it. Arthur Olshansky, the founder of Klik Digital, is committed to data-driven strategies that deliver tangible outcomes from start to finish.
What I like is that they don't hide their strategies away. They share them regularly on their LinkedIn company page. They also started the Klik Digital Academy, where they dive deep into digital marketing topics.
Klik Digital isn't just a pure SEO company but a digital marketing partner. They also offer:
Brand design
Video production
Content marketing
Website development
Social media marketing
Digital marketing strategy
Best suited for: Best for law and healthcare firms that put high value in prioritizing the technical and local search aspects of SEO strategies.
Min. project size:
$1,000+
Headquarters:
Baltimore, Maryland, USA
Avg. hourly rate:
$150-$199/hr
Employees:
10-49
Services offered:
Local, tech, eCommerce SEO strategy
Founded:
2012
8. BizMarquee
If you want a seasoned digital marketing specialist, add BizMarquee to your list. With a strong focus on SEO, Randy Goldstein is all about making businesses shine online. They have a clear understanding of how to attract customers, developed through years of experience.
With more than 70 successfully executed SEO campaigns to their credit, BizMarquee adopts a dual-pronged approach to enhance organic traffic. They strive to create a perfect blend between scientifically driven and human-optimized SEO initiatives, this Baltimore-based SEO company ensures that the content they produce aligns with what the user and search engines want.
Best suited for: Best for business services, tech, sports, contractors, and beauty businesses looking to focus on SEO as a primary marketing strategy.
Min. project size:
$1,000+
Headquarters:
Baltimore, Maryland, USA
Avg. hourly rate:
$50-$99/hr
Employees:
2-9
Services offered:
On-site & off-site SEO
Founded:
2000
9. Further Insights
Further Insights, a team of 7 specialists, is making a name for themselves in audience and revenue growth. These guys are all about helping small and mid-sized businesses stand out in their local markets. Led by Andrew Schuster and Coleman Anderson, they're driven by one major goal: to deliver a steady flow of qualified leads to their clients.
Proving true to their name, they launched Insight3D – a dashboard that organizes critical data points. This allows both Further Insights and the client to monitor granular metrics in real-time, spot trends, and formulate effective and timely strategies, which can be a competitive advantage.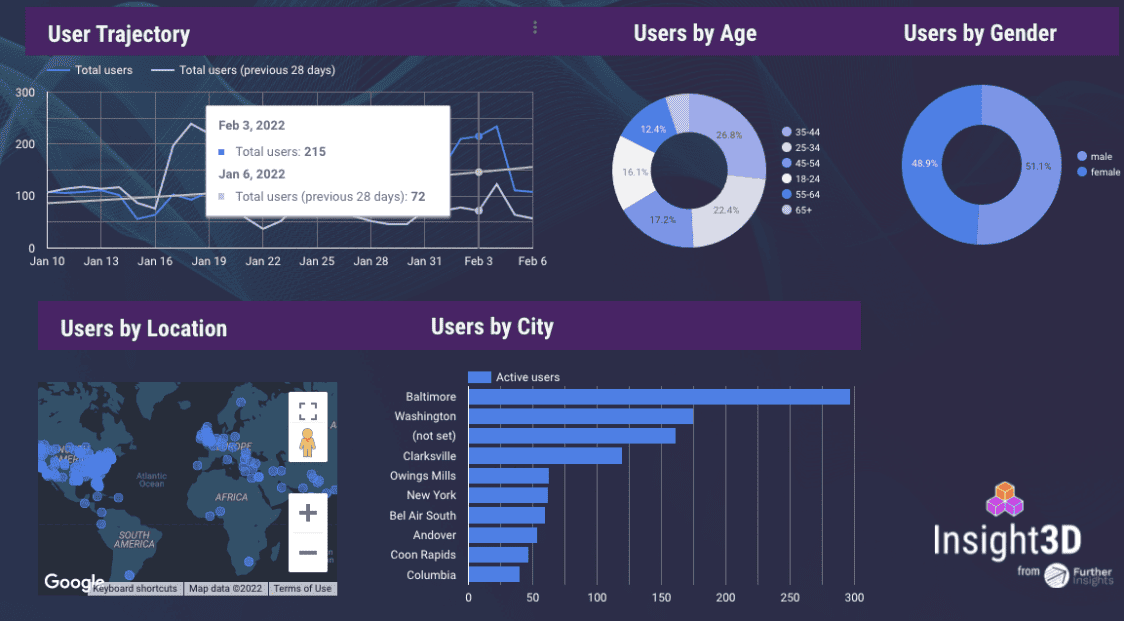 When it comes to results, they've got an impressive track record. For example, they helped their client DelFest boost their web traffic by 272% and new users by 78.6% – all thanks to their comprehensive approach to SEO.
And here's something cool: they've recently kicked off their own podcast, diving deep into the world of digital marketing. Feel free to check it out.
Best suited for: Best for small to medium-sized businesses in the music festival, brewery, and cannabis industries that value data-driven strategies.
Min. project size:
$5,000+
Headquarters:
Baltimore, Maryland, USA
Avg. hourly rate:
$200-$300/hr
Employees:
2-9
Services offered:
Local & on-site SEO
Founded:
2012
10. Frasca Digital
Frasca Digital follows a 6-step client-centric SEO strategy to help small businesses, B2B, B2C, and D2C companies thrive in the digital landscape. Instead of viewing their clients just as clients, they see them as partners, approaching their goals with a personal touch. And that's what you're looking for while searching for a great agency to work with.
You'll see that this is the case when you visit Anthony's LinkedIn, where he promotes their clients' businesses like they were his friends. Sometimes, if he feels particularly connected to a subject, he rolls up his sleeves and writes blog posts for them. Who knows? He might just write something for your business too.
Best suited for: Best for local, small, and medium-sized businesses looking for fast, credible results.
Min. project size:
$5,000+
Headquarters:
Baltimore, Maryland, USA
Avg. hourly rate:
$100-$149/hr
Employees:
2-9
Services offered:
On-site & off-site SEO
Founded:
2018
11. Fusion SEO
Fusion SEO also utilizes a 6-step methodology to help their clients meet their SEO objectives. So, if you're on the lookout for a lasting SEO partner, you might want to jot this agency down on your list. Many of their clients have stuck with them since the beginning of their SEO journeys, and they've recommended Fusion SEO to others in their circles.

Fusion SEO has been honing its exclusive SEO methodology for over a decade. One of their standout skills is local SEO, where they excel in helping businesses zero in on and draw high-quality traffic from their specific locale. However, their expertise isn't limited to that. They also provide eCommerce SEO strategies for businesses that have their sights set on a national or international audience.

Best suited for: Best for local, small, and medium businesses looking for a long-term SEO partnership.
Min. project size:
$10,000+
Headquarters:
Baltimore, Maryland, USA
Avg. hourly rate:
$50-$99/hr
Employees:
2-9
Services offered:
Local, on-site, & off-site SEO
Founded:
2009
12. Entrepreneuron
Chris Kindig's Entrepreneuron isn't just another company – it's a passionate team devoted to helping startups and small businesses scale their revenue. Their main goal? To create a steady flow of high-quality leads that are ready to become loyal customers. Their philosophy is quite straightforward: "Sharpen Your Offer, Attract Leads, and Seal the Deal."
Let me share a couple of success stories that underline the effectiveness of their strategies:
Take a pregnancy support website. After implementing Entrepreneuron's strategies, they saw their traffic skyrocket 12-fold and experienced an impressive 10x growth in revenue.
So, if you're eager to scale up your digital footprint without necessarily scaling up your advertising budget, Entrepreneuron is the SEO partner you're looking for.
Best suited for: Best for mission-driven small businesses and startups who value greater profits without burning money in ads.
Min. project size:
$1,000+
Headquarters:
Baltimore, Maryland, USA
Avg. hourly rate:
$50-$99/hr
Employees:
2-9
Services offered:
Local, on-site, & off-site SEO
Founded:
2012
13. Ignition72
Ignition72 operates with a unique Strategy First™ approach. This isn't just about delivering predictable, top-quality results – it's about really getting to know their clients. They dive deep into understanding your business, so much so that they feel like an extension of your team. If you're after an agency that sees you as more than just another client on their list, Ignition72 is a great choice.
They work with a broad spectrum of clients, but they really shine when it comes to the government, education, and financial sectors. If you're still on the fence about working with them, why not check out their Facebook page? They often share nuggets of information about SEO and digital marketing. This way, you can get a taste of their expertise before you commit.
Best suited for: Best for government and education websites keen on building a personal connection with their SEO partner.
Min. project size:
$1,000+
Headquarters:
Baltimore, Maryland, USA
Avg. hourly rate:
$50-$99/hr
Employees:
2-9
Services offered:
Local, on-site, & off-site SEO
Founded:
2007
The best Baltimore search engine optimization company to work with depends on a few factors you need to consider. What do you look for when choosing the right fit? Let's delve deeper into that.
10 Factors For Choosing The Perfect SEO Company In Baltimore
Working with any 'best' agency is not enough. You have your industry, budget, and preferences to think about. Here are 10 factors to check before closing a deal with any SEO agency.
I. Industry Experience & Expertise
Look for an agency with a proven track record in SEO. They should demonstrate their expertise in your field with case studies, client testimonials, or clear examples of how they've improved search rankings and driven traffic and conversions. Ask about their experience with your industry, business size, or type of website.
II. Transparency
The perfect Baltimore SEO agency should be open and transparent about its strategies and tactics. SEO isn't about secret tricks but applying best practices consistently. They should be willing to explain their approach and not promise instant results because SEO is a long-term game.
Additionally, consider those who don't hide behind a curtain and freely make themselves known online, like Noah Kain. Someone with a strong online presence like his makes his agency more credible.
III. Communication
Effective SEO requires close collaboration. Look for an agency that communicates well, listens to your needs, and keeps you updated about progress. They should provide regular, detailed reports explaining what they've done, why they've done it, and how it's improving your search rankings.
Look for those with a strong commitment to communicate with you. For example, Dragonfly Digital Marketing offers a $250 discount on your next invoice if they don't get back to you in a day.
IV. White Hat Practices
Make sure that the agency uses white hat SEO techniques only. These are strategies that align with search engine guidelines. 'Black hat' techniques risk penalties that damage your search rankings.
V. Services Offered
Modern SEO is much more than just keywords and links. It involves strategy, resource allocation, technical aspects of your website, content creation, user experience (UX) social media marketing, local SEO, and more. Make sure the agency offers a comprehensive range of services and can explain how they all work together to improve your search visibility.
VI. Customized Strategy
Your business is unique and your SEO strategy should be too. The agency should take the time to understand your business, target audience, and goals. They should tailor their approach to your specific needs rather than using a one-size-fits-all strategy.
VII. Pricing
While pricing shouldn't be the only factor you consider, it's still important. SEO agencies can charge in various ways – by project, monthly retainer, hourly rate, or performance-based. The pricing should be clear, fair, and within your budget.
VIII. Reporting & Analytics
Effective SEO is driven by data. The SEO experts you'll work with should be a master of Google Search Console, use advanced analytics tools, and explain how it tracks the website's performance, identify opportunities and problems, and measure the success of its efforts. Baltimore SEO companies like Further Insights take it up a notch by building a proprietary tool so you can track customized metrics in real-time.
IX. References & Reviews
Check out the agency's reputation online. Look at reviews and ask for references. If possible, contact previous or current clients to hear about their experiences.
X. Continued Education
The world of SEO is constantly changing, with search engines updating their algorithms regularly. Make sure your chosen agency stays up-to-date with the latest SEO trends, changes, and strategies.
Final Thoughts
Choosing an SEO company based in Baltimore, Maryland, that is right for your business is tricky. Your decision will have a big impact on your business' growth. So, decide wisely and without being in a hurry.
Consider every agency's specialties, track record, and the rapport you feel. I'm confident your right SEO partner is on this list, ready to transform your website into a booming business.
Remember though, that there's no one-size-fits-all "best" SEO agency out there. Some are cut above the rest – sure – but what really matters is finding the best match for your specific needs. Consider the 10 factors above to streamline your decision-making process. It'll make it easier to find the right fit for you.