Keywords, search engine results page (SERP) ranking, and visitor volume is simply a few of the factors you must regularly check on your social media website. For those who want to keep an eye on their rankings, this guide is a must-read.
Being an entrepreneur for the last decade has taught me that putting your company online is one thing. But getting it to the top of Google's search results is another story.
This isn't going to be an easy task. However, given the correct SEO software, nothing is impossible.
Today, we'll talk about 7 and more of the rank tracking tools we're using or have used in the past, including their pros, cons, prices, and more.
What Is The Best Rank Tracking Software?
If you're in a hurry, here are my top 3 picks at a glance: Moz, SpyFu, and Ahrefs.
| | | |
| --- | --- | --- |
| 4.9 | 4.6 | 4.2 |
| Best overall. Easy to use and highly reliable rank tracking software. Starts at $79/month. | Best value for money. Intuitive for new users with comprehensive SEO tools. Starts at $33/month. | Feature-rich. Powerful and numerous SEO and rank tracking tools. Starts at $82/month. |
| Try Moz Pro | Try SpyFu | Try Ahrefs |
If you want to get more details let's keep going and identify which SEO software suits your small business best.
1. Moz Pro – Top Pick
SEO Software For Small Businesses With Solid Rank Tracking Features [$99 per month]
Want more SEO keyword ideas for your content marketing? With Moz Pro, reviewing your site's and your rivals' most recent search engine rank positions will save you a lot of time.
When it comes to tracking rank, we have found Moz Pro rank tracker to be the most trustworthy and user-friendly.
You may use the rank tracker immediately after joining up for a free or premium account. Once you've entered the relevant information (keywords and URLs as well as search engines and countries) for your analysis, then just press ENTER.
It is important to note that consumers' search habits are also influenced by technology.
This is why Moz Pro was developed to monitor both mobile and desktop rankings. It can monitor the top search engines in over 200 countries!
Search visibility may also be monitored weekly, monthly, or for a set length of time, as well.
Once you've figured out what data to collect, you may create rating reports. You can see all the information you need in a couple of seconds on your dashboard.
Data is sourced from well-known search engines including Google, Google Mobile, and Bing.
You may examine your site's SEO activities and the keyword rankings of your rivals using the tracked insights.
Install the Mozbar Chrome extension to view all of the most significant SEO metrics for each website you visit or one that appears in search results immediately and easily.
While Moz Pro isn't the cheapest choice, it's assigned that price for a reason. All-in-one SEO software is what it's designed to be. This is totally recommendable for small business owners.
Pros And Cons Of Moz Pro
| | |
| --- | --- |
| Pros | Cons |
| No complicated setup | User interface needs improvement to make it more user-friendly |
| Weekly, monthly, or a defined length of time may be used to filter SEO analytics for keyword rankings | Subscription rates might be a little pricey for smaller teams and enterprises |
| Several users may be added to a single account (Medium to Premium plans) | Free version will require credit card details. |
| Create as many reports as you like | |
| A one-on-one consultation with an expert | |
| Help team is available online 24/7 | |
| Access to Q&A forums to get guidance and interact with industry professionals | |
Moz Pro Pricing Plan
One-on-one tutorials and 24/7 online assistance are included in all four Moz Pro membership tiers.
Standard ($99/mo.): Users new to SEO or those who just require the most basic functionality might consider using this subscription. Track and crawl three campaigns, 300 keyword ranks across four search engines, and more.
Medium ($179/mo.): Users may keep tabs on up to 1,500 keyword ranks, 10 different campaigns, and more with the two included user seats.
Large ($299/mo.): It is possible for three users to keep tabs on 25 campaigns, 3,000 keyword ranks, and an unlimited number of reports.
Premium ($599/mo.): Five seats are included with the Moz Pro subscription. You can keep tabs on up to 4,500 keyword rankings, 50 campaigns, and unlimited reports.
2. SpyFu – Best Value For Money
Most Advanced Web Ranking SEO Software [$33 per month]
Do you want a new keyword for your Google ads or meta description? In terms of SEO tools, SpyFu and Moz Pro are quite comparable. However, it has a little edge in terms of simplicity of setup and operation. For small firms looking to increase their digital marketing capabilities via an active SEO strategy, it's an excellent investment.
The All Projects collapsible slide bar may be seen on the right side of the SpyFu website.
Once you've clicked it, you'll be able to access all of the available features and tools. To have full access, you must register for an account.
Pros And Cons Of SpyFu
| | |
| --- | --- |
| Pros | Cons |
| Infinite storage space for all your projects, searches, and downloads (domain, keyword, backlink analysis, competitors, etc.) | Not recommended for beginners |
| The Team plans allow many users to log in at the same time | No free SEO tools or trial version available. |
| Through the SpyFu Admin page, Facebook, Twitter, and customer support, the account may be canceled (email, live chat, or phone) | |
SpyFu Pricing Plan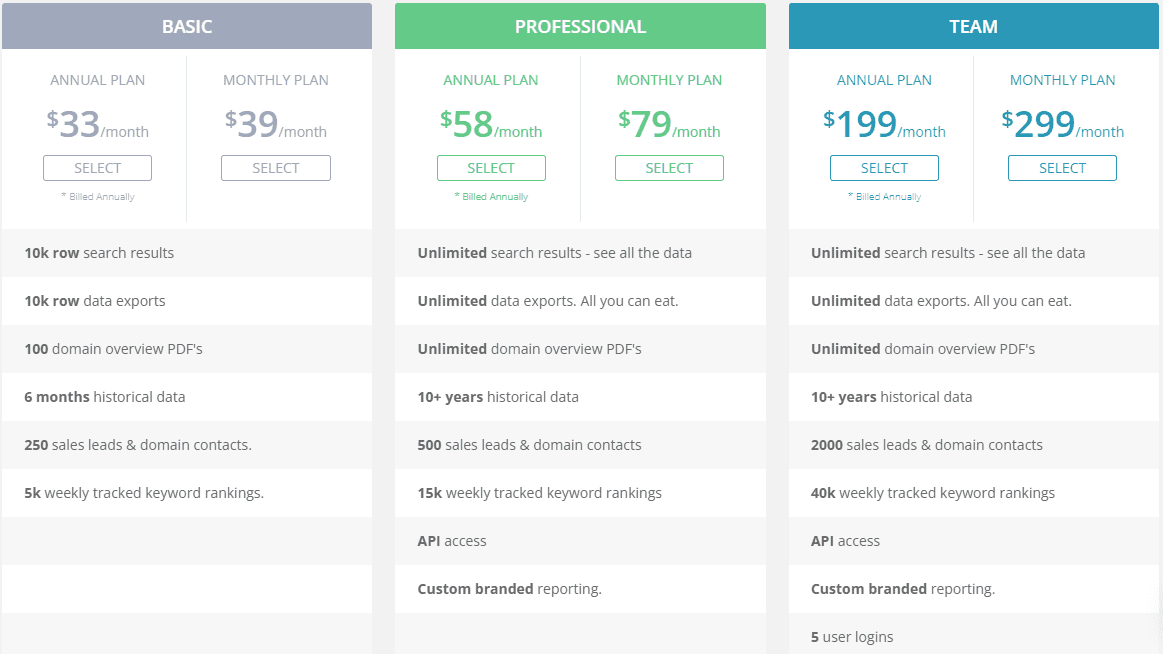 SpyFu made this list as the best value for money because you can look at all of its data as much as you want. All monthly and yearly subscriptions come with unlimited access to:
Domain search results
Keyword search results
Backlinks searches
Competitors analysis results
Keyword group results
Domain comparisons (Kombat)
Exports for all search results
There are three subscription options to choose from, and they are as follows:
Basic ($33/mo.): Allow a maximum use of 10k row data exports, 100 domain overview PDF, 6 months of historical data, 250 sales leads & domain contacts, 5k weekly tracked keyword rankings, and more.
Professional ($58/mo.): Allow a maximum use of unlimited search volume results – see all the data, unlimited data exports, unlimited domain overview PDF, 10+ years of historical data, 500 sales leads & domain contacts, 15k weekly tracked keyword rankings, API access, custom branded reporting and more.
Team ($199/mo.): Allow a maximum use of unlimited search results – see all the data, unlimited data exports, unlimited domain overview PDF, 10+ years of historical data, 2000 sales leads & domain contacts, 40k weekly tracked keyword rankings, API access, custom branded reporting and more.
For 30 days, you may try any subscription plan and see what SpyFu rank tracking tool can do for your local business. It comes with a 30-day money guarantee if it did not meet your satisfaction. Additionally, a sales agent may be contacted to set up a demo.
3. Ahrefs – Most Features
Search Engine Optimization Software With The Best Rank Tracking Features [$99 per month]
Do you want to outreach more clients for your marketing agency? Ahrefs is a must-have if you've been in the industry for any length of time.
Optimizing your site and keeping track of your SEO campaign and SEO reporting are just two of the many features you'll find here.
If you're a big company, you'll find a large range of SEO-related tools to meet your demands. This is the site to use if you're looking for metrics like keyword placements, Google ranking, organic search, search engine rankings, and even on-page SEO checking tools.
It's simple to get started. Log in to your account, then select the "New Project" option under the "Rank Tracker" heading in the top menu bar.
You may either import your Google Search Console (GSC) data or create a new project from scratch.
When adding competitors, be sure to mention the precise URL, address, domain, or subdomain of the sites you want to keep track of.
Provide keywords by typing or importing your keywords, and then add all the essential data, such as:
XML Sitemaps
Competitor's websites
Platforms for search engines (total of 10)
The Ahrefs rank tracker will monitor your search engine rankings on both desktop and mobile devices after everything is set up. There will be a total of 170 countries covered by the tracking system.
If your SEO efforts are working, it will notify you with frequent updates.
With Google Analytics and Search Console under your belt, investing in an all-in-one platform like Ahrefs for your website is an obvious choice.
Pros And Cons Of Ahrefs
| | |
| --- | --- |
| Pros | Cons |
| Provide a wide range of choices for filtering | For new and inexperienced users, the sheer number of options might be intimidating |
| List of all upcoming reports sent to your inbox. | Refunds are available within 48 hours following the purchase of any monthly membership package |
| Plenty of training opportunities are available (Ahrefs blog, YouTube, & help center) | When you go over your plan's data allowance, you'll be charged for any extra data you use. |
| Update frequency every 3, 5 & 7 days | |
Ahrefs Pricing Plan
In addition to monthly and yearly subscription plans, Ahrefs offers four subscription types. With their yearly subscriptions, you get an extra two months of free access.
The following is a breakdown of what each plan includes:
Lite ($99/mo.): Tracked keywords have a maximum capacity of 750. Web crawler (SEO spider) credits/month is 100,000.
Standard ($199/mo.): Tracked keywords have a maximum capacity of 2,000. Crawler credits/month is 500,000.
Advanced ($399/mo.): Tracked keywords have a maximum capacity of 5,000. Crawler credits/month is 1,500,000.
Agency ($999/mo.): Tracked keywords have a maximum capacity of 10,000. Crawler credits/month is 5,000,000.
The Rank Tracker Pro is a better option if your organization or project monitors more than 100,000 keywords and needs daily updates.
4. SEMRush – Excellent SERP Tracking Tool
SEO Software For SaaS Platform With 3 Rank Tracking Tools [$119.95 per month]
Do you have any SEO issues? Want better technical SEO strategies? SEMRush is here to improve your online visibility by finding new prospects on search engine result pages.
This tool will begin collecting and monitoring ranking data for your selected HTML site as soon as the setup is complete. Just some of the metrics available on your dashboard include visibility trends, projected traffic, and average ranking positions.
There are 16 SERP characteristics that you may choose and monitor if you want to view particular statistics.
To keep track of your position, you may set up triggers that notify you when it drops.
Search for unique strategies to strengthen your backlink profile through the Link Building function from Semrush.
It's a reality that search engine algorithms are always evolving. SEMrush gives you a sensor so that you can remain on top of new changes.
Pros And Cons Of SEMRush
| | |
| --- | --- |
| Pros | Cons |
| Up to 200 sites from a custom list may be analyzed at the same time | Subscriptions are required for the addition of new users (price vary on the plans) |
| Filtering over a large time frame – days (7, 15 & 30 & 90) | It takes a long time to get used to the software |
| Optimize your content ideas using SEO Writing Assistant | Add-ons are too expensive |
| Excellent customer service | |
SemRush Pricing Plan
You may get the following for both monthly and yearly subscriptions:
Pro ($119.95/mo.): Track 500 keywords with regular updates and manage 5 projects.
Guru ($229.95/mo.): Track 1,500 keywords with regular updates and manage 15 projects.
Business ($449.95/mo.): Track 5,000 keywords with regular updates and manage 40 projects.
5. SE Ranking – Affordable SEO Software
The Best Keyword SEO Software Tool For Small Business [$31.20 per month]
Using SE Ranking is one of the easiest ways to monitor your target keyword's position in search results. Search engine results may be tracked across all devices and locations using any of the major search engines, such as Google or Yahoo, Bing, or YouTube.
This keyword research tool allows you to do the same things as other marketing tools:
Competitive analysis for up to five competitors.
The top 100 search engine result web pages are thoroughly examined in this report.
Quickly find what you're looking for by tagging all of the relevant information.
Google maps, ad spots, broken links checker, and SERP elements like videos and snippets are all included in SE Ranking's scope.
Pros And Cons Of SE Ranking
| | |
| --- | --- |
| Pros | Cons |
| Check the ranks on a daily, weekly, or every three-day basis | Updates to huge data lists might cause a slowdown in performance |
| Ensure a high-quality client service | There is no free plan available |
| B2B alternatives are available as well (white label, API, & collaborative use) | |
| Subscribers may choose from a wide range of plans | |
SE Ranking Pricing Plan
Essential ($31.20/mo.): 250 keywords, 10 projects, 40,000 pages of website audits, and much more. You have the option to monitor up to 750 additional keywords.
Pro ($71.20/mo.): 1000 keywords, Unlimited projects, 250,000 pages of website audits, and much more. You have the option to monitor up to 30,000 backlinks.
Business ($151.20/mo.): 2500 keywords, Unlimited projects, 700,000 pages of website audits, and much more. You have the option to monitor up to 90,000 backlinks.
Contact an SE Ranking sales specialist if you require a customized package.
6. SERPStat – Software For Hacking Growth In SEO
Incredibly Useful Software Tool For Global And Local SEO [$55 per month]
Serpstat, at first glance, seems to be a regular rank monitoring tool you'll find on the internet. However, I have discovered plenty of new and interesting features after exploring and testing it.
Whether you're looking for something regional or worldwide, they've got you covered!
Serpstat also enables you to choose the time zone and language that corresponds to your target country's time zone and language.
It also offers a PPC Research Tool that helps you monitor PPC for any specific SEO keywords and other functions for your business.
Pros And Cons Of SERPStat
| | |
| --- | --- |
| Pros | Cons |
| Cover 239 Google search datasets and 11 Yandex search databases | Only a maximum of 100 projects may be tracked, analyzed, and audited at a time |
| Supply in-depth information about your analytics | Site audits on websites with a big number of page speed insights take longer to complete |
| All programs include the full set of tools for tracking your rank | |
| Analyze keyword search rankings for both organic and paid search | |
| A live demonstration is available | |
Serpstat Pricing Plan
There are four subscription tiers for Serpstat's rank tracking tools: Basic, Standard, Premium, and Enterprise.
Lite ($55/mo.): SEO specialists, freelancers, and small businesses on a tight budget may use this tool. Everything you need to operate and manage your projects is here.
Standard ($119/mo.): In-house and agency teams will benefit from the product's features. Create branded reports and more with the help of three user seats.
Advanced ($239/mo.): Designed for major marketing firms and in-house teams. A total of five seats are available for users.
Enterprise ($399/mo.): This is the best fit for companies and agencies who want white-labeled tools and seven seats for their users.
Serpstat's salesperson can help you choose your alternatives if you have specific needs.
7. SERPWatcher – Easiest Ranking Tracker To Use
Ranking Monitoring SEO Software Tool With Interactive Reports And Alerts [$29.90 per month]
SERPWatcher is a part of the SEO bundles from Mangools. Using this tool, you may monitor and evaluate your website's total search engine rankings.
Websites with bought and organic traffic may be tracked using other rank monitoring tools.
The organic website traffic potential of your website is prioritized by SERPWatcher. They are able to accomplish this quickly and effectively because of their own personal Performance Index.
The SiteProfiler will let you check the SEO authority of any website, reveal the status of your backlink profile, identify the content that generates web traffic, and look for new competitors and websites similar to your business industry.
Pros And Cons Of SERPWatcher
| | |
| --- | --- |
| Pros | Cons |
| Up to 10 people can log in at the same time (vary on subscription plans) | Email and live chat are the only options for customer service |
| Include a tool that allows users to engage with and share reports | Improvements are needed in the reporting of estimated data |
| Keep track of your position and provide daily statistics with their site explorer | |
| Simple to use and understand | |
SERPWatcher Pricing Plan
You may subscribe to SERPWatcher by Mangools in three different ways:
Basic ($29.90/mo.): Track up to 100 keywords every day, 200 keywords (both recommended and searched) per import, and more options are at your disposal.
Premium ($39.90/mo.): Offer multiple logins, 500 keyword searches per day, and more.
Agency ($79.90/mo.): Provide 10 simultaneous logins, 1,200 keyword lookups every 24 hours, and other features.
Try SERPWatcher for free for a full 10 days by signing up for the free trial.
8. RankTracker – The Most Accurate Location Tracking
Sophisticated Discovery And SEO Software Tool For Starter [$9 per month]
Finding the finest SEO prospects for your website is the goal of rank monitoring software. If you're looking for a certain place, RankTracker is your best choice.
Globally, regionally and locally you may use this tool to search for information in all databases.
To begin your search, just type in the website's URL and the nation, area, or city in which you'd want to do your research. In addition, you'll have to choose where you want your search results to appear.
Tracking rankings on Google, Yahoo, Baidu, Bing, and Yandex are now supported.
You'll be able to get an overview of the SEO health of your site after you've completed the setup process through their Web Audit Tool.
Pros And Cons Of RankTracker
| | |
| --- | --- |
| Pros | Cons |
| Customizable reports are available | There is no real-time phone assistance accessible (limited to chat & help center) |
| Regardless of the package you choose, you may add and monitor several websites | Extra charge for tracking a greater number of keywords (price per keyword varies on purchase numbers) |
| Maintain a regular schedule of daily, weekly, and monthly updates | |
RankTracker Pricing Plan
Starter ($14.40/mo): Offer access to 2 users, 100 keyword explorer, 100 SERP checkers, 1,000 SEO audits, and more.
Double Data ($47.20/mo): Offer access to unlimited users, 125 keyword finder, 250 SERP checkers, 2,500 SEO audits, and more.
Quad Data ($87.20/mo): Offer access to unlimited users, 250 keyword finder, 500 SERP checkers, 5,000 SEO audits, and more.
Hex Data ($167.20/mo): Offer access to unlimited users, 500 keyword finder, 1,000 SERP checkers, 10,000 SEO audits, and more.
If you aren't sure which membership plan you want, you may join up for a free 10-day trial.
Conclusion
It's important to consider the simplicity of use, tracking capabilities, and cost while selecting the best small business SEO tools. I did not include Brightlocal and ScreamingFrog on our list for these reasons.
As a result of these considerations, Moz is our top pick. If you want to improve your website's overall SEO, this all-in-one SEO suite is for you.
However, it's important to keep in mind that ranking tracking software may be used for many other uses. In the event that this doesn't meet your website's requirements or personal preferences, you may use a different SEO software available online to get the better results that you want.
Use any of the above best SEO tools to start your SEO journey.