Keywords, SERP ranking, and traffic volume are only a few elements you have to constantly track down on your website. If you're looking for the best rank tracking tools to keep everything on course, this guide is perfect for you.
With a decade of experience as an entrepreneur, I've learned that getting your business online is one thing. But making it rank high on Google is certainly another.
This isn't an easy feat. But of course, nothing is impossible with the right tools on hand.
Today, I'll feature 7+ of the rank tracking software I've presently and previously used, and uncover their strengths, drawbacks, prices, and more.
What Is The Best Rank Tracking Software?
If you're in a hurry, take a glimpse of my top 3 picks: Moz Pro, SpyFu, and Ahrefs.
| | | |
| --- | --- | --- |
| 4.9 | 4.6 | 4.2 |
| Best overall. Easy to use and highly reliable rank tracking software. Starts at $79/month. | Best value for money. Intuitive for new users with comprehensive SEO tools. Starts at $33/month. | Feature-rich. Powerful and numerous SEO and rank tracking tools. Starts at $82/month. |
| Try Moz Pro | Try SpyFu | Try Ahrefs |
Let's get this review moving and identify which rank tracking tool available suits your website's needs.
1. Moz Pro – Top Pick
All-In-One Ranking Tool With Solid Rank Tracking Features [$79 a month]
There are tons of rank tracking software available today. All can save your time manually checking your site and competitors' latest rank positions on search engines.
In all of the software I've used and tested, I've found Moz Pro rank tracker as one of the most reliable and easy to use.
Upon signing up for a free or paid plan, you can immediately use the rank tracker. Enter the key elements (keyword, URL, search engine, country, etc.) you want to track, then hit enter.
Technology also plays a vital role in the customers' search behavior.
For this reason, Moz Pro is built to track both mobile and desktop rankings. As of writing, it can track across the top search engine platforms in over 200 countries.
You can also monitor the search visibility weekly, monthly, or for specific periods.
The best part of this, you can do it with a few simple clicks.
Once you've decided what data to gather, you can generate ranking reports. All insights are shown straight to your dashboard in a matter of seconds.
So, there's no need to wait that long.
Also, all data come from major search engines like Google, Google Mobile, Bing, and Yahoo.
From the tracked insights, you can analyze your site's SEO campaigns and actively track keyword rankings of your competitors.
Moz Pro may not be the cheapest option available, but its price is given for a good reason. It is built as an all-in-one SEO software.
Therefore, it also provides excellent tools to perform the following tasks:
Keyword rank checker
Site crawl
On-page optimization
Link research
Creating custom reports
Website ranks
They also include tons of free SEO tools to help you do your work best. Here is the complete list of the free tools:
Keyword Explorer: Provide an index with 500+ million real keywords
Link Explorer: Provide an index with 40+ trillion links
MozBar: Install in Chrome browser to instantly see all important SEO metrics of any website you visit or included in search results.
My Online Presence: This allows you to improve your website with Moz Local
Free Domain Analysis: Enter a domain, and this tool will display all its top SEO metrics (domain authority, top pages, etc.).
MozCast: A weather reporting tool that displays the changes that happened in the Google algorithm for a specific period.
Pros And Cons Of Moz Pro
| | |
| --- | --- |
| Pros | Cons |
| No complicated and time-consuming setup is required | Its user interface needs improvement to make it user-friendly. |
| Additional user seats are offered with a fixed subscription price of $49/mo./seat (all plans). | Subscription plans can be a bit expensive for smaller teams and businesses. |
| Filter SEO metrics for keyword rankings weekly, monthly, or a specific range of time | Free trial requires you to sign up with your credit card information. |
| Multiple users included per account (Medium to Premium plans) | |
| Create unlimited reports | |
Moz Pro Pricing Plan
Moz Pro is offered in four subscription plans that all include a 1-on-1 walkthrough and 24-hour online support.
Standard ($79/mo.): Ideal for a single user, preferably someone new to SEO or just needs the basic features. Provide you tools to track and crawl 3 campaigns, 300 keyword rankings across 4 search engines, and more.
Medium ($143/mo.): Two user seats are provided and can track 10 campaigns, 1,500 keyword rankings, and more.
Large ($199/mo.): Three user seats are provided and can track 25 campaigns, 1,900 keyword rankings, create unlimited reports, and more.
Premium ($479/mo.): Get all Moz Pro features with five user seats available.
If you want more, there are add-ons you can purchase, such as:
Campaign: $10/mo. for every 1 campaign
Keyword rankings: $20/mo. for every 200 keywords
Page crawled/week: $15/mo. for every 50,000 pages
For entrepreneurs owning enterprise-level businesses or agencies, you can contact Moz Pro sales representatives to give you a personalized price quote based on your needs.
2. SpyFu – Best Value For Money
Advanced Web Ranking Software Best For Competitor Analysis [$33 a month]
SpyFu is similar to Moz Pro in terms of providing comprehensive SEO tools. But it has a bit of an advantage when it comes to ease of setup and use. It's also relatively great for value, especially for small businesses that want to boost their digital marketing capacities by investing in an active SEO strategy.
When you go to the SpyFu website, you will notice the All Projects collapsible slide bar on the right side.
Click it, and you'll access every feature and tool available to you. You need to sign up for an account to get full access.
In terms of ease of use, it will vary depending on your preference. But in my opinion, it is best for anyone who has no idea what keywords to target for their new project or wants to research their competitors with little effort.
The first thing you need to do is enter the domain name of your project and display name, then SpyFu will automatically suggest keywords for you.
All keywords are organized in the following group:
Most searched keywords
Biggest traffic opportunities
Easy wins
Highest ROI
You can always edit these groups anytime to fit into your project. If you prefer to stick to your own set of keywords, you can untick those boxes and paste your keywords into their appropriate box.
There are three elements under keywords in the project boards – keyword universe, groups, and labels.
The keyword universe contains all the keywords you imported on your project (suggested and personally added). In comparison, the labels serve as function-like tags, which further help to organize your keywords.
Once done, you can compare its data for CPC, monthly search volume, ranking difficulty, and rank (updating regularly).
If you want to explore more extensive opportunities or uncover top competitors, you can use SpyFu's PPC tools. Customization is another strength of SPyFu, so you can always create projects exactly how you want them.
You can get weekly tracking updates to stay on top of your domain's standings in SEO and PPC.
Pros And Cons Of SpyFu
| | |
| --- | --- |
| Pros | Cons |
| Provide unlimited capacity for projects, searches, & downloads (domain, keyword, backlinks, competitors, etc.) | Not suitable for beginners |
| Multiple users can log in at the same time at the Team plans | No offered free plan or trial version. |
| Allows cancellation of account through SpyFu admin page, Facebook, Twitter, & customer service (email, live chat, or phone) | |
SpyFu Pricing Plan
SpyFu landed on my list as the best value for money because it provides unlimited access to all its data. As standard, all subscription plans (monthly and annual) include unlimited:
Domain search results
Keyword search results
Backlinks searches
Competitors results
Keyword group results
Domain comparisons (Kombat)
Exports for all search results
There are a total of three subscription plans available, and those are:
Basic ($33/mo.): Provide limits on sales leads and domain contacts (250), weekly tracked keyword rankings (5k), top lists results (10k), and more.
Professional ($58/mo.): Provide limits on sales leads and domain contacts (500), weekly tracked keyword rankings (15k), top lists results (50k), and API rows returned (10k). You can also create custom branded reports.
Team ($199/mo.): Provide limits on sales leads and domain contacts (2k), weekly tracked keyword rankings (40k), top lists results (75k), and API rows returned (10k). It also includes 5 user logins and creates custom branded reports.
Try any subscription plan free of charge for 30 days and explore what SpyFu rank tracking software can do for your business. You can also contact a sales representative to schedule a demo.
3. Ahrefs – Most Features
All-In-One SEO Toolset With Comprehensive Rank Tracking Tools [$82 a month]
If you're in the business for a long time, you'll surely appreciate Ahrefs.
It's packed with tons of excellent tools that you can use to grow your website – from optimizing your site to accurate ranking tracking tools.
It's a rich platform with plenty of amazing features for a wide variety of SEO-related needs of any major company. If you're planning to look into metrics on keyword positions, Google ranking, organic search, search engine rankings, and even on-page SEO checker tools then Ahrefs is your platform to choose.
Getting started is easy. Sign in to your account, click the rank tracker on the top menu bar, then click the New Project button.
From there, you will be given two options – import your Google Search Console (GSC) data or add the project manually.
No matter what option you choose, you will be given a project board where you can add, monitor, and manage the following:
Reports (tags, web pages, grossing, and keyword metrics)
Competitors overview, tags reports, and traffic share
Competitors and keywords
When adding competitors, it's important to specify what site links to track – exact URL, path, domain, or subdomain.
While for adding keywords, you have to type or import your keywords, then add all the necessary details to provide more in-depth insights, like:
Locations
Competitor's URLs
Search engine platforms (total of 10)
Once everything is set up, Ahrefs rank tracker will monitor your rankings on your preferred search engines on both desktop and mobile. Also, the tracking will cover 170 countries.
It will send you a regular update to let you see if your SEO efforts are paying off.
To further strengthen your standing on search engine result pages (SERP), the following features are supported:
Featured snippet
Sitelinks
Top stories
Image pack
Thumbnails
Adwords top
Adwords bottom
Shopping results
Knowledge card
Knowledge panel
Videos
Tweet box
People also ask
If you're already using Google Analytics or Google Search Console and have mastered these two tools for your website then investing in a much more all-in-one tool such as Ahrefs is a no-brainer.
Pros And Cons Of Ahrefs
| | |
| --- | --- |
| Pros | Cons |
| Update frequency every 3, 5 , & 7 days | The trial version is available with a fee ($7 for 7 days). |
| Provide excellent filtering options | Offer the shortest refund policy (48 hours after purchasing any monthly subscription plan) |
| Receive all scheduled reports to your inbox | Tons of features can be overwhelming for beginners and new users. |
| Tons of training is available (Ahrefs blog, YouTube, & help center) | |
Ahrefs Pricing Plan
Ahrefs is offered in four subscription plans payable in monthly and annual subscription plans. The annual plans are their most popular options because it includes an additional 2-month free usage.
Here's what you can expect from each plan:
Lite ($82/mo.): Provide you capacity limits on tracked keywords (500), update frequency every 7 days, and can track mobile rankings too.
Standard ($149/mo.): Provide you capacity limits on tracked keywords (1,500), update frequency every 5 days, and more.
Advanced ($332/mo.): Provide you capacity limits on tracked keywords (5,000), update frequency every 3 days, and more.
Agency ($832/mo.): Provide you capacity limits on tracked keywords (10,000) and include all Ahrefs features.
If your business/project tracks up to 100,000 keywords and requires daily updates, you can purchase the Rank Tracker Pro instead.
4. SEMrush – Excellent SERP Tracking Tool
Online Visibility Management SaaS Platform With 3 Rank Tracking Tools [Free | $99.95 a month]
The first three rank tracking software are your good all-rounder options. However, if your goal is to grow your online presence by discovering more opportunities in search engine result pages, SEMrush is your go-to software.
All rank tracking tools and features included are organized into three categories.
Let's start with its position tracking tool.
You can start by entering any domain, subdomain, subfolder, or URL you want to track. A new pop-up form will appear, and here, you need to add the following details:
Search engine (Google or Baidu)
Device (desktop, mobile, or tablet)
Location (any of the 20 locations covered)
In the same form, you can also add your list of chosen keywords. Just like the others, you have the option to:
Import a file
Manually input them
Or, stick with the suggested keywords SEMrush provides for you.
Once the setup is completed, it will start collecting and monitoring the ranking data of your chosen site link. Visibility trends, estimated traffic, and average ranking positions are just a few of the data you can monitor on your dashboard.
If you want to see specific data, there are 16 SERP features you can choose from and track.
You can also create triggers to get notified when your position declines.
Search engines' algorithms change fast, and that's a fact. To ensure you will stay on top of the new updates, SEMrush provides you with a sensor.
As the name implies, it's a feature that detects any updates on the ranking algorithm.
It will immediately work once you embed it into your website. Also, it provides you a color-coded SERP volatility report covering the last 30 days.
The colors represent the impact of the changes on your website:
Blue – low
Green – normal
Orange – high
Red – very high
It will also show you the reasons behind each change via email and browser notification.
Of course, the list wouldn't be complete without SEMrush Rank.
This is the SEO rank tracking tool you can rely on measuring and uncovering the online presence of your prospects and competitors. From here, you can get an idea of their market share and which sites are in-demand ranking high on search engines.
Inside the platform, you can freely explore the top 100 popular sites on Google's SERP. One of its unique functions is it can analyze and compare keywords (paid and organic) and traffic costs.
This is pretty handy in making a smart decision on which prospect to target.
Pros And Cons Of SEMrush
| | |
| --- | --- |
| Pros | Cons |
| Analyze up to 200 sites at once from your custom list | Adding users comes with a subscription fee (price vary on the plans) |
| Broad time period filtering – days (7, 15, 30, & 90) & all the time | It takes a longer time to learn the platform. |
| Include SEO Writing Assistant for simple content optimization | Expensive add-ons |
| Customer support is helpful. | |
SEMrush Pricing Plan
SEMrush rank tracking tools are offered in three subscription plans and one free plan.
The free plan provides you limited access to its tools and data. You can manage one project, track 10 keywords through Position Tracking, and request 10 analytics reports.
For the monthly and annual subscriptions, here's what you can expect on each:
Pro ($99.95/mo.): Manage 5 projects, track 500 keywords with daily updates included, and more.
Guru ($191.62/mo.): Manage 15 projects, track 1,500 keywords with daily updates included, access historical data, and more.
Business ($374.95/mo.): Manage 40 projects, track 5,000 keywords with daily updates included, access to the share of voice metric, and more.
You can also purchase add-ons such as:
Additional users: $45/mo./user (Pro) | $80/mo./user (Guru) | $100/mo./user (Business)
Access on SEMrush .Trends: $200/mo.
Agency growth kit: $100/mo.
Get a firsthand experience of SEMrush's interface by signing up for its 7-day free trial.
5. SE Ranking – Cost-effective SEO Software
Best Keyword Rank Tracking Software Works For Every Major Search Engines [$18.60 a month/Weekly Rank Check]
SE Ranking is one of the most straightforward target keyword rank trackers available today. Google, Yahoo, Bing, or YouTube – it can efficiently track all on-demand rankings for any website across all devices and locations.
Just like with other keyword tracking tools, you can also perform the following tasks:
Competitive research for up to 5 competitors
Get extensive insights for the top 100 websites shown in search results
Tag all important details for quick search and identification
SE Ranking is also designed to track data from Google maps, ad positions, and SERP features like videos and snippets.
Are you offering a B2B company?
If so, you can leverage SE Ranking B2B options. There are three options provided, and these are:
White label: Provide your client access to the keyword rank tracker with your custom branding displayed and shared through your domain.
API: The ideal tool for anyone who wants to expand SE Ranking functions and dedicated admin area access.
Collaborative use: Most suitable for teams or anyone with many partners/clients who need a centralized workspace.
For the latter option, you can create sub-accounts for each user added – manager and client. Their difference lies in the level of access.
I've shared a screenshot of how you can add users to your account.
The number of users allowed to add to your account is based on your subscription plan:
Essential: Strictly designed for one user seat
Pro: 3 to 5 user seats
Business: 10 to 30 user seats
Enterprise: 35 to 85 user seats
When it comes to setting up your account, it requires a little bit more time.
There are five steps you need to follow; all are easy to follow. The first step is dedicated to the general information.
Its difference from the first four rank tracking software is that it also allows you to specify the search range you want to track – top 100 or 200.
You can also set the access to the admin, client, or manager (if there are any).
The rest of the steps are pretty straightforward.
If you want to improve search engine optimization while heavily focusing and investing in keywords, then SE Ranking is your best bet.
Pros And Cons Of SE Ranking
| | |
| --- | --- |
| Pros | Cons |
| Check rankings daily, every 3 days, and weekly | Can slow down when updating large volumes of data lists |
| Provide excellent customer support | No offered free plan |
| B2B options are also offered (white label, API, & collaborative use) | |
| Flexible subscription plans are available | |
SE Ranking Pricing Plan
SE Ranking keyword rank tracking software is offered in three subscription plans. All plans are also designed per:
Ranking check frequency (daily, every 3 days, weekly)
Subscription period: months (1, 3, 6, & 9) and annual
Keywords (from 250 to 20k)
To give you a clear picture, here are the subscription plan per weekly ranking checks and annual period:
Essential ($18.6/mo./250 keywords): Manage 10 websites, perform a website audit for 30,000 pages, and more. You can also increase the keywords you want to track up to 750 keywords.
Pro ($42.5/mo./1,000 keywords): Manage unlimited websites, perform a website audit for 150,000 pages, and more. You can also increase the keywords you want to track up to 1,750 keywords.
Business ($90/mo./2,500 keywords): Perform website audit for 450,000 pages, monitor 60,000 backlinks, and more. You can also increase the keywords you want to track up to 20,000 keywords.
If you need a custom plan, you may contact the SE Ranking sales representative.
6. Serpstat – SEO Growth Hacking Software
Superb Rank Tracking Tool For Global & Local Search [Free | $55 a month]
At first glance, Serpstat seems to be the typical rank tracking software you'll find online. But after I've explored and tested it, I've seen plenty of unique features.
Local or global, they got you covered.
Aside from setting the standard parameters by locations, Serpstat also allows you to specify the time zone and language that coincides with your targeted country.
With all these parameters set, you can get accurate insights in real-time.
Complete the setup by entering the tracking and SERP type. There are four tracking types available, and all are listed as follows:
Project domain only
Whole site
By the exact URL
By URL prefix
The SERP type also has four which includes:
Computer organic
Phone organic
Computer paid
Phone paid
You can also set the tracking schedule on a daily, weekday, or by month day period. As of writing, Serpstat only tracks Google and Yandex platforms.
Most rank tracking software only export reports in CSV and text file formats. SE Ranking supports more file formats for utmost convenience – Xls, xlsx, and Google sheet.
Serpstat is also built as an all-in-one SEO platform.
Therefore, you can expect to access all its features and tools designed for SEO, PPC, and content marketing.
Pros And Cons Of Serpstat
| | |
| --- | --- |
| Pros | Cons |
| Cover 239 search databases for Google & 11 for Yandex | It takes a longer time to perform site audits on websites with large numbers of pages. |
| Provide comprehensive analytics data | Projects to track, analyze, & audit are limited to 100 |
| All plans include the complete rank tracker tools | |
| Track both organic & paid keyword rankings | |
| Available live demonstration | |
Serpstat Pricing Plan
Serpstat rank tracking tools are available in four subscription plans where each is designed per type of user:
Lite ($55/mo.): Created for SEO professionals, freelancers, and SMBs on a budget. It includes 20 tools to help you manage and run all your projects.
Standard ($119/mo.): Created for established in-house teams and marketing agencies. Three user seats are provided, create branded reports, and more.
Advanced ($239/mo.): Created for large-sized marketing agencies and in-house teams. Five user seats are provided.
Enterprise ($399/mo.): This is the plan to get for businesses and agencies that need white label tools and 7 seats for users.
If you have specific requirements that you want to get, you can contact the Serpstat sales representative to learn your options.
7. SERPWatcher – Easiest Rank Tracker To Use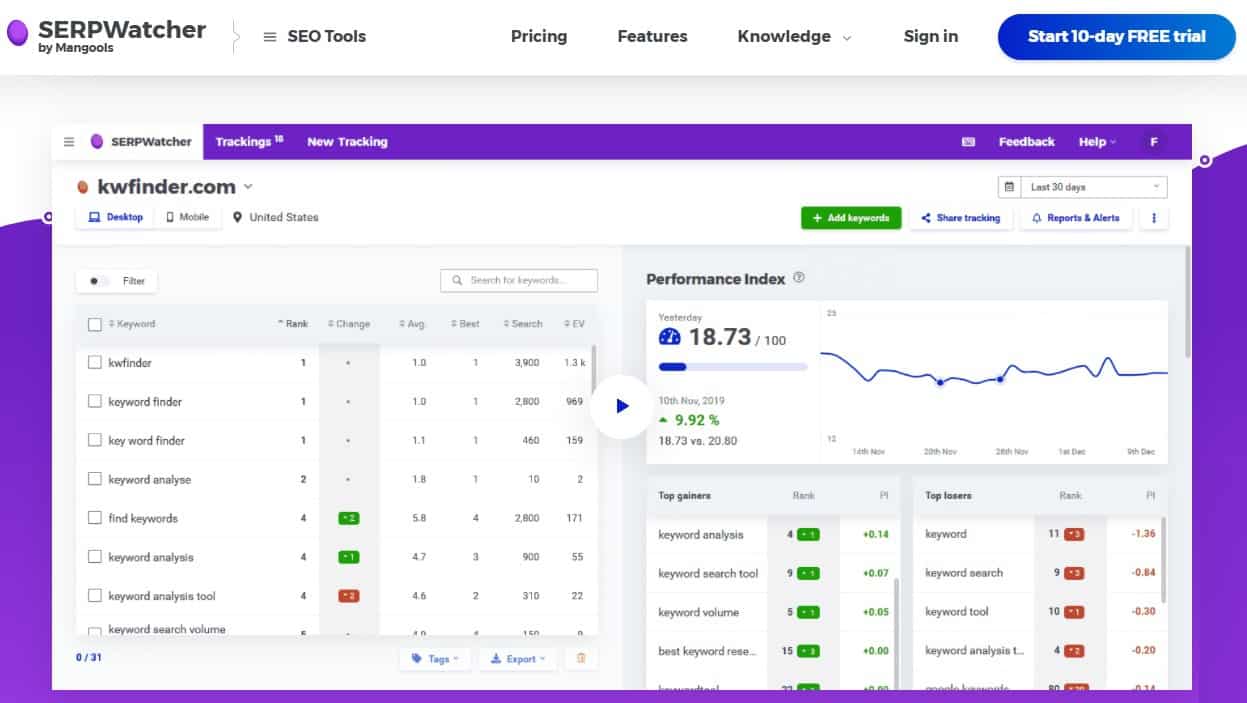 SERP Rank Tracking Software With Interactive Reports & Alerts [$29.90 a month]
SERPWatcher is part of Mangools SEO bundles. It's the tool that allows you to track and analyze your website's overall performance in search engines.
Other rank tracking software can help you identify both paid and organic traffic for your website.
However, SERPWatcher prioritizes your website's organic traffic potential. They can efficiently do so using their very own Performance Index.
The Performance Index (PI) is one of the critical metrics of SERPWatcher that represents and explains your current ranking performance in Google search results.
It uses a scale from 0 to 100 for quick identification of status. According to Mangools, the higher the PI value is, the better performance of your rankings.
You may be wondering how the PI value is calculated?
The calculation is based on your website's actual positions and search volumes of your tracked keywords. But SERPWatcher also takes into account how significant the change is.
In simple words, the higher position your tracked keyword achieved, the greater value it can give on your PI.
You can receive the rank updates daily on your dashboard and emails. All results come from any locations and devices you've set.
Currently, SERPWatcher can track across 50,000+ locations, desktop, and mobile devices.
Getting started is easy by following three simple steps:
Step 1: Enter the tracking details (domain, location, and platform).
Step 2: Add keywords manually, import a file, or add your existing keywords from KWFinder.
Step 3: Set up reports
Speaking of, rank tracking software wouldn't be completed without reliable reporting tools. Well, you won't get disappointed because SERPWatcher is equipped with an interactive report.
The standard report available is displayed on your dashboard.
If you want to create a custom report, you can use the Whitelabel reporting tool. You can add your brand logo, company name, website, contact info, and accent color.
The best part of this is it's shareable.
You can send it as an online or email report.
Pros And Cons Of SERPWatcher
| | |
| --- | --- |
| Pros | Cons |
| Up to 10 simultaneous logins are allowed (vary on subscription plans) | Customer support is limited to email and chat |
| Include an interactive report sharing feature | Reporting of estimated data needs improvement. |
| Provide rank updates & historical data daily | |
| Easy to use & navigate | |
SERPWatcher Pricing Plan
SERPWatcher by Mangools is offered in three simple subscription plans:
Basic ($29.90/mo.): Track 100 keywords per 24 hours, 200 keywords (suggested and search) you can see per import, and more.
Premium ($39.90/mo.): Provide 3 simultaneous logins, 500 keyword lookups per 24 hours, and more.
Agency ($79.90/mo.): Provide 10 simultaneous logins, 1,200 keyword lookups per 24 hours, and more.
Take SERPWatcher a test drive for free by signing up for its 10-day trial version.
8. RankTracker – Most Accurate Tracking of Locations
Rank Tracking Software with Sophisticated Discovery Tool [$6 a month]
Rank tracking software is about finding the best SEO opportunities for your website. Ranktracker would be your best option if your search focused on locations.
This tool allows you to search all databases globally, locally, and nationally.
All you need to do is enter the website URL and specify the country, region, or city you want to search in. You also need to set the search engine platform.
Currently, it can track rankings across five search engine platforms – Google, Yahoo, Baidu, Bing, and Yandex.
Once you successfully set up everything, you will be given an overview of your site's SEO health.
You can track keywords per location by grouping them in one category and labeling them local, global, or national.
For better optimization, you can also add any of the SERP features Ranktracker is supporting. You can refer to the screenshot below.
Use this tool, and it will show you what keywords have these features. It will even let you see if your competitors appear on the result page for each feature.
Ranktracker will update your position progress daily through its reports.
Like with the others, all reports are customizable to add your brand to them. This is pretty handy, particularly if you're sending reports to a client, partner, or colleague.
You can download all reports in Excel and PDF file formats and send them through email.
Pros And Cons Of RankTracker
| | |
| --- | --- |
| Pros | Cons |
| Create unlimited reports, customizable too | The number of keywords to track has an additional fee (price per keyword varies on purchase numbers). |
| Add & track multiple websites no matter what plan to purchase | No available real-time phone support (limited to chat & help center) |
| Perform daily, weekly, or monthly updates | |
RankTracker Pricing Plan
RankTracker's full features are available at $6 a month (yearly billed). This covers 50 keywords to search and track.
If you want more keywords to track, simply slide in the button to the desired number of keywords (100 to 30k+).
Other subscription plans it offers are the following – also set for a 50-keyword limit:
All-in-one ($21/mo.): Provide access to 10 users, keyword finder, SERP checker, web audit, and actionable SEO tasks.
Premium ($44/mo.): Provide access to unlimited users and higher limits.
You can sign up for its 10-day free trial version if you can't decide which subscription plan to purchase.
Conclusion
In getting the best rank tracking software, you have to consider ease of use, tracking capability, and affordability.
With all these consideration factors, Moz makes it my most recommended option. It's an all-in-one SEO suite that makes it simpler for you to enhance your site's overall SEO performance.
It also allows you to track all major search engines and customize your search by location, devices, and SERP features. Not to mention, that it's easy and highly intuitive to use with a great price to boot.
But let's not forget that rank tracking software can be used for a variety of purposes. If this doesn't fit your website needs or personal preference, go with the rank tracker that will give you the same result…
…boost your online presence and reach the top of the search engine result page.
Get started in tracking your site's ranking progress using any of the listed rank tracking software. Particularly those that offer a free plan or trial version.