A well-optimized content is a magnet for hot traffic.
Over the years, I've told my clients about the pitfalls of creating content without purpose, structure, and system aka optimization strategies. Before working with us, their content didn't bring in the leads and conversions they expected to have. 
A few months after putting our content strategy into action (with a few readjustments along the way), they started seeing the uptick in the traffic graph they wanted from the start.
Ready to learn about the content approach I took that helped clients create content both their audience and search engines love?
Let's get started.
29 Strategies To Optimize Content For Traffic & Conversions
To attract more people to your site and boost your sales, learn and master these strategies. As you go through each content optimization strategy, pay close attention to how you can leverage the tools suggested to optimize your content for SEO and users.
Search Term Optimization
1. Deconstruct search terms
This means identifying and analyzing search term metrics: volume, competition, and difficulty to guide your content creation process.
We deconstruct search terms to align our client's content with targeted search terms. This created valuable content that directly addressed their audience's search intent. Leverage Ahrefs, Google Keyword Planner, & Google Search features.
But first, how do you choose which search terms to write about?
Strike a balance – target terms with high search volume (1,000 to 10,000) but moderate difficulty (between 30% to 70%). This guarantees that your content addresses a popular topic while still having a fighting chance to rank well in search results.
In Ahrefs you can simply type a search term, and you'll see these in the dashboard:
Besides Ahrefs, use Google Keyword Planner to find relevant search terms for your brand.  Here's a video of how you can leverage it:
For Google Search, use the People Also Ask and Autocomplete features to get search term ideas.
These metrics and insights will tell you what your audience wants to learn about.
2. Create a topical map
A topical map is a visual representation organizing topics around a central search term you want to be an authority for. We applied this strategy with Estuary and in just 6 months their organic traffic improved by 2,407%.
A topical map identifies the hubs and sub-hubs relevant to your company. For example, "Data Capture" is a big hub that has "Data Pipeline" and "Data Integration" as its sub-hubs. Those sub-hubs are big enough to warrant its own set of related content.
Once you've identified your hubs and sub-hubs, you can now develop your topical map. Use search term research tools like Ahrefs' Keyword Explorer:
Or Semrush's Keyword Magic Tool to find semantically related keywords to expand your content's reach.
All you need to do is type your seed search term (1), then the tool will give you a list of relevant terms (2), and you'll also see the related groups like "azure" and "python" (3).
Use a topical map to organize your main hubs and sub-hubs to identify relevant search terms you can use to create valuable content.
3. Categorize into funnels & tiers
Categorize content into tiers and funnels to help you build hierarchy and structure. It lets you match search intent and align your content with a specific stage in the buyer's journey.
Think of the tiers as a pyramid:
Tier 1: The summit, where we put broad topics like "Content Marketing."
Tier 2: Here, we organize the subtopics like "Content Marketing Best Practices."
Tier 3: This is the base, where we put long-tail keywords like "Content Marketing Best Practices For Start-Ups."
Now, that's for hierarchy. For structure, we categorize each topic into funnels. These funnels help you match search intent with your content:
This strategy will make sure that your blog posts resonate with your target audience. For the tiers, you can use your topical map and then use your tiers to identify your content's funnel stage.
SEO & Technical Optimization
4. Use the primary search term in the title, headings, meta descriptions, alt text, & URL
Incorporating the primary search term throughout your article is not enough. It needs to be in your title, heading, and meta elements too to boost your content optimization efforts.
Here's what we did with our blog:
We identified  "International SEO" as our primary search term. So the meta elements can are:
Title: International SEO: What It Is, Strategies, & Checklist 2023
Meta Description: This guide will walk you through what makes international SEO work, effective strategies to apply, and a checklist to keep you on track.
Front-load the search term into your page title, headings, meta description, alt text, and URL so search engines can easily identify what your content is about. 
Here's a crucial reminder:
Never stuff keywords. Overloading can deter website visitors and upset algorithms.
5. Link deep internally
Include internal links in your blog posts to guide readers to find additional valuable information within your site, driving more organic traffic to those linked pages.
We leverage the topical map to identify and connect our existing content to newly published blogs. This helps our readers find relevant information and keeps them engaged on our site longer to find more answers to their SEO queries.
For example, let's say a user is reading our "Enterprise SEO Strategies" blog post. Within the content, they'll find an internal link pointing to the "Enterprise SEO Audit Checklist."
These internal links will act as your strategic bridges to guide your users to relevant pages and amplify the depth and authority of your content.
6. Compress images & use descriptive file names
Large-sized images can slow your site down, frustrating users and hurting rankings. While billboards require 300 PPI images, web pages perform well with just 72 PPI. So compress the images you use in your blog posts.
To do this, you can use TinyPNG or Compressor.io. They reduce image size effortlessly while maintaining quality.
But the process doesn't end there. Make sure to give your images descriptive file names or alt tags. Using Google Docs, all you need is to click on the image, press right-click on the mouse, and you'll see an option for "Alt Text."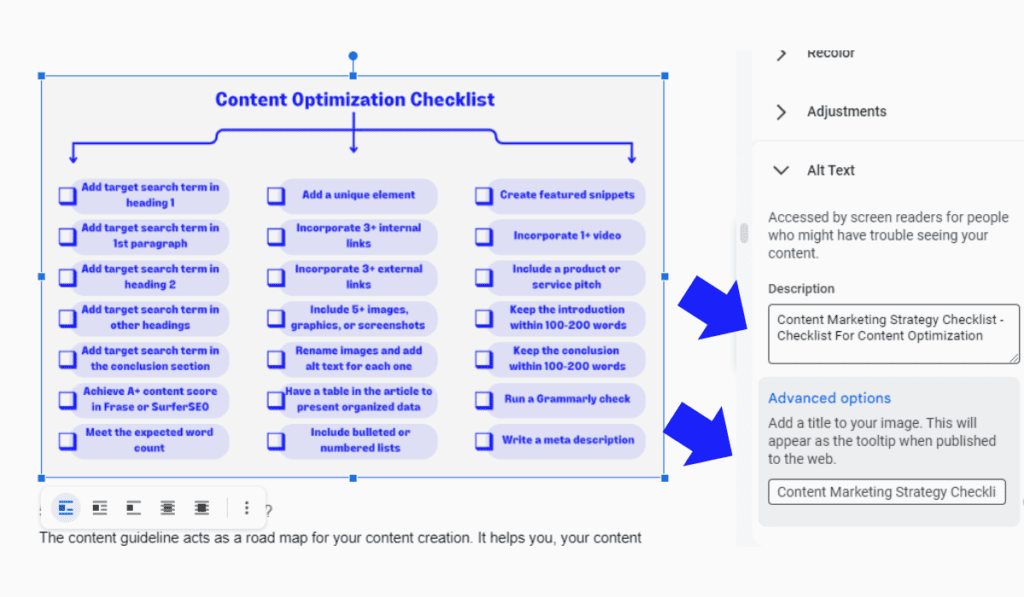 This makes your image content accessible to those who have a visual impairment and makes it SEO-friendly.
7. Build high-quality external links
When you include outbound links in your content, you're weaving a web of interconnected information. But any link won't do.
Prioritize links from reputable sources with high domain authority (above 50). Domain authority reflects a site's credibility and influence in its niche. 
Leverage Moz's "Keyword Explorer" and Ahrefs' free "Website Authority Checker" to identify your external links' domain rating or "website authority". Input the URL and they'll show the domain authority. 
We also link to leading SEO platforms like Google Search Central, Google Webmaster Central Blog, Yoast, Search Engine Journal, and Moz to make sure that our external links are high-quality. These sites have the latest updates, trends, and research on SEO and the overall digital marketing landscape.
Conduct a quarterly external link audit to make sure your content stays linked to up-to-date information. 
This strategy will highlight what you've done through research to provide valuable context to your readers. Plus, search engines love this kind of depth and relevance, so they're more likely to rank your content higher.
8. Guest post on relevant sites
Share your expertise on other platforms to cement your authority and credibility in your niche. This helps you tap into a larger audience, amplifying your website's visibility.
To do this, leverage ChatGPT4 to get a relevant search terms list. Next, use Ahrefs Content Explorer to check suitable websites.
Finally, use smartlead.ai to craft and dispatch compelling outreach emails.
When you create high-quality content for those sites, they often link back to your original site as a credit. The more authoritative the host site, the more impactful the backlink. In turn, it improves your site's overall online authority.
9. Ensure fast-loading pages
A swift-loading (2 seconds or less loading time) blog post guarantees a smooth user experience, reducing bounce rates.
What we do at Novum is compress all our images, making sure all web pages load in around 2 seconds or less.
Use Google PageSpeed Insights to measure your page's loading time and identify issues you need to fix to improve your page speed.
Other than making users happy, search engines like Google reward fast-loading sites with higher search engine rankings.
10. Make your content mobile responsive
Your content should be easy to navigate, have readable text, and have quick loading times on mobile devices, so users can get a seamless experience.
For instance, Typeform is ahead of the curve, boasting a mobile-friendly site catering to on-the-go users. Its mobile site retains the animations of the desktop version without overwhelming users.
They made it as minimal as possible, with a simple three-bar icon in the upper right corner facilitating easy navigation throughout the website.
To check how mobile responsive your site is, Google's Mobile-Friendly Test tool is a great starting point.
For a deeper dive, content optimization tools like BrowserStack will tell you how your site appears across various devices.
Once you have a mobile-friendly site, Google could prioritize you in its mobile search results.
11. Use schema markup
Schema markup is a form of microdata that helps search engines understand the content on your website. It also provides clear context to search algorithms, enhancing the way your content is displayed in Google's search results.
Moz, a leader in SEO, leverages this technique on its blog posts, showcasing its value.
To craft your schema markup, use Google's Structured Data Markup Helper.
12. Create a sitemap
A sitemap is your website's blueprint, outlining its structure and content.
A prime example? Semrush has an XML sitemap index to speed up Google's discovery of its pages.
To create your sitemap, use Screaming Frog SEO Spider's XML Sitemap Generator or XML-sitemaps.com. 
Then, submit your sitemap to Google Search Console.
With a sitemap, you'll guide Google when it crawls and indexes your site. Integrate it into your search engine optimization strategy to set the stage for your site's better visibility and user experience.
User Experience Optimization
13. Make navigation easy
This means streamlining your website's structure with a hierarchical or tree-like structure that organizes your pages from general to specific ones.
For content, you can categorize your pages based on your topics. If you're running a digital marketing agency, you can categorize your blog posts under "Email Marketing", "Content Optimization", and "SEO." This lets your users effortlessly find what they're looking for.
But if you have a smaller website, leverage the linear web structure. It directs users in a logical flow: starting at the homepage, progressing to services, and culminating in a request/quote.
Novum's website exemplifies this, making sure our users can intuitively explore our content. It starts with the "About" page, transitions to resources like interviews, case studies, and blogs, and ends with our consultation page.
How do you do this?
Use Hotjar to provide heatmaps and user behavior insights, highlighting areas for improvement.
What's in it for you?
It keeps your visitors engaged longer, signaling to search algorithms that your site offers value and increasing the chances of it getting higher search rankings.
14. Implement content hierarchy
Content hierarchy refers to organizing your blog's information based on its importance.
Novum nails this in the blog posts, with the first h2 directly addressing our audience's user intent.
How do you implement this for your website?
Start your content by addressing burning questions about your topic from search queries. Analyze what your target audience is actively researching so you'll know what to prioritize and present the most sought-after information at the beginning of your blog posts.
Weave this approach into your content writing process to make sure your readers find immediate value, keep them engaged, and signal your content's relevance to search engines.
15. Write short paragraphs
Reading a wall of text can be overwhelming. More often than not, users lose interest and bounce off to find something more digestible.
Set a limit of 3 to 4 sentences per paragraph. We implement this with our blog when doing a manual proofread to transform lengthy sentences into concise, yet engaging content. 
For instance, instead of "The success of our digital marketing campaign exceeded our expectations.", write it as "The digital marketing campaign's success exceeded our expectations.
You should also use ChatGPT to help make long sentences more straightforward while maintaining a conversational tone.
However, the best "tool" to do this is still your writers or content marketers. They have to understand that short paragraphs are like bite-sized chunks that make your content readable, digestible, and inviting.
16. Use value-packed media not just decorative images
This means not simply going to sites like Shutterstock or Unsplash and getting the prettiest photos. Value-packed media means they should be relevant and offer additional value to your content.
It could be a video explaining how to use a specific tool, infographics to summarize points, relevant images to show topic overviews, or a statistical chart to back your claims with data.
Here's how we do it:
Providing a custom checklist allows readers to download and apply it to their international SEO strategy, encompassing search term research and hreflang tags.
The most common approach is going through Google Images but if you do get an image from there, make sure to give proper credit. Leverage content creation tools like Canva too to make your infographics, YouTube for videos, and Statista for charts.
Content Quality & Structure Optimization
17. Create content guidelines
A content guideline is a document that contains the formatting rules for your content creators.
We want our content to be engaging and informative so our guidelines revolve around those factors. It includes rules for our general structure, voice, introduction, body, and conclusion.
You should create your guidelines in Google Docs so you can easily link them to all content documents. When optimizing content, this should be your team's go-to resource to make sure your blog posts have a consistent format, tone, and structure.
18. Consider search intent
Consider search intent to help you tailor your content and answer your audience's queries. We do this with the help of the funnels we mentioned earlier. That shows us where the audience is in their journey and guides us as to what type of content we need to produce.
You can also start by identifying the different search intent types. Determine if the search goal is informational, navigational, transactional, or commercial.
Then, create your content based on the intent type. Make sure it has actionable insights that your readers can apply.
Use Semrush's "intent" filter in its keyword magic platform.
This strategy can get your blog posts to rank higher in search engine results and answer your audience's queries.
19. Leverage EEAT
EEAT or Experience, Expertise, Authoritativeness, and Trustworthiness is Google's quality rater. Google considers EEAT when determining a website's quality and reliability. 
To comply with EEAT, we conduct thorough research, include credible sources, and feature author bios to establish credibility.
Use Ahrefs to help you identify reputable websites and analyze their backlink profiles to guide your outreach efforts.
Focus on building authoritative backlinks. Find high-quality websites in your niche and reach out for collaborations or guest posting opportunities. If you use EEAT as a guide when creating content, you can get ranked for a featured snippet.
20. Write readable content
This means creating high-quality content with easily readable fonts like Arial, Lazord Sans Serif, and Calibri to make it easier for your audience to understand.
You can see this all through Novum's blog posts, including this one. We use the Arial font for our blogs and Sans Serif for our infographics.
Remember, as important as it is to have a search engine-friendly website, write for humans and not merely for search engine ranking purposes.
21. Break up text
This refers to dividing long blocks of content into smaller, more digestible chunks. For our blogs, we incorporate value-packed media like infographics and videos.
Use headings (H1, H2, H3, etc.) for structure and hierarchy in your content. Use bullet points or numbered lists to highlight key points or steps.
Breaking up text improves readability and user experience. Google even recognizes how important text organization is and recommends these practices for better user engagement and improved search results.
22. Audit existing content
This involves reviewing and refining your content to make sure it's up-to-date and optimized. Google's search algorithm favors timely and relevant content, especially for topics requiring fresh insights, like news.
Platforms that deal with health, like Healthline, do this to make sure the details are accurate, especially considering it could affect their readers' well-being.
What should you audit?
Page titles
Meta descriptions
Content relevance
Internal & external links
Most importantly, audit the information. Any outdated data should be replaced with the most recent ones to make sure what you're giving readers is up-to-date and accurate.
Make a list of data-sensitive blog posts. Then, review those blog posts monthly or quarterly.
Use Google Analytics to review traffic patterns and identify which pages are underperforming. Consider metrics like views, engagement time, and conversions.
This lets you check pages and identify why they may not be working anymore so you'll know what to update.
23. Check spelling and grammar
Content is not just about information but also presentation. Checking spelling and grammar guarantees your content is polished and professional because Google ranks well-crafted and accurate content.
This also makes your content more credible in your target audience's eyes. To make sure our content is polished and publish-ready, we use Grammarly and let a well-experienced editor proofread each piece before it goes live.
Conversion Optimization
24. Place CTA strategically
This means strategically positioning it where it'll have the most impact, guiding readers toward a desired action. It'll encourage your readers to take action once they've absorbed your message.
Add a CTA after you talk about a service you offer, noteworthy results from your services, or as you cap off your article.
25. Create clear and highly visible CTAs
Clear and highly visible CTAs make it easier for readers to take the desired action. HubSpot excels at this, making their CTAs both bold and unmistakable.
Use tools like Canva in designing and testing vibrant CTAs. With their intuitive interfaces, you can craft, customize, and position CTAs for maximum impact.
If the CTA is clear or directs to an obvious action, the reader won't be left guessing what to do next. If it's highly visible, they won't have to scroll around when they're already convinced to take the next step.
26. Promote offer subtly
This requires you to showcase your brand's value without overtly selling. Doing this helps you avoid overwhelming your audience with sales pitches. Instead, they discover value organically, boosting your standing in search results.
Rather than hard-selling, we demonstrate how we operate or illustrate how our processes and tools tackle tasks. This method gives a preview of how we do things and proves our expertise in content and SEO matters.
Performance Analysis & Optimization
27. Determine content goal
Identify your purpose so you'll know what direction your content should take.
Are you creating content for brand awareness? Lead generation? Or perhaps lead nurturing?
For this, we use the funnel approach we discussed early on: ToFu (Top of Funnel), MoFu (Middle), and BoFu (Bottom).
This clarity makes sure your content aligns with its intended purpose and your audience's search intent, increasing the chances of it performing well in Google Search.
28. Track metrics
Track metrics to help you gauge your content's performance. Is it getting the expected traffic? Do readers stay until the end of the post or do they bounce off without scrolling? How long are they staying on the page? Are they taking the desired action?
To answer these questions: we use Ahrefs to monitor organic search traffic. To check for bounce rates and other engagement metrics, we use Google Analytics. 
With the metrics we track, we can identify what's working from what's not and make the necessary adjustments to help the content perform better.
29. Gather feedback
This involves collecting opinions and insights from your audience about your content. Neil Patel's blog exemplifies this, actively seeking reader input to refine content. He replies to comments and even takes suggestions from commenters.
To gather feedback, consider using surveys, comment sections, or direct outreach. You can also use SurveyMonkey to create surveys and Slido's Q&A and polling features.
Tune into your audience's voice to tailor your content to resonate more deeply, optimizing for both engagement and impact.
Content Optimization Checklist
Here's a checklist so it's easier to monitor if you've worked on all the content optimization points.
Why Optimize Content?
Ready To Check Off Your List?
Content optimization is not simply writing a blog post for the sake of it. It involves employing strategies to make sure it resonates with your target audience. This checklist also sets the stage for your website to get a more engaged readership and a stronger online presence.
However, the digital realm is ever-evolving so continuously evaluate and refine your content optimization strategies to stay ahead of the curve.
So, are you maximizing your content's potential?
If you're not confident in saying yes, now's the time to act with Novum. With proven and tested SEO-driven content optimization strategies, I'll help you ramp up your organic traffic, leads, and sales. You can join the ranks of Aloa and their 318% growth in leads, thanks to our efforts.
Let's elevate your content game, and schedule a free call now to design your roadmap!